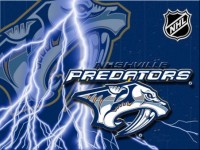 [1]Nashville, TN – The road woes continue for the Nashville Predators, as their extended road trip lands in Phoenix, Monday night.
The Predators and Coyotes meet for the first time since their five-game Western Conference Semifinal series in the 2012 Playoffs, a series Phoenix won behind timely scoring and outstanding goaltending from Mike Smith. The clubs split their 2011-12 regular season series, with Nashville claiming its two victories on Jobing.com Arena ice.
On March 12th, 2012, Nashville pulled out a 5-4 shootout win, and on November 3rd, 2011, Pekka Rinne – celebrating his 29th birthday – signed a seven-year contract in the afternoon, then capped off the day by shutting out the Coyotes, 3-0. That victory gave Rinne four career shutouts against the Coyotes – more than he has against any other team. In the four 2011-12 regular-season games, Nashville's penalty kill was a perfect seven-for-seven.  Since the start of the 2003-04 campaign the Predators are 18-11-(1)-2 against Phoenix, while posting an 8-7-2 mark at Jobing.com Arena.
Martin Erat led all Predators with four points (1g-3a) against Phoenix last season. He leads Nashville all-time with 26 points (10g-16a) in 35 games vs. the Coyotes… David Legwand (3a), Sergei Kostitsyn (3a) and Craig Smith (1g-2a) all had three points in four games vs. the Coyotes in 2011-12… Rinne is 8-5-0 with a 2.05 goals-against average, .931 save percentage and four shutouts in 14 career games against Phoenix.
With Saturday's loss to Anaheim, Nashville has now gone to the shootout three times in five games this season – more than any other team in the League. The Predators had already faced Columbus (3-2 loss on January 19th) and St. Louis (4-3 loss on January 21st) in the post-overtime breakaway competition prior to Saturday's contest.  Saturday night's game also marked the first shootout between Nashville and Anaheim since Teemu Selanne downed the Predators, 2-1, on March 24th, 2009.
A season ago, Nashville only needed the shootout 10 times (5-5) – tied for eighth fewest times in the League – and didn't reach its third shootout of the campaign until December 28th, 2011 against Minnesota, game No. 37.
Monday marks the fourth matchup of a franchise record tying seven-game road swing; the Predators also played seven straight on the road from Octember 30th-November 12th, 2002.  The trip will last 15 days, and see the team go to Minnesota, St. Louis, Anaheim, Phoenix, Los Angeles, San Jose, then back to St. Louis to wrap things up on February 5th.  Nashville's next game in the Music City will be February 7th against the reigning Stanley Cup champion Los Angeles Kings.