Austin Peay Governors vs. Murray State
Saturday, February 2nd, 2013 | 12:00pm (CST)
Murray, KY | CFSB Center (8,600)

Murray, KY – A week off has been beneficial to both Austin Peay and Murray State as the Ohio Valley Conference season hit the mid-way point.

For Murray State it has given a banged up group of Racers a chance to rest and recover from a season-long list of nagging injuries.

For the Govs, it was not only a chance to recover physically from injuries but also a chance to step away mentally a few days from a losing streak that has reached five games.

Now it is Game On when the Governors and Racers meet in the CFSB Center, noon, Saturday, in the Ohio Valley Conference's best rivalry. The contest will be televised by ESPNU.

Murray State comes in at 15-5 and first place in the OVC West Division at 6-2. The Racers, however, suffered a road loss at Jacksonville State in its most recent games.

This will be the last time the Govs not only will face All-America guard Isaiah Canaan in Murray but forward Ed Daniel as well. The two have proven to be nemesis of the Govs throughout their respective careers.

APSU, meanwhile, must erase what has occurred in the OVC season's first half and attempt to begin anew.
Fastbreak
This is Dave Loos' 23rd season as Austin Peay head coach and he is 368-327 at APSU-the winningest basketball coach in Ohio Valley Conference history-while 450-380 all-time in his 27th season as a college head coach
Austin Peay was picked to finish third behind Murray State and Southeast Missouri in the newly-formed OVC West Division in the preseason poll.
APSU is amidst its third game of a three-game road trip. The Govs are 0-2 on the trip and are 0-9 this season on the road.
APSU enters the game having lost five straight and 13 out of their last 14 games following the loss at Tennessee Tech.
Murray State comes in at 15-5 overall and 6-2 in the OVC. After holding Tennessee Tech to 39 points in a victory, the Racers lost at Jacksonville State, 65-64. That ended the Racers' OVC road winning streak at 12.
All-America guard Isaiah Canaan leads Murray State, averaging 21.1 ppg and has made 60 three pointers-he had made at least one three pointer in 29 straight contests-while also leading the Racers in assists (4.1 apg).
Forward Ed Daniel continues to be force inside, averaging 14.3 ppg and 11.0 rpg. He has had three straight double-doubles, including 17 rebounds vs. Jacksonville State. He and Canaan have started 55 straight games together.
Senior guard Stacy Wilson is the Racers' third double-figure scorer, averaging 13.2 ppg.
Head coach Steve Prohm is in his second season as Racers head coach. He owns a 46-7 overall record, including 21-3 in OVC play.
What You Should Know
The Series: This is the 117th meeting between the two OVC rivals, Austin Peay and Murray State, with the Governors trailing, 76-41. The Racers won this season's earlier meeting, 71-68, January 12th in Clarksville. The Racers also swept the season series from the Governors a year ago. The Racers own a four-game winning streak in the series.
Deeper Meanings
What A Win Would Mean: The Govs would win their second OVC game…they would improve to 6-17…they would go 1-0 in February…it would be the Govs' first OVC road win…it would be the Govs' first road win in 2012-13…they would go to 42-76 alltime against Murray State…it would snap a four-game losing streak in the series…it would make Dave Loos 20-31 all-time against Murray State…it would make Loos 1-3 against current Murray State coach Steve Prohm…it would be Loos' 451st career victory.
What A Loss Would Mean: The Govs would drop 13 games below the .500 mark at 5-18…the Govs would lose their sixth straight game…the Govs would fall to 0-6 against OVC West teams…the Govs would fall to 0-10 on the road this season…it would be APSU's fifth straight loss in the series…it would be Dave Loos' 328th APSU loss and 381st all-time.
Willfully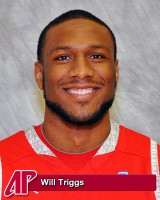 By going 8-of-12 against Jacksonville State and 6-of-10 against Tennessee Tech, junior forward Will Triggs now has shot 50 percent or better from the floor in 10 straight games.
In that 10-game span Triggs is 64 of 96 from the floor, 66.7 percent shooting.
Spanning The Spectrum
In losing to Jacksonville State the Governors shot 55.2 percent from the floor–the Govs best during OVC play–and scored 74 points while in the loss to Tennessee Tech the Governors scored a season-low 52 points while shooting just 40.4 percent.
No Passing Fancy
The Govs' six assists against Tennessee Tech were a season low. It was APSU's fewest assists since have just against Tennessee State, January 30th, 2012.
Free-Throw Woes
In the games against Jacksonville State and Tennessee Tech the Govs combined to shoot only 16 of 31 (52 percent) from the free throw line while the opposition combined for 28 of 34 (82 percent).
Tenfold
When Travis Betran scored 14 points against Tennessee Tech and Will Triggs 13, the duo now has scored in double figures 10 straight games.
Sixth Time
Chris Horton, who scored 18 points and grabbed 10 rebounds against Jacksonville State, January 24th, was named OVC Freshman of the Week. It was the sixth time this season Horton earned the award. Horton's 18 points were his first double-digit in seven games. It was his first double-double since had 10 points and 13 rebounds against Arkansas State, December 16th.
Why They Are Free
Over the last seven games, guard Travis Betran and forward Anthony Campbell have combined to make 49 out of 54 free throws (91 percent). Betran has gone 32-of-34 at the charity stripe while Campbell has been 17-of-20 at the line.
Balance Missing
In the last 10 games, the Governors have had 31 double-figure scoring performances, with 28 of the 31 coming from the trio of Travis Betran, Will Triggs and Anthony Campbell. Freshman Chris Horton scored 10 points against High Point in the consolation game of the Dr. Pepper Classic before tallying 18 versus Jacksonville State, January 24th. And Thomas Greer recorded his first career double-figure scoring game against Morehead State with 11 points.
Back From Injuries?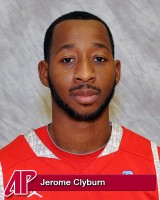 Both senior guard Jerome Clyburn and junior center Matt Hasse returned to practice this week. Clyburn, who has been out twice this season–the first time after knee surgery before suffering a hamstring injury in his first game back against DePaul–practiced for the first time since early December.
Hasse, meanwhile, suffered a back injury against Eastern Illinois and missed last weekend's doubleheader.
Walk On To Starter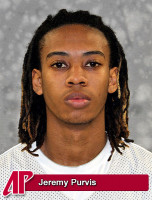 With senior point guard Jerome Clyburn out with a hamstring injury and APSU's other point guards struggling with turnovers, APSU's coaching staff turned to a player in mid-December who joined the practice sessions a little more than a week earlier.
Jeremy Purvis, who played at Clarksville's Northeast High School before playing two seasons at Jackson State Community College, got the starting nod against Lipscomb. He ended up playing 32 minutes. He has started every game except last Saturday's contest at Tennessee Tech.
Hot Shots
The Govs' 55.2 percent shooting against Jacksonville State not only was their best against an OVC opponent this year but the highest against a Division I opponent as well. It also ranks second only behind the 56.7 percent the Govs shot against Berea.
Double-Double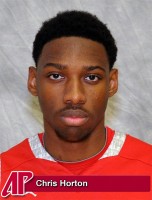 With his 18 points and 10 rebounds against Jacksonville State, Chris Horton tallied his season's fourth double-double, but first since mid-December. Horton's 18 points also represented his first double-digit scoring performance since December 29th when he had 13 against High Point in the Dr. Pepper Classic.
Media Center
Radio: Governors Radio Network
Play-by-Play: Greg Walker
Analyst: David Loos
WVRY 105.1-FM
Television: ESPNU
Play-by-Play: Adam Amin
Analyst: Brooke Weisbrod
Producer: Jimmy Lee Starling
Sections
Sports
Topics
Adam Amin, Anthony Campbell, APSU, APSU Athletics, APSU Basketball, APSU Men's Basketball, APSU Sports, Arkansas State, Austin Peay State University, Brooke Weisbrod, CFSB Center, Chris Horton, Clarksville TN, Dave Loos, David Loos, DePaul, Dr Pepper Classic, Eastern Illinois, Ed Daniel, ESPNU, Governors, Governors Radio Network, Govs, Greg Walker, High Point, Isaiah Canaan, Jackson State Community College, Jacksonville State, Jeremy Purvis, Jerome Clyburn, Jimmy Lee Starling, Lipscomb, Matt Hasse, Murray KY, Murray State, Northeast High School, Ohio Valley Conference, OVC, OVC Freshman of the Week, OVC West Division, Racers, Southeast Missouri, Stacy Wilson, Steve Prohm, Tennessee Tech, Travis Betran, Will Triggs, WVRY 105.1 FM