Nashville Predators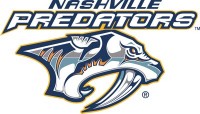 Los Angeles, CA – In the eight round of the shootout, Nashville Predators' Sergei Kostitsyn moves in quickly with a little left and right move to bang the goal past Los Angele Kings' goaltender Jonathan Quick to give the Predators a 2-1 win Thursday night at the Stables Center.

Pekka Rinne made the save against the Kings' Simon Gagne at the beginning of the eight round to give Kostitsyn his shot at the win.

David Legwand and Craig Smith got goals at the beginning of the shoot out. Los Angeles' Mike Richards and Dustin Brown countered their scores. After both teams missed a few, the Kings' Anze Kopitar hit a goal to put a do or die situation on Predators' Gabriel Bourgue. Bourgue came through keeping the Preds alive.

The Predators move to 2-2-3 on the season, while the Kings are now at 2-2-2.

Brandon Yip got things going for Nashville just 58 seconds into the 1st period when he hit a snap shot from the top of the circle over the shoulder of Quick to give the Predators an early 1-0 advantage. The goal was Yip's second of the season.

The Predators ran into foul trouble and found themselves in a 4-3 power play situation. Thats win Drew Doughty hit a shot that bounced off the back wall and over the net. Dustin Brown gathered in the rebound and sweep it past Rinne with a wrist shot to tie the game 1-1 for the Kings at 13:08 in the 1st. The goal was only Los Angeles' second power-play score this year.

The teams banged it around for the next two periods without either side scoring. There was some furious play in the overtime period but neither team scored sending it to a shootout.

The Nashville Predators managed only 3 shots on goal the first period and only 11 through three periods. Ironically, 11 is the number of shots they had in overtime and the shootout.

Nashville went 0-3 in the power plays, while Los Angeles was 1-6. The Predators did a good job with the penalty kills tonight.

Pekka Rinne stopped 23 shots along with 4 saves during the shootout for his first win of the season.

Jonathan Quick had 13 saves for the Kings.

These teams will meet again in Nashville February 7th for the Predators first home game after this road trip.
Next Game
The Nashville Predators get a day off before hitting the road to face the San Jose Sharks Saturday, February 2nd at the HP Pavilion arena. The puck drops at 9:30pm.
Box Score
Thursday, January 31st, 2013
FINAL SO
Predators 2 – 1 Kings
| | | | | | | |
| --- | --- | --- | --- | --- | --- | --- |
| FINAL SO | 1 | 2 | 3 | OT | SO | T |
| Nashville Predators | 1 | 0 | 0 | 0 | 1 (4-8) | 2 |
| Los Angeles Kings | 1 | 0 | 0 | 0 | 0 (3-8) | 1 |
Scoring Summary
1st Period
00:58
NSH
Brandon Yip (2) Snap Shot – Assists: G. Bourque (2) & D. Legwand (1)
13:08
LAK
PPG – Dustin Brown (1) Wrist Shot – Assists: D. Doughty (1) & M. Richards (2)
2nd Period
none
3rd Period
none
OT Period
none
Shootout
Penalty Summary
1st Period
06:24
NSH
Scott Hannan : Tripping – 2 min
11:10
NSH
Scott Hannan : Interference – 2 min
12:10
NSH
Paul Gaustad : Unsportsmanlike conduct – 2 min
12:12
LAK
Anze Kopitar : Tripping – 2 min
18:32
NSH
Hal Gill : Cross checking – 2 min
20:00
LAK
Dustin Brown : Interference – 2 min
2nd Period
03:07
NSH
Scott Hannan : Tripping – 2 min
08:17
LAK
Mike Richards : Interference on goalkeeper – 2 min
3rd Period
14:04
NSH
Paul Gaustad : Holding – 2 min
OT Period
none
Shots on Goal
| | | | | | |
| --- | --- | --- | --- | --- | --- |
| | 1st | 2nd | 3rd | OT | T |
| Nashville Predators | 3 | 5 | 3 | 3 | 14 |
| Los Angeles Kings | 10 | 5 | 7 | 2 | 24 |
Saves
| | | | | | | | |
| --- | --- | --- | --- | --- | --- | --- | --- |
| | Goalies | EV | PP | SH | Total | Sv% | TOI |
| Nashville Predators | 35 P. Rinne (W) | 18 – 18 | 5 – 6 | 0 – 0 | 23 – 24 | 0.958 | 65:00 |
| Los Angeles Kings | 32 J. Quick (L) | 13 – 14 | 0 – 0 | 0 – 0 | 13 – 14 | 0.929 | 64:57 |
Sections
News, Sports

Topics
Anze Kopitar, Brandon Yip, Craig Smith, David Legwand, Drew Doughty, Dustin Brown, Gabriel Bourgue, HP Pavilion Arena, Jonathan Quick, Los Angeles CA, Los Angeles Kings, Mike Richards, Nashville Predators, Pekka Rinne, Predators, San Jose Sharks, Sergei Kostitsyn, Simon Gagne, Stables Center