Nashville Predators vs. San Jose Sharks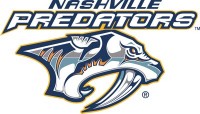 San Jose, CA – Nashville Predators and the San Jose Sharks go into a shootout Saturday night at HP Pavilion arena.

In the third round of the shootout, Predators' Craig Smith goes in center with some speed, shifts to his right, Sharks' goaltender Antti Niemi moves right with him, allowing Smith to shift the puck to his left and dink it in for the goal. This put Nashville up in the shootout.

San Jose's Joe Pavelsk, needing to score to keep the Sharks alive, goes in fast, shifts right sending the puck  flying to Pekka Rinne's glove side. Rinne makes the stop securing the win for the Predators. This was San Jose's first loss of the year.

Nashville came out playing Predators hockey and forechecked San Jose aggressively. Both teams had scoring chances, but by the end of the 2nd period the game remained scoreless.

Midway through the 2nd period, San Jose's Ryane Clowe, from the circle, hits a shot that just slides by Rinne and into the goal post. The puck comes out to rest just outside the goal line. Martin Havlat skates through alone, thinking they had score, raising his hands in celebration. When he realizes his mistake too late and the Predators clear it out.

The Predators get on the board first when Colin Wilson intercepted a pass. He then slides the puck over to Sergei Kostitsyn who took a quick wrist shot that goes past Niemi on his glove side for the score just 59 seconds into the 3rd period.

Later, the puck gets tied up behind the goal. Scott Gomez is able to bounce it out in front of the goal and into the skates of Havlat. Havlat plays the puck nicely off his skates and backhands it home for the Sharks to tie the game 1-1 at 13:30 during a powerplay. The powerplay was created by a too many men on the ice penalty when smith fielded the puck while heading off the ice.

In overtime, with 2:48 left San Jose's Martin Havlat is called for hooking giving the Predators a powerplay. Nashville had plenty of scoring opportunities as they put on a furious attack but San Jose was able to block their efforts sending the game to a shootout. Nashville had 2 shots on goal and San Jose had 1 during the overtime period.

Pekka Rinne gets his second win this season. Rinne made 26 saves through overtime and stopped the Sharks three attempts during the shootout.

Antti Niemi had 23 saves for the Sharks.
Next Game
The Nashville Predators head back to St. Louis to take on the Blues Tuesday, February 5th. The teams clash at 7:00pm.
Box Score
FINAL SO
Predators 2 – 1 Sharks
Saturday, February 2nd, 2013
| | | | | | | |
| --- | --- | --- | --- | --- | --- | --- |
| FINAL SO | 1 | 2 | 3 | OT | SO | T |
| Nashville Predators | 0 | 0 | 1 | 0 | 1 (1-2) | 2 |
| San Jose Sharks | 0 | 0 | 1 | 0 | 0 (0-3) | 1 |
Scoring Summary
1st Period
none
2nd Period
none
3rd Period
00:59
NSH
Sergei Kostitsyn (1) Wrist Shot – Assists: C. Wilson (1)
13:39
SJS
PPG – Martin Havlat (3) Backhand – Assists: S. Gomez (2)
OT Period
none
Shootout
Penalty Summary
1st Period
00:59
NSH
Brandon Yip : Holding – 2 min
02:56
SJS
Douglas Murray : Slashing – 2 min
16:15
NSH
Jonathon Blum : Interference – 2 min
19:39
SJS
Dan Boyle : Interference – 2 min
2nd Period
04:29
SJS
Douglas Murray : Interference – 2 min
06:05
NSH
Mike Fisher : Slashing – 2 min
07:07
SJS
Patrick Marleau : Hi-sticking – 2 min
17:01
NSH
David Legwand : Tripping – 2 min
3rd Period
12:26
NSH
Craig Smith : Too many men/ice – bench – 2 min
OT Period
02:48
SJS
Martin Havlat : Hooking – 2 min
Shots on Goal
| | | | | | |
| --- | --- | --- | --- | --- | --- |
| | 1st | 2nd | 3rd | OT | T |
| Nashville Predators | 6 | 7 | 9 | 2 | 24 |
| San Jose Sharks | 8 | 11 | 7 | 1 | 27 |
Saves
| | | | | | | | |
| --- | --- | --- | --- | --- | --- | --- | --- |
| | Goalies | EV | PP | SH | Total | Sv% | TOI |
| Nashville Predators | 35 P. Rinne (W) | 20 – 20 | 6 – 7 | 0 – 0 | 26 – 27 | 0.963 | 65:00 |
| San Jose Sharks | 31 A. Niemi (L) | 19 – 20 | 3 – 3 | 1 – 1 | 23 – 24 | 0.958 | 64:49 |
Sections
Sports
Topics
Antti Niemi, Craig Smith, HP Pavilion Arena, Joe Pavelsk, Martin Havlat, Nashville Predators, Pekka Rinne, Predators, Ryane Clowe, San Jose CA, San Jose Sharks, Scott gomez, Sergei Kostitsyn, Shootout, St. Louis Blues