Debut album produced by Grammy-winning producer Byron Gallimore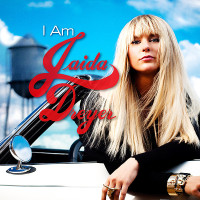 Nashville, TN – Streamsound Records recording artist Jaida Dreyer is set to release her debut album, "I Am Jaida Dreyer", on February 26th. The album will be available on all major digital retailers, including iTunes and Amazon.

The breakout release features 10 original songs written or co-written by the singer and is produced by Grammy award-winning record producer Byron Gallimore (Tim McGraw, Faith Hill, Sugarland). The album features a special guest appearance by Sugarland's Kristian Bush on the track "Boy Who Cried Love," who co-wrote the song with her.

"Jaida's music is so personal and authentic," said Gallimore. "Not only is Jaida a great performer, but she is also a gifted writer and musician. Her charisma and soul completely shine right through on this album."

Dreyer added, "I'm overwhelmed by the love and space I've been given to make my art. This record is a collection of different moments in my life.  I hope people connect with the songs and recognize moments of their own life in them."

The Canaadian-born songstress has been writing for Gallimore's publishing division for almost 5 years.  Her current single "Half Broke Horses" is at country radio now and scheduled for impact February 19th.  The song, a very personal autobiographical flashback from Dreyer's childhood, explores loss and change with a heartfelt equestrian metaphor, one which the talented horse rider turned musician is well acquainted with. The single was co-written with Brad and Brett Warren and Lance Miller.

The rising star broke onto the Hot Country charts last year, which lead to her first appearance on the historic Grand Ole Opry.  The singer-songwriter also embarked on an extended radio promotion tour that stretched as far north as Canada

Dreyer was born in Thunder Bay, Ontario, and raised in Latimer, Iowa, where the population sign still reads 303. Before she turned 18, She had lived in seven states, with the bulk of her time spent between Texas and Georgia. From an early age, she embraced an on-the-go lifestyle, donning her "gypsy boots" and setting out with her mother across the country wherever equine work took them, eventually, living in a car before being taken in by a rock band. This single event would reignite her creative fire to pursue guitar. "The lead singer taught me to play 3 chords. From there, I was hooked."

She credits her eclectic taste in music to her mother, who introduced her to classic artists like Kitty Wells and Hank Williams, Sr., as well as then-current hitmakers like Tanya Tucker, Keith Whitley, and Patty Loveless. As a pre-teen, Dreyer also found herself drawn to a variety of singer-songwriters like Emmylou Harris, Kris Kristofferson, Merle Haggard, Lyle Lovett, and Steve Earle.

For more information, please visit www.JaidaDreyer.com.



Sections
News
Topics
Brad Warren, Brett Warren, Byron Gallimore, country music, Emmylou Harris, Faith Hill, Hank Williams Sr, I Am Jaida Dreyer, Jaida Dreyer, Keith Whitley, Kitty Wells, Kris Kristofferson, Kristian Bush, Lance Miller, Latimer IA, Lyle Lovett, Merle Haggard, Nashville TN, Patty Loveless, Steve Earle, Streamsound Records, Sugarland, Tanya Tucker, Tim McGraw