Special Weather Statement In Effect ... [Click here for more information]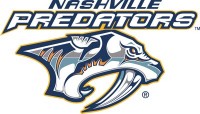 St.Paul, MN – The Nashville Predators saw their winning streak snapped against the Minnesota Wild Saturday night, as they lost in overtime,  2-1.  A controversial penalty on Paul Gaustad put the Predators a man down during the bonus period.

Gaustad scored the only Predators goal at 10:11 into the first period with a wrist shot past Minnesota goalie Nicolas Backstrom.

Minnesota evened the score at 12:59 into the second period with a tip-in past Predators goalie Chris Mason, who was playing in relief of Pekka Rinne.
The teams went scoreless in the third period and headed to overtime.

Paul Gaustad was given a 2 minute penalty at 2:48 in overtime  for a face-off infraction.  This was a very controversial and costly penalty for the Predators as replays showed that the puck bounced off of the glove of Gaustad, and shouldn't have been a penalty.   The penalty put the Predators a man down and that was all that the Wild's Devin Setoguchi needed  to score the game winner.

Predators goalie Chris Mason was outstanding in goal, blocking 30-32 shots he faced on the night.

Nashville returns to the Bridgestone Arena on Sunday night to face the red hot Chicago Blackhawks.

The puck drops at 7:00pm.
Box Score
Predators 1 – 2 Wild
Saturday, February 9th, 2013
| | | | | | |
| --- | --- | --- | --- | --- | --- |
| FINAL OT | 1 | 2 | 3 | OT | T |
| Nashville Predators | 1 | 0 | 0 | 0 | 1 |
| Minnesota Wild | 0 | 1 | 0 | 1 | 2 |
Scoring Summary
1st Period
10:11
NSH
Paul Gaustad (1) Wrist Shot – Assists: C. Smith (1)
2nd Period
12:59
MIN
Cal Clutterbuck (2) Tip-In – Assists: R. Suter (5) & M. Cullen (4)
3rd Period
none
OT Period
04:21
MIN
PPG – Devin Setoguchi (1) Slap Shot – Assists: M. Koivu (7) & R. Suter (6)
Penalty Summary
1st Period
03:49
NSH
Gabriel Bourque : Tripping – 2 min
10:29
NSH
Martin Erat : Hooking – 2 min
12:44
MIN
Niklas Backstrom served by Devin Setoguchi : Delay of game – 2 min
12:44
NSH
Martin Erat : Roughing – 2 min
15:11
MIN
Mikael Granlund : Interference – 2 min
18:21
MIN
Zenon Konopka : Tripping – 2 min
18:21
NSH
Brandon Yip : Roughing – 2 min
2nd Period
07:40
MIN
Charlie Coyle : Interference – 2 min
14:29
MIN
Ryan Suter : Hi-sticking – 2 min
18:53
NSH
Colin Wilson : Hi-sticking – 2 min
3rd Period
06:18
MIN
Devin Setoguchi : Hi stick – double minor – 4 min
12:27
MIN
Tom Gilbert : Hi-sticking – 2 min
OT Period
02:48
NSH
Paul Gaustad : [RTSSPENALTYCODES_139] – 2 min
Shots on Goal
| | | | | | |
| --- | --- | --- | --- | --- | --- |
| | 1st | 2nd | 3rd | OT | T |
| Nashville Predators | 6 | 7 | 12 | 1 | 26 |
| Minnesota Wild | 10 | 9 | 8 | 5 | 32 |
Saves
| | | | | | | | |
| --- | --- | --- | --- | --- | --- | --- | --- |
| | Goalies | EV | PP | SH | Total | Sv% | TOI |
| Nashville Predators | 30 C. Mason (L) | 23 – 24 | 7 – 8 | 0 – 0 | 30 – 32 | 0.938 | 64:21 |
| Minnesota Wild | 32 N. Backstrom (W) | 12 – 13 | 13 – 13 | 0 – 0 | 25 – 26 | 0.962 | 64:21 |
Sections
Sports
Topics
Bridgestone Arena, Chicago Blackhawks, Chris Mason, Devin Setoguchi, Minnesota, Minnesota Wild, Nashville Predators, Nicolas Backstrom, Paul Gaustad, Pekka Rinne, Predators, Smashville, St Paul Minnesota, St. Paul MN