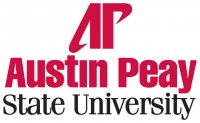 Clarksville, TN – A new National Science Foundation-funded program at Austin Peay State University recently awarded 16 scholarships to community college transfer students, active duty military personnel, veterans and dependents interested in earning a bachelor's degree in the science, technology, engineering or math (STEM) disciplines for the 2012-13 academic year.

The project, titled "Increasing the Number of Regional Community College Graduates and Active Duty Military Personnel, Veterans and Dependents Enrolling in and Completing a STEM Baccalaureate Degree," awarded scholarships to nine APSU students and one Volunteer State Community College student thanks to the more than $500,000 the NSF is providing APSU over the next five years.

The project is under the direction of Dr. Cindy L. Taylor, professor of biology, Dr. Karen Meisch, associate professor of biology, and Dr. Nell Rayburn, professor of mathematics and statistics. Scholarships were awarded to individuals who have at least a 3.0 GPA and demonstrated financial need.

"We're working with Columbia State, Nashville State and Volunteer State Community College, and also with the APSU Center @ Fort Campbell," Taylor said. "Students can apply and receive a NSF S-STEM Scholarship for their sophomore year at the community college or at Fort Campbell. That would allow them to complete an Associate of Science degree. Then they would come to Austin Peay. That's potentially three years of support."

The fall recipients of the scholarship must major in either biology, chemistry, computer science, geosciences, mathematics or physics at APSU. Those individuals include APSU students: Jena Campbell, Naomi Gilchrist, Kelsey D. Miles, Luke Star and Scott Winstead, biology; Traci Grant and Anne French, mathematics; Herbert Barron, Joshua Langford and Patrick Sabree, geosciences; Megan Alvarez, mathematics education; Neville Onyango, computer science; Donald Evans and Samantha Monk, chemistry; and current Volunteer State Community College students Debbie Bresee, geosciences, and Mariah Hughes, chemistry.

The hope is that the scholarships will increase the number of students from regional community colleges and military backgrounds to come to APSU, in addition to increasing the number of STEM graduates in the community.

The NSF grant also provides money for a bridge program that will help these students transition from community colleges and the military to APSU. The program will bring these students together on campus each summer, and also host special events throughout the year.

"It can be challenging for transfer students to feel like they're part of a community," Meisch said. "The idea of this bridge program is to give them a cohort, give them a community that they're all part of. It will give them a way to contact each other and work on some basic study skills and say, 'hey, we're all in this boat together. What can we do to be successful?'"

For more information on the scholarships, such as eligibility and how to apply, visit the program's website.



Sections
Education
Topics
Anne French, APSU, APSU Center at Fort Campbell, Austin Peay State University, Cindy L. Taylor, Clarksville TN, Debbie Bresse, Donald Evans, Herbert Barron, Jena Campbell, Joshua Langford, Karen Meisch, Kelsey D. Miles, Luke Star, Mariah Hughes, Megan Alvarez, Naomi Gilchrist, Nashville State Community College, National Science Foundation, Nell Rayburn, Neville Onyango, Patrick Sabree, Samantha Monk, scholarships, Scott Winstead, STEM, Traci Grant, Volunteer State community College