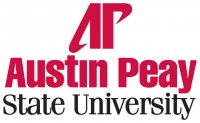 Clarksville, TN – The spring semester at Austin Peay State University started only a month ago, but several students in the school's College of Science and Mathematics and College of Behavioral and Health Sciences have wasted no time in finding ways to excel.
Most recently, three of those colleges' top students were invited to present their research at the 2013 National Conference on Undergraduate Research in La Crosee, WI.Those students are Caitlin Nelms, psychology; Lance Batson, computer science and information technology; and James Winegar, physics and astronomy.
"This is a very prestigious conference for undergraduates, and APSU had more accepted abstracts than any other university in Tennessee except Memphis," Dr. Christopher Gentry, APSU associate professor of geography and director of the University's Office of Undergraduate Research (OUR), said.
Two other students also had peer-reviewed abstracts accepted to present at this year's Second American Dendrochronology Conference in Tucson, AZ. Those students are Kayla Pendergrass, geosciences, and Robert Shepard, biology.
"The AmeriDendro conference happens only once every four years and presentations made at the conference represent the most cutting-edge research being performed in North and South America," Gentry said. "We're really excited for those students, and OUR (in combination with Student Affairs for some students) will be helping to support their travel to represent APSU at these esteemed conferences."
For more information on these students, contact the OUR at 931.221.7625 or at our@apsu.edu [1].