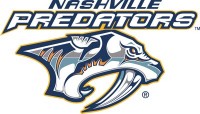 Detroit, MI – The Nashville Predators lost to the Detroit Red Wings at Joe Louis Arena tonight, 4-0, as the Red Wings extracted some sweet revenge from the loss they suffered earlier in the week in Nashville.
Detroit goalie Jimmy Howard stopped all 33 shots he faced on the night, as the Predators continued to miss scoring opportunities.
Nashville goalie Pekka Rinne made 23 saves on the night, but the Predators have allowed at least three goals for the third time in a week.
It was all Detroit, as Drew Miller started the scoring at 5:11 into the game on a wrist-shot past Rinne. It was the only goal scored in the period.
At 2:58 of the second, Detroit's Tomas Tatar netted a wrister to make it 2-0.
Niklas Kronwall nailed a slap shot at 15:33 into the second to make it 3-0, and at 11:48 into the third, Daniel Cleary scored on a tip-in for the final score of the game.
Next Game
Nashville returns to the Bridgestone Arena on Monday night, February 25th to face the Dallas Stars.
Box Score
Predators 0 – 4 Red Wings
Saturday, February 23rd, 2013
| | | | | |
| --- | --- | --- | --- | --- |
| FINAL | 1 | 2 | 3 | T |
| Nashville Predators | 0 | 0 | 0 | 0 |
| Detroit Red Wings | 1 | 2 | 1 | 4 |
Scoring Summary
1st Period
05:11
DET
Drew Miller (2) Wrist Shot – Assists: N. Kronwall (10) & P. Eaves (3)
2nd Period
02:58
DET
Tomas Tatar (3) Wrist Shot – Assists: J. Andersson (2)
15:33
DET
Niklas Kronwall (2) Slap Shot – Assists: P. Datsyuk (11) & J. Abdelkader (2)
3rd Period
11:48
DET
PPG – Daniel Cleary (3) Tip-In – Assists: N. Kronwall (11) & P. Datsyuk (12)
Penalty Summary
1st Period
18:04
DET
Niklas Kronwall : Hooking – 2 min
2nd Period
04:51
NSH
Rich Clune : Boarding – 2 min
11:11
DET
Jonathan Ericsson : Holding – 2 min
3rd Period
11:11
NSH
Ryan Ellis : Holding – 2 min
Shots on Goal
| | | | | |
| --- | --- | --- | --- | --- |
| | 1st | 2nd | 3rd | T |
| Nashville Predators | 12 | 12 | 9 | 33 |
| Detroit Red Wings | 9 | 9 | 9 | 27 |
Saves
| | | | | | | | |
| --- | --- | --- | --- | --- | --- | --- | --- |
| | Goalies | EV | PP | SH | Total | Sv% | TOI |
| Nashville Predators | 35 P. Rinne (L) | 20 – 23 | 3 – 4 | 0 – 0 | 23 – 27 | 0.852 | 59:42 |
| Detroit Red Wings | 35 J. Howard (W) | 33 – 33 | 0 – 0 | 0 – 0 | 33 – 33 | 1.000 | 60:00 |
About Hank Bonecutter
Hank Bonecutter spent forty years in broadcasting as a talk-show host, journalist, writer, and producer.  He is president of Bonehead Promotions an advertising consulting and media firm.  He owns www.clarksvillesportsnetwork.com, and is a contributing author/journalist for Clarksville Online.

Hank is former owner/general manager of Wjzm radio, Clarksville TN, and produced the longest running morning radio talk show in Clarksville, "The Bone Show."

Hank is also a stand-up comedian, having performed at some of the top comedy clubs in Tennessee, Kentucky and Georgia.  He produced a series of Clarksville comedy shows called "Comedy on the Cumberland," that raised money for Clarksville area charities.

You can follow Hank on Facebook and Twitter, @bonecutter01 and @boneheadnews.

Web Site: http://www.clarksvillesportsnetwork.com/
Email: hbonecutter@clarksvilleonline.com
Sections
Sports
Topics
Bridgestone Arena, Dallas Stars, Daniel Cleary, Detroit Goalie, Detroit MI, Detroit Red Wings, Drew Miller, Jimmy Howard, Joe Louis Arena, Nashville, Nashville Predators, Niklas Kronwall, Pekka Rinne, Predators, Red Wings, Tomas Tatar