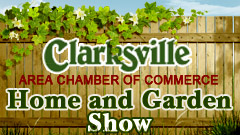 Clarksville, TN – On February 23rd and 24th, the Clarksville-Area Chamber of Commerce held their fourth annual Home and Garden show at the Foy Fitness Center on Austin Peay State University.
The show was sponsored by the Clarksville-Area Chamber of Commerce, the Leaf Chronicle, and Furniture Connection. 57 Vendors were on hand to offer Clarksvillians tips on getting ready for the rapidly approaching spring.
The vendors covered the complete range of needs that the average home owner might have to get their Home and Garden in top notch shape. Home owners were able to meet one on one with vendors throughout the region who could provide them with landscaping ideas, home improvement projects or tell them about all that is the new and fashionable to improve your home.
Door prizes were awarded to attendees including a $500.00 Gift Card from Furniture Connection, A Flat Screen TV from the Chamber of Commerce, a Prestige HD Thermostat from Action Air Conditioning, 50ft of free landscape curbing from Affordable Outdoor Improvements, an Electric Grill and two chairs from F&M Bank, a Spring Goody Basket from Heritage Bank, Apple iPads from Hudson Construction Group and Reda Homebuilders , Owens Corning Stadium Blankets from Jackson Roofing and Remodeling LLC, a Touchscreen GPS from Paul Davis Emergency Services, a $500.00 Fire Ring and Grill from  Red River Concrete Products, a $50.00 Visa Gift Card from Satellite Electronics, The Kutting Crew gave away 10 $500.00 gift certificates, H&T Flooring gave away an area rug, and Creative Wetcast Products gave away an easy garden kit.
The show was a hit with the thousands of Clarksvillians who came through in a steady stream on both days said Chris Goodman the Chairman of Business Development at the Clarksville-Area Chamber of Commerce. He lead the team that put the show together.
"Our annual Home and Garden Show showcases everything that is available for you to beautify your home and garden; anywhere from rooms, to landscaping, to gutters. I mean, you name it, we had it today, along with lots and lots for giveaways," said Goodman. "If you didn't make it by this year we hope you will come out next year! The Home and Garden show will be bigger and better than ever!"
Photo Gallery
About Bill Larson
Bill Larson is  is politically and socially active in the community. Bill is a member of the Friends of Dunbar Cave.

You can reach him via telephone at 931-249-0043 or via the email address below.
Sections
Business
Topics
Action Air Conditioning, Affordable Outdoor Improvements, APSU, APSU Foy Fitness and Recreation Center, Austin Peay State University, Clarksville Area Chamber of Commerce, Clarksville TN, F&M Bank, Foy Fitness Center, Furniture Connection, H&T Flooring Creative Wetcast Products, Heritage Bank, Hudson Construction Group, Jackson Roofing and Remodeling LLC, One Hour Heating and Cooling, Paul Davis Emergency Services, Red River Concrete Products, Reda Homebuilders, Satellite Electronics, The Kutting Crew