Clarksville, TN – On February 25th, 2013, around midnight, 911 received a call from a neighbor of 331 Market Street, in reference to hearing a woman hitting her son and the child screaming. There was enough of a disturbance that a group started gathering outside of the apartment and was ready to enter and stop the female.
When Clarksville Police Officers arrived, they were lead to the outside of the apartment's window and could hear screaming and slapping coming from inside of the residence. The child sounded like he was in distress.
Officers went to the door of the residence at 331 Market Street and spoke with Jessica Mires, who was highly intoxicated and very uncooperative with Police. Officers then spoke with Mires' nine year old son inside of the residence.

Through their investigation, officers determined the Jessica Mires was upset with the nine year old because his clothes were not ready for school the next day. She then began to hit the child with open hand on the back several times leaving red marks.

EMS was called and checked the child at the scene, but was not transported. Department of Children's Services was contacted and the children were left at the residence with an adult male.
Jessica Mires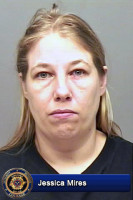 Name: Jessica Mires
Race: W
Gender: F
DOB: 10/11/77
Given Address: 331 Market Street, Clarksville, TN
Arresting Officer: Thomas Tranberg
Charged With: Child Abuse/Neglect
Booked Into: Montgomery County Jail
Bond: $1,000.
Sections
News
Topics
Bond, Child Abuse and Neglect, Clarksville Police Department, Clarksville TN, CPD, DCS, Jessica Mires, Market Street, Montgomery County jail, Tennessee Department of Children's Services, Thomas Tranberg