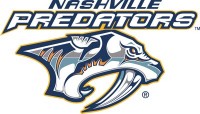 Anaheim, CA – The Anaheim Ducks came out fast scoring two goals Wednesday night before the Nashville Predators got off their first shot. The Ducks went on to beat the Predators 5-1 at the Honda Center.

It was Anaheim's seventh straight win at home.

Nick Bonino got things started for the Ducks at 2:24 in the first when he hit a wrist shot past Pekka Rinne. Kyle Palmieri followed that up with a goal at 3.49 making it 2-0 Ducks.

Palmieri was not finished. He got his second goal of the night at 15:57 in the first. He completed a hat trick scoring a tip in goal at 1:07 in the second during a power play.

The Predators finally got on the board when Rich Clune goes in on the attack and finds Kevin Klein to the right of the goal who quick shuffles it over to Craig Smith. Smith hits a slap shot past Viktor Fasth for the score.

Anaheim put it up 5-1 when Saku Koivu put in a tip in at 19:20 in the second.

The Ducks put 28 shots on goal. The Predators had 21 shots on goal.

The Predators play can be summed up by their last power play of the game. At 9:25 in the third, Anaheim's Matt Beleskey gets called for goalkeeper interference. Sloppy passes and poor puck handling resulted in only one shot on goal, by the Ducks.

The Nashville Predators continue their road trip when they visit the San Jose Sharks Saturday, March 2nd at the HP Pavilion Arena. The Game starts at 9:30pm (CT).
Box Score
Predators 1 – 5 Ducks
Wednesday, February 27th, 2013
| | | | | |
| --- | --- | --- | --- | --- |
| FINAL | 1 | 2 | 3 | T |
| Nashville Predators | 0 | 1 | 0 | 1 |
| Anaheim Ducks | 3 | 2 | 0 | 5 |
Scoring Summary
1st Period
02:48
ANA
Nick Bonino (5) Wrist Shot – Assists: E. Etem (3)
03:49
ANA
Kyle Palmieri (5) Wrist Shot – Assists: C. Perry (10) & R. Getzlaf (13)
16:57
ANA
Kyle Palmieri (6) Wrist Shot – Assists: C. Perry (11) & R. Getzlaf (14)
2nd Period
01:07
ANA
PPG – Kyle Palmieri (7) Tip-In – Assists: C. Perry (12) & R. Getzlaf (15)
09:27
NSH
Craig Smith (3) Slap Shot – Assists: K. Klein (5) & R. Clune (2)
19:20
ANA
PPG – Saku Koivu (6) Tip-In – Assists: B. Ryan (9) & F. Beauchemin (11)
3rd Period
none
Penalty Summary
1st Period
19:24
NSH
Colin Wilson : Too many men/ice – bench – 2 min
2nd Period
10:53
ANA
Ryan Getzlaf : Hooking – 2 min
13:18
NSH
Scott Hannan : Interference – 2 min
17:58
NSH
Rich Clune : Interference on goalkeeper – 2 min
3rd Period
01:49
ANA
Bryan Allen : Cross checking – 2 min
01:49
NSH
Rich Clune : Slashing – 2 min
09:25
ANA
Matt Beleskey : Interference on goalkeeper – 2 min
19:51
ANA
Matt Beleskey : Fighting (maj) – 5 min
19:51
NSH
Scott Hannan : Fighting (maj) – 5 min
Shots on Goal
| | | | | |
| --- | --- | --- | --- | --- |
| | 1st | 2nd | 3rd | T |
| Nashville Predators | 9 | 8 | 4 | 21 |
| Anaheim Ducks | 13 | 8 | 7 | 28 |
Saves
| | | | | | | | |
| --- | --- | --- | --- | --- | --- | --- | --- |
| | Goalies | EV | PP | SH | Total | Sv% | TOI |
| Nashville Predators | 30 C. Mason | 6 – 6 | 0 – 0 | 1 – 1 | 7 – 7 | 1.000 | 20:00 |
| Nashville Predators | 35 P. Rinne (L) | 12 – 15 | 4 – 6 | 0 – 0 | 16 – 21 | 0.762 | 40:00 |
| Anaheim Ducks | 30 V. Fasth (W) | 18 – 19 | 1 – 1 | 1 – 1 | 20 – 21 | 0.952 | 59:40 |
Sections
Sports
Topics
Anaheim CA, Anaheim Ducks, Craig Smith, Honda Center, HP Pavilion Arena, Kevin Klein, Kyle Palmieri, Matt Beleskey, Nashville Predators, National Hockey League, NHL, Nick Bonino, Pekka Rinne, Predators, Rich Clune, Saku Koivu, San Jose Sharks, Viktor Fasth