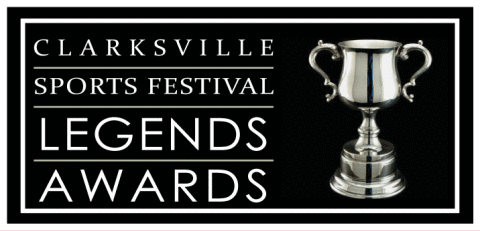 Clarksville, TN – The City of Clarksville Parks & Recreation Department awarded the Clarksville Sports Legends Award – Coach of the Year Award to Kenwood Middle School football coach, Ronald Graham last night at the third-annual Clarksville Sports Legends Award Coaches' Banquet held at Freedom Point.

Coach Graham was among five finalists in the running for Coach of the Year. Each coach was nominated by someone in the community for their hard work and dedication to not only to their players but also to the coaching community.

Coach Graham was selected by a panel based on submitted nomination narratives. Coach Graham's outstanding coaching record as he led the Kenwood Middle School football team to 3 consecutive undefeated seasons contributed to his winning Coach of the Year. Coach Graham also mentors his players off the field, requesting to see the report card of each player and encouraging both good grades and good character.

The Coaches' Banquet also honored "Old School Coaches" in the community who had retired or passed away, yet still have had a large impact on the Clarksville athletic community. This year's Old School Coaches were Frank Ditmore, former Clarksville High School Football Coach and Richard Hopper, former Clarksville High School Basketball Coach.

Finalists as Follows

Coach of the Year

o Ronald Graham, Kenwood Middle School Football

o Brady Freeman, Lady Valkyries Rugby

o Mike Blackwell, Clarksville National Girls Softball

o Shawn Berner, Fort Campbell High School Football

o Donny Caver, Northwest Little League

For more details on the Clarksville Sports Legends Awards, please contact the Clarksville Parks and Recreation Office at 645-7476 or visit www.cityofclarksville.com.



Sections
Sports
Topics
Brady Freeman, City of Clarksville, Clarksville High School, Clarksville High School Basketball Coach, Clarksville National Girls Softball, Clarksville Sports Legends Award, Clarksville TN, Coach of the Year, Coaches' Banquet, Donny Caver, Fort Campbell High School Football, Frank Ditmore, Freedom Point, Kenwood Middle School, Kenwood Middle School Football Team, Lady Valkyries Rugby, Mike Blackwell, Northwest Little League, Old School Coaches, Parks and Recreation Department, Richard Hopper, Ronald Graham, Shawn Berner