APSU Sports: Austin Peay Men's Basketball

Clarksville, TN — Jumping out to a 16-0 lead to open the game, Austin Peay State University's men's basketball ball team was never threaten in its regular season and Ohio Valley Conference finale — Saturday at the Dunn Center – in a 91-58 victory over UT Martin.

The win was the 400th OVC win for the Governors, whose all-time conference record now stands at 400-360.

Junior Will Triggs led the early charge for the Governors (8-23, 4-12 OVC), scoring seven during the opening run, and finishing the night with a game-high 21 points.

UT Martin (9-20, 5-11 OVC) would finally get on the board at the 12:07 mark on a layup by B.J. McLaughlin, ending a streak of 14 straight misses.

Overall, the Skyhawks only managed to hit on 27.5 percent of its shots from the floor on the night.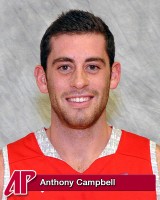 After an Austin Peay turnover, McLaughlin scored on a tip-in to cut the Govs lead to 12 points — 16-4 with 11:34 left in the opening half — but that was as close as the Skyhawks would get the rest of the way, as Austin Peay built its lead out to as many as 23 points in the first half before heading into intermission up 21 points, 42-21.
Austin Peay didn't let its foot up off the gas in the second half, with UT Martin never getting any closer than 17 points in the final half, while seeing its lead hover around the 30-point mark for most of the final 10 minutes of the game – including its largest led of the game, 33 points, at the final horn.
Joining Triggs in double figures for the Govs were senior Anthony Campbell and sophomore Chris Freeman, with 14 points each, while freshman Chris Horton and Preston Herring chipped in with 10 points each.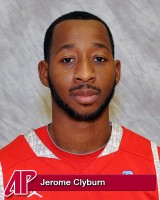 Overall, 12 Governors scratched in the scoring column.
Horton also finished the game with seven blocks, giving him 100 for the season – the first Gov to accomplish that feat.
Senior Jeremy Clyburn, who along with Campbell played in their final game for the Governors, led Austin Peay with seven assists.
It was the first double figure game this season for Herring.
Justin Childs led the Skyhawks with 20 points, with Mike Liabo adding 10 points
Box Score
UT Martin vs Austin Peay
3/2/13 7:35pm at Clarksville, TN (Dunn Center)
UT Martin 58
Total
3-point
Rebounds
##
Player
p
fgm-fga
fgm-fga
ftm-fta
off-def
tot
pf
tp
a
to
blk
stl
min

10

LIABO, Mike

f

4-9

2-6

0-2

1-2

3

2

10

1

3

0

0

23

53

WASHINGTON, Jeremy

f

2-7

0-0

0-2

2-2

4

4

4

0

2

1

1

22

33

TAYLOR, Myles

c

0-4

0-1

0-0

0-0

0

0

0

0

0

0

0

5

02

TAYLOR, Khristian

g

1-3

0-0

0-0

1-0

1

0

2

0

1

0

0

13

03

SMITH, Terence

g

2-8

1-1

2-2

2-2

4

4

7

1

2

0

3

19

00

DOWDELL, Tobias

–

1-1

0-0

0-0

1-1

2

3

2

0

0

0

0

11

01

OLDHAM, Dee

–

1-5

0-3

0-0

1-4

5

1

2

1

3

0

0

29

04

JONES, Bobby

–

1-8

0-4

1-2

1-0

1

1

3

0

2

0

1

12

11

MINOR, Omari

–

0-3

0-0

4-4

0-0

0

3

4

0

0

0

1

8

15

RICHARDSON, DeMarc

–

0-0

0-0

0-0

0-0

0

0

0

0

0

0

0

8

22

CHILDS, Justin

–

5-16

1-5

9-13

3-4

7

1

20

1

0

0

1

26

25

McLAUGHLIN, BJ

–

2-5

0-0

0-0

2-1

3

5

4

0

2

0

0

14

32

MOPO, Pierre

–

0-0

0-0

0-0

1-1

2

4

0

0

1

0

0

10

TM

TEAM

–

–

–

–

2-1

3

–

–

–

–

–

–

–

Totals…………..

–

19-69

4-20

16-25

17-18

35

28

58

4

16

1

7

200

27.5%

20.0%

64.0%

Team summary:
FG
3FG
FT
1st Half:

8-39

3-13

2-4

20.5%

23.1%

50.0%

2nd Half:

11-30

1-7

14-21

36.7%

14.3%

66.7%
Austin Peay 91
Total
3-point
Rebounds
##
Player
p
fgm-fga
fgm-fga
ftm-fta
off-def
tot
pf
tp
a
to
blk
stl
min

10

TRIGGS, Will

f

8-12

0-0

5-10

2-5

7

3

21

3

3

1

1

27

25

CAMPBELL, Anthony

f

6-14

1-7

1-1

1-3

4

0

14

4

2

0

1

28

05

HORTON, Chris

c

3-4

0-0

4-5

0-7

7

5

10

1

4

7

0

19

01

CLYBURN, Jerome

g

0-0

0-0

6-6

1-5

6

1

6

7

2

1

1

25

04

BETRAN, Travis

g

1-5

0-3

4-4

0-2

2

0

6

1

2

0

1

31

03

COVINGTON, Kevin

–

0-0

0-0

0-0

0-1

1

0

0

0

0

0

0

3

11

GREER, Thomas

–

1-1

1-1

0-0

0-0

0

0

3

0

0

0

0

3

12

PURVIS, Jeremy

–

1-1

0-0

0-0

0-2

2

2

2

2

1

0

0

11

15

FREEMAN, Chris

–

5-6

0-0

4-4

2-4

6

4

14

0

1

0

0

12

20

ARENTSEN, Cory

–

0-2

0-1

0-0

1-2

3

0

0

0

0

0

1

11

21

HERRING, Preston

–

3-4

0-0

4-4

0-1

1

4

10

1

0

0

1

12

22

LAWRENCE, Herdie

–

1-1

0-0

0-0

0-2

2

1

2

1

2

0

0

4

23

LYNCH, AJ

–

0-1

0-0

0-0

0-1

1

0

0

1

0

0

0

4

24

HARMS, Joe

–

0-1

0-1

1-4

0-1

1

1

1

0

0

0

0

4

33

HASSE, Matt

–

1-1

0-0

0-0

1-0

1

1

2

1

0

0

0

6

TM

TEAM

–

–

–

–

0-2

2

–

–

–

–

–

–

–

Totals…………..

–

30-53

2-13

29-38

8-38

46

22

91

22

17

9

6

200

56.6%

15.4%

76.3%

Team summary:
FG
3FG
FT
1st Half:

14-24

2-7

12-16

58.3%

28.6%

75.0%

2nd Half:

16-29

0-6

17-22

55.2%

0.0%

77.3%
| | | | | |
| --- | --- | --- | --- | --- |
| Score by Periods | 1st | 2nd | Total | |
| UT Martin | 21 | 37 | 58 | Record: (9-20 (5-11 OVC)) |
| Austin Peay | 42 | 49 | 91 | Record: (8-23 (4-12 OVC)) |
Officials: John St. Clair (R), William Phillips, Mark Morrison Technical fouls: UT Martin-None. Austin Peay-HERRING, Preston.
Attendance: 2408
Player of the Game: Will Triggs
Sections
News
Topics
Anthony Campbell, APSU, APSU Athletics, APSU Basketball, APSU Dunn Center, APSU Men's Basketball, APSU Sports, Austin Peay State University, B.J. McLaughlin, Chris Freeman, Chris Horton, Clarksville TN, Governors, Govs, Jeremy Clyburn, Justin Childs, Mike Liabo, Ohio Valley Conference, OVC, Preston Herring, Skyhawks, UT-Martin, Will Triggs