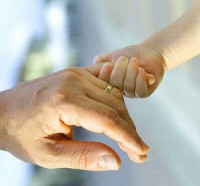 Clarksville, TN – Today, over our morning coffee, my husband and I were watching HLN. It's the only news we can handle because it is not political, apocalyptic or intentionally depressing. And when Robin Meade says, "Good morning sunshine!" I am thoroughly convinced she is talking to me.

They shared a story of a doctor in Africa who saw a need and worked towards a solution.  Too many children and women in Africa die during childbirth. She identified one of the problems as a lack of electricity in the clinics, which equals poor, or no lighting and no fetal monitoring.

She created a power source in a box (called a Solar Suitcase) that she is putting in the clinics. Women are feeling less fearful about childbirth. More babies will survive because of her. More babies will have their mother to raise them because she did something.

When we are kids, they tell us we can change the world. When we grow up we learn that we can't change a thing. Both are myths. We each have the power to identify a problem and work towards a solution. We each have a mind and a heart capable of serving others. But we can't wait for someone else to fix what we see is broken or to fill a need in someone's life.
 "Do not wait for leaders; do it alone, person to person." ~Mother Teresa
I know dozens of people who are doing incredible things person to person, in our community and around the globe. I could write a book. But I am going to tell you briefly about three local women who are putting their time and money, where their heart is.
Brittany Via is 25 and just graduated from nursing school and has been working for one week! She is also on a renewed journey with Christ. She is taking a big, bold step of faith and traveling to Africa this summer to offer medical missions with an organization called Nurses for Africa.
Why she impresses me: She didn't wait until she had the "experience", nor did she wait for someone to drag her along. She truly desires to serve others and is running at a gazelle's pace to do it! This girl is on fire!
How you can help: Buy a shirt. They are very attractive and soft and are only $20.00. All proceeds go towards helping her pay her way to help others. Contact her at bvia87@gmail.com.
Kristin Pearson is the President of Clarksville Family Adoption Association. "We promote education and awareness about adoption, help families connect with one another, and provide support to families in the adoption process.  We have over 20 events planned for 2013!"
Why she impresses me: Kristin is a full time nurse, mother of 2 and a loving wife. After adopting their daughter, Kristin could have rested simply in achieving the goals for just her family. However, she sees the beauty of adoption and is using her time and resources to help families come together. Kristin is a life changer!
How you can help: Contact Kristin Pearson or Jaime Mobley (Executive Director) at clarksvillefamilyadoption@gmail.com for more information and to donate online via their PayPal account (easy!). You can also find them on FB here.
Kayla Mihalinec is just 18 and a senior at Rossview High School. She has huge goals! She is starting a Young Life Ministry in her home country of Croatia in a program aptly named, "Clarksville to Croatia." Kayla says, "Young Life has done so much for me here in Clarksville that I want to share what Young Life and the power of Jesus can do in Croatia."
Why she impresses me: She's 18. When I was 18 I was all about me. She made a choice to live selflessly and to follow God. She is also bold in her faith outside of her ministry. Clearly stated on her Facebook are her beliefs about life and about dating (and what she will and won't tolerate.) Kayla is an inspiration!
How you can help: Buy a shirt or send make a donation. She is earning everything it takes to make this program possible. She has big dreams. Let's help her make them happen! Visit her FB page here or email her at kaylamihalinec@gmail.com.
Who impresses you? We are all leaving a legacy. What will your legacy be made of?
Tomorrow is not promised to us! (1 Peter 1.24-25) Today is the day to create a legacy of love, boldness and meaning!
For more on being a Game Changer, check out 5 Ways to Make the World a Better Place
About Kris Wolfe
Kris Wolfe is a Christian, wife and mother. Kris is a freelance writer who focuses on spiritual and practical encouragement. Kris also writes lessons for small group purposes for churches and is a small group coach.  Kris has a master's degree in Biblical Counseling from Luther Rice University and Seminary and is a listed TN Supreme Court Rule 31 Mediator.

Kris covers topics such as dating, marriage, parenting, divorce, post-divorce recovery, and the blended family.

Read more from Kris Wolfe at MorningGloryDevo.com or follow on Twitter @MrsKrisWolfe

Web Site: http://www.morningglorydevo.com/
Email: kristyannawolfe@gmail.com
Sections
Spirituality
Topics
Adoption, Africa, Brittany Via, Clarksville Family Adoption Association, Clarksville TN, Clarksville to Croatia, Coffee, Croatia, Education, electricity, HLN, Jaime Mobley, Jesus, Kayla Mihalinec, Kristin Pearson, Nurses for Africa, Robin Meade, Rossview High School