Clarksville, TN – A drunk driver who ignored officers direction crashed her vehicle into a stationary patrol car with emergency lights running and a then ran head-on into a parked wrecker truck.
On March 6th, 2013, around 9:30pm, Clarksville Police Officers were on the scene of two car wreck with injuries on Tiny Town Road near Peachers Mill Road and had westbound traffic on Tiny Town Road blocked off directing traffic away from crash.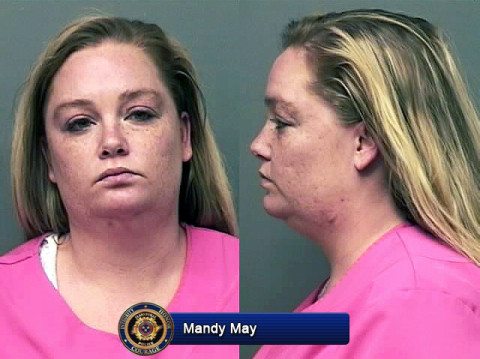 A Toyota Echo driven by Mandy May was exiting a parking lot and officers were directing her to go straight onto Peachers Mill Road, but she ignored their commands and turned right, heading toward the scene of the crash.

She sideswiped a parked patrol car with emergency lights flashing and then crashed head-on into a wrecker truck, but was uninjured.

Officer Keith Jones went over to her vehicle to check on her welfare and noticed she had bloodshot, watery eyes, slurred speech, and could smell alcohol. He administered field sobriety tests which she performed unsuccessfully.
Mandy May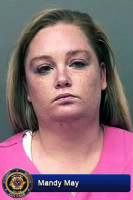 Name: Mandy May
Race: W
Gender: F
DOB: 7/3/83
Given Address: 1264 Silver Star Drive, Clarksville, TN
Arresting Officer: Keith Jones
Charged With: DUI, Implied Consent, and Violation of C.O.R
Booked Into: Montgomery County Jail
Bond: $2,000.
Sections
News
Topics
Bond, Clarksville Police Department, Clarksville TN, CPD, Drunk Driver, DUI, Implied Consent, Keith Jones, Mandy May, Montgomery County jail, Peachers Mill Road, Silver Star Drive, Sobriety Test, Tiny Town Road, Toyota Echo, Vehicle Accident, Violation of Conditional Order of Release