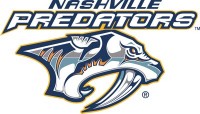 Nashville,TN – The Nashville Predators returned to the friendly confines of Bridgestone Arena tonight to another sold-out crowd, and responded with a 6-0 "thumping" of the Edmonton Oilers.

Colin Wilson had a career-high two goals and two assists on his way to earning the "First" star of the game.

"When Wilson was chugging the way he was tonight, really working, he can make big things happen. A good illustration was the first goal he had. He spun off in the corner, determined to get to the hard area, and was rewarded," stated Predators Coach Barry Trotz. "He got rewarded again on the powerplay. He made a couple of good plays with the assists. When he is determined like that, on both ends of the ice, he is a real good player."

Patric Hornqvist, David Legwand and Rich Clune along with newly acquired Zach Boychuk each had a goal apiece, as the well rested Predators won for the first time since February 25th in that overtime win over Dallas.

Shea Weber had three assists in the first game against Edmonton this year.

Pekka Rinne was superb in goal, stopping all 24 shots he faced. This is Rinne's fourth shutout this season.

The Predators came into tonight's game last in the NHL averaging 1.96 goals per game and had only produced one goal in the three losses on the West Coast.

The Oilers are 0-4-1 in their last five games and are finishing up a 9 game road trip. Their last two losses have been shut-outs, and this was the second game of a "back to back."

Nashville lost Patric Hornqvist to an upper body injury in the second period, and he never returned. He had just returned from a shoulder injury to get back into the lineup but Theo Peckman boarded Hornqvist and he slumped over and barely skated off the ice and went straight to the training room.

Edmonton's best scoring chances short handed when Ryan Jones, a former Predator, had a breakaway in each of the first two periods only to be denied by Rinne.

The Predators improved to 9-1-4 when scoring more than one goal. Nashville is also 9-0-5 when scoring first.

Colin Wilson now has 18 points in his last 17 games. He's also the 24th player to score 100 points and has 103 in his career.

Victor Bartley, Zach Boychuk, and Bobby Butler made their debut at tonights game.

"Both contributed a lot. Butler had a couple of good looks, including the one at the end. He created a lot and also made big plays. Zach [Boychuk] nailed one off the crossbar. I thought he had lots of jump. He was getting into the interior. One of his best plays was when he came around the net, hung on and showed a lot of patience and got a good scoring chance. If they played like that, there's no reason they can't follow it up with a good one next game," commented Trotz.

"First impressions were pretty good, but can they follow it up? [Bartley] played really well. I liked his game. He has great mobility. He did a lot of great things, but I thought the best thing he did tonight was during the last‐minute grind behind the net; he battled against some big bodies and won the puck. He didn't look like he played his first game. He looked pretty solid," said Trotz.

Nashville is back on the ice tomorrow night to welcome former teammate Ryan Suiter and the Minnesota Wild.

Puck drops at 7:00pm.
Box Score
Oilers 0 – 6 Predators
Friday, March 8th, 2013
| | | | | |
| --- | --- | --- | --- | --- |
| FINAL | 1 | 2 | 3 | T |
| Edmonton Oilers | 0 | 0 | 0 | 0 |
| Nashville Predators | 2 | 2 | 2 | 6 |
Scoring Summary
Penalty Summary
1st Period
04:52
EDM
Nick Schultz : Slashing – 2 min
06:09
EDM
Mike Brown : Fighting (maj) – 5 min
06:09
NSH
Rich Clune : Fighting (maj) – 5 min
2nd Period
06:00
EDM
Theo Peckham : Holding – 2 min
06:00
NSH
Paul Gaustad : Roughing – 2 min
06:00
EDM
Theo Peckham served by Magnus Paajarvi : Roughing – 2 min
10:23
EDM
Ryan Whitney : Tripping – 2 min
3rd Period
15:46
EDM
Ryan Jones : Roughing – 2 min
Shots on Goal
| | | | | |
| --- | --- | --- | --- | --- |
| | 1st | 2nd | 3rd | T |
| Edmonton Oilers | 8 | 10 | 6 | 24 |
| Nashville Predators | 13 | 8 | 13 | 34 |
Saves
| | | | | | | | |
| --- | --- | --- | --- | --- | --- | --- | --- |
| | Goalies | EV | PP | SH | Total | Sv% | TOI |
| Edmonton Oilers | 34 Y. Danis | 14 – 17 | 3 – 4 | 0 – 0 | 17 – 21 | 0.810 | 40:00 |
| Edmonton Oilers | 40 D. Dubnyk (L) | 10 – 11 | 1 – 2 | 0 – 0 | 11 – 13 | 0.846 | 20:00 |
| Nashville Predators | 35 P. Rinne (W) | 22 – 22 | 0 – 0 | 2 – 2 | 24 – 24 | 1.000 | 59:56 |
Sections
Sports
Topics
Barry Trotz, Bobby Butler, Bridgestone Arena, Colin Wilson, Dallas, David Legwand, Edmonton, Edmonton Oilers, First Star of the Game, Nashville Predators, Nashville TN, National Hockey League, NHL, Oilers, Patric Hornqvist, Pekka Rinne, Predators, Rich Clune, Road Trip, Shea Weber, Shut Out, Smashville, The Oilers, Victor Bartley, West Coast, Zach Boychuk