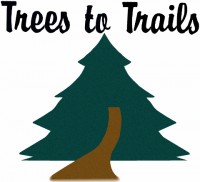 Clarksville, TN – Do you enjoy Clarksville's only state park, Dunbar Cave State Natural Area?  Do you run the trails for exercise or walk them for some peace and quiet?  Want to make them even better? Then you will likely want to help us to maintain the trails you use and enjoy.
The Friends of Dunbar Cave, a nonprofit group dedicated to promoting, protecting, and preserving the park,  will have their annual trail mulching day on March 23rd.
Using recycled Christmas trees, volunteers will mulch along the lake front on the dam. "If they are sufficient, strong volunteers, we will mulch muddy sections of the trails," said Meredith Gildrie, the organizer of the event.
After several years of having much of the mulch wash down the trails into the lake after heavy rains, the park staff is evaluating what areas need mulch but are not prone to that washing effect.
This year Mulching Day at Dunbar Cave State Natural Area will be held on March 23rd, 2013 – 9:00am until no later than noon. Dunbar Cave is located at401 Old Dunbar Cave Road in Clarksville, TN.You are strongly recommended to bring gloves, sturdy shoes, a rake (garden variety is best), and a water bottle (Friends of Dunbar Cave will have water available).
Each volunteer (new to volunteering at Dunbar Cave) must fill out a volunteer registration form before beginning to work in the state park.  The form asks for the volunteer's name, telephone number, and the name and phone number of an emergency contact.
For more information contact Meredith Gildrie at 931.648.4317.
Links
About Blayne Clements
I am a 30 something graduate from Austin Peay State University, where I graduated in 1997 with two majors (Accounting and Finance). I am a very happily married man, with one beautiful daughter. I enjoy a professional life of public service and a personal life of travel, reading, music, and always trying to learn from others.

Email: climbingpossum@yahoo.com
Sections
Events
Topics
Dr. Meredith Gildrie, Dunbar Cave State Natural Area, Friends of Dunbar Cave, Trees to Trails