Winter Weather Advisory In Effect ... [Click here for more information]
Nashville Predators vs. Calgary Flames
Friday, March 15th, 2013 | 8:00pm (CT)
Calgary, Alberta | Scotiabank Saddledome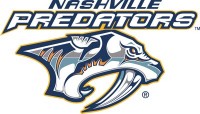 Calgary, Alberta – The Nashville Predators and Calgary Flames meet for the first of three games in a 39-day span on Friday night at the Scotiabank Saddledome. The Predators will host the Flames in six days on March 21st, and again on April 23rd.

A season ago, the Predators claimed three of four games against the Flames, including each of the last two meetings – both at Bridgestone Arena.

On January 1st, 2012, Sergei Kostitsyn registered the 21st hat trick in franchise history in a 5-3 win at Bridgestone Arena, and on December 13th, 2011, Colin Wilson scored the game-winning goal at 3:31 of the third period as Nashville edged Calgary, 2-1.

The Preds also won in their first of two 2011-12 trips to Cowtown on October 22nd, 2011 when Pekka Rinne stopped all 33 shots he faced in a 2-0 victory.  The shutout was the 21st of his career, tying the franchise record he would break one week later against the Anaheim Ducks.

Rinne posted a 3-1-0 record with a 1.25 goals-against average and a .958 save percentage against Calgary a season ago, recording his first three wins against the Flames after posting a 0-4-2 record against them prior to the 2011-12 season.  In addition to his hat trick, Kostitsyn had a goal in the October 22nd win to finish the season with four goals in four games.

Matt Halischuk had the second highest point production against Calgary a season ago with three points (1g-2a) in four games. Martin Erat has 25 career points (8g-17a) in 33 games against the Flames. Scott Hannan made his NHL debut on October 9th, 1998 at Calgary as a member of the San Jose Sharks. He also spent the 2011-12 season with the Flames, posting 12 points (2g-10a) and 38 penalty minutes in 78 games.
Rinne Solid in Net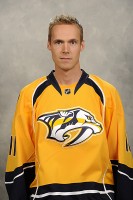 Since January 31st, Pekka Rinne has been one of the League's top netminders – posting a 1.98 goals-against average and .925 save percentage while appearing in 20 of Nashville's 21 games during that span.
In addition to leading the League in shutouts, the Finnish netminder ranks second in minutes played (1,435:35), seventh in goals-against average (2.13), tied for ninth in save percentage (.919) and tied for 11th in wins (10) among all starting goaltenders.
The Captain Stays Strong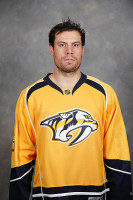 Shea Weber has been nearly a point-per-game player for the Predators as of late after posting 13 points (4g-9a) in his last 14 outings, including six points (1g-5a) in his last five games.
Weber has led the Preds in ice time in 21-of-27 games this season and ranks 10th in the League in average ice time (25:41).
Despite his high ice time, Weber has only been on the ice for 12 even-strength goals against this season. Weber also ranks among the League's top defensemen in hits this season (60).
Last Time Out
Nashville 4 at Vancouver 7
Nashville allowed seven-or-more goals for the first time since March 11, 2010, when it allowed eight goals to the  San Jose Sharks (8-5).
Mike Fisher tallied his first goal in eight games in the third period.  He has three points (1g-2a) in his last four outings.
Rich Clune dished out a game-high five hits.  He ranks among the League's Top 20 skaters in the category (75).
Nashville won the face-off battle, led by David Legwand, who went 17 for 22 (77 percent) in the face-off circle. Nick Spaling won 10 of 15 draws (67 percent), while Craig Smith went five for nine (56 percent) on the night.
The Predators were shorthanded just two times after being shorthanded nine times in the previous two games combined.  They have posted the fourth-fewest penalty minutes per game in the League this season (11.0). The Preds led the League in the category in 2011-12 (8.4) and 2009-10 (8.7), and ranked second in 2010-11 (8.8).
Kevin Klein recorded his first fighting major since February 3rd, 2011 vs. Philadelphia (Carcillo).
Nashville outshot their opponent for the ninth time this season (33-22).  It is 3-4-2 in those contests. Only two Predators failed to tally a shot on goal, while Shea Weber fired a team-high six shots on goal.
Quick Hits
The Preds have given up the second-fewest third period goals in the League (17).
Nashville has been shorthanded 90 times this season – fifth fewest in the NHL.
The Predators have gone to overtime or a shootout in an NHL-high 11 of their first 27 games in 2012-13, and hold a 5-6 record in contests that go beyond 60 minutes. The Preds are 3-1 in the five-minute, four-on-four session, and 2-5 in shootouts. Last season, Nashville needed extra time on 16 occasions in 82 games, tied for the third fewest in the NHL. The Preds didn't go beyond 60 minutes for the 11th time in 2011-12 until game No. 54 on February 7th, 2012 vs. Vancouver.
Roman Josi has led the team in ice time in the six games that Weber has not, and his 2012-13 average ice time is up by more than four minutes from his rookie season (from 18:23 to 22:30).
Unsung Scorers
Gabriel Bourque took sole possession of the team's goals lead Thursday night with his second marker in as many games.  Bourque has tallied four goals in his last six outings for the Preds and has now surpassed his output from 2011-12 (seven goals in 43 games).

Matt Halischuk has posted three points (1g-2a) in two games since returning from a conditioning stint in Milwaukee earlier this week. Last night's two-point effort (1g-1a) was his first multi-point outing since April 7th, 2012 vs. the Colorado Avalanche (1g-1a).

With an assist on Bourque's third-period goal, David Legwand has points (2g-3a) in four straight games after posting just two points (1g-1a) in his previous 10 outings.

Zach Boychuk pocketed his second point in a Preds sweater last night with his assist on Nick Spaling's second-period goal. He has two points (1g-1a) in three games since joining Nashville on March 5th.

Craig Smith has three points (3a) in his last four outings and seven points (3g-4a) in his last 12 after recording one point/assist in his first 15 games of 2012-13.

Nick Spaling has goals in back-to-back games after being held goalless since February 14th.  The Predators are 18-2-1 all-time when Spaling scores.
Career Highlights vs. Calgary
Scott Hannan – Made his NHL debut on October 9th, 1998 at Calgary (with San Jose).
Sergei Kostitsyn – Notched his first and only career hat trick on January 1st, 2012.
Craig Smith – Put a career-high seven shots on goal on December 13th, 2011 vs. Calgary.
Back to Backs
The Predators are playing the backend of their sixth of nine sets of back-to-backs in 2012-13 tonight after falling to the Canucks, 7-4, on Thursday night at Rogers Arena. The Preds are 1-3-2 on the front end and 2-2-1 on the back end of two-games-in-two-nights scenarios to this point.
Six times the Preds will play one game at home and one on the road (or vice versa), twice they'll hit Bridgestone Arena ice on back-to-back days, and on one occasion will play two road games in two nights.  A season ago, Nashville was 8-3-0 on the front end of back-to-backs, and 5-6-0 on the back end.
Sections
Sports
Topics
Anaheim Ducks, Bridgestone Arena, Calgary Alberta, Calgary Flames, Colorado Avalanche, Craig Smith, David Legwand, Gabriel Bourque, Kevin Klein, Martin Erat, Matt Halischuk, Mike Fisher, Milwaukee Admirals, Nashville Predators, National Hockey League, NHL, Nick Spaling, Pekka Rinne, Predators, Roman Josi, San Jose Sharks, Scotiabank Saddledome, Scott Hannan, Sergei Kostitsyn, Shea Weber, Zach Boychuk