Ice Storm Warning In Effect ... [Click here for more information]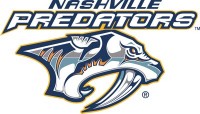 Calgary, Ontario – The Nashville Predators lost to the Calgary Flames tonight 6-3, after pulling Pekka Rinne from goal at about the 8 minute mark of the first period.

By that time, Calgary led Nashville 2-0. Chris Mason took over in goal for the rest of the game, but it didn't make much difference as Calgary kept coming.

The scoring began with Calgary's Mark Giordano slapping an even strength shot past Riinne at the 6:20 mark in the first period and the Flames led 1-0. Just 80 seconds later, Blake Comeau scored to make it 2-0 and Pekka Rinne's night was over.

Scoring in the second period began at the 3:38 mark on a Jiri Hudler power play goal with an assist from Michael Cammalleri and Dennis Wideman. Calgary led 3-0.

Nashville finally broke through at 5:14 when Gabriel Bourque nailed a power play goal with an assist from Captain Shea Weber and Roman Josi.

In the third period, Curtis Glencross scored just 1:14 into the final period to make it 4-1 in favor of the Flames, but just two minutes later, Mike Fisher of the Predators scored and the game was 4-2 in favor of Calgary.

Glencross would score at 5:34 of the third, on his way to a hat trick, when David Legwand scored at 17:41 in the third, with an assist from Matt Hallischuk, and it was 5-3 Flames.

Nashville pulled their goalie with just over one minute to play when Calgary's Curtis Glencross completed the hat trick on an empty netter, and made it 6-3 your final score.

Nashville travels to Edmonton for a Sunday game where the Oilers are seeking revenge for the shut-out the Predators put on them when they visited the music city.
Box Score
Predators 3 – 6 Flames
Friday, March 15th, 2013
| | | | | |
| --- | --- | --- | --- | --- |
| FINAL | 1 | 2 | 3 | T |
| Nashville Predators | 0 | 1 | 2 | 3 |
| Calgary Flames | 2 | 1 | 3 | 6 |
Scoring Summary
1st Period
06:20
CGY
Mark Giordano (2) Wrist Shot – Assists: A. Tanguay (13) & M. Cammalleri (10)
08:00
CGY
Blake Comeau (3) Backhand – Assists: J. Hudler (13) & M. Backlund (3)
2nd Period
03:38
CGY
PPG – Jiri Hudler (5) Tip-In – Assists: M. Cammalleri (11) & D. Wideman (11)
05:14
NSH
PPG – Gabriel Bourque (9) Tip-In – Assists: S. Weber (11) & R. Josi (5)
3rd Period
01:14
CGY
Curtis Glencross (10) [GOALS_807] – Assists: L. Stempniak (12) & M. Stajan (12)
03:15
NSH
Mike Fisher (6) [GOALS_807] – Assists: R. Josi (6) & N. Spaling (3)
05:32
CGY
Curtis Glencross (11) Wrist Shot – Assists: L. Stempniak (13) & M. Stajan (13)
17:41
NSH
David Legwand (6) Wrist Shot – Assists: M. Halischuk (4)
19:40
CGY
EN – Curtis Glencross (12) Wrist Shot – Assists: M. Stajan (14)
  Penalty Summary
1st Period
09:04
CGY
Derek Smith : Tripping – 2 min
2nd Period
02:20
NSH
Zach Boychuk : Holding – 2 min
04:49
CGY
Derek Smith : Cross checking – 2 min
15:42
NSH
Matt Halischuk : Interference – 2 min
3rd Period
06:08
NSH
Victor Bartley : Slashing – 2 min
Shots on Goal
| | | | | |
| --- | --- | --- | --- | --- |
| | 1st | 2nd | 3rd | T |
| Nashville Predators | 6 | 6 | 8 | 20 |
| Calgary Flames | 6 | 8 | 8 | 22 |
  Saves
| | | | | | | | |
| --- | --- | --- | --- | --- | --- | --- | --- |
| | Goalies | EV | PP | SH | Total | Sv% | TOI |
| Nashville Predators | 30 C. Mason (L) | 12 – 14 | 4 – 5 | 0 – 0 | 16 – 19 | 0.842 | 50:52 |
| Nashville Predators | 35 P. Rinne | 0 – 2 | 0 – 0 | 0 – 0 | 0 – 2 | 0.000 | 8:00 |
| Calgary Flames | 34 M. Kiprusoff (W) | 15 – 17 | 2 – 3 | 0 – 0 | 17 – 20 | 0.850 | 60:00 |
Sections
Sports
Topics
Blake Comeau, Calgary, Calgary Ontario, Chris Mason, Curtis Glencross, David Legwand, Dennis Wideman, Edmonton, Flames, Gabriel Bourque, Hat Trick Goalie, Jiri Hudler, Mark Giordano, Michael Cammalleri, Mike Fisher, Nashville, Nashville Predators, National Hockey League, NHL, Oilers, Ontario, Pekka Rinne, Predators, Roman Josi, Shea Weber