APSU Sports: Austin Peay Women's Tennis

Clarksville, TN – Behind a strong showing from No. 1 player Alison Carre, Austin Peay State University women's tennis team knocked off Northern Iowa, 6-1, to secure back-to-back victories for the first time in 2013.

Carre took the Panthers Phoebe Walker to task, defeating the senior 6-1, 6-0 for her sixth victory in the last seven matches. Carre and sophomore Vanessa Tavares took the No. 2 doubles match, 8-2, over Chelsea Moore and Jessica King.

"We're working and competing very hard right now," said head coach Ross Brown. "Alison has done a great job for us at number one the last few matches."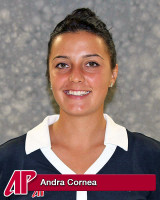 Junior Andra Cornea was the only Lady Gov pushed to a third set at the Austin Peay Tennis Courts. She overcame a rough second set to defeat Moore 6-4, 2-6, 10-2 at No. 3 singles. Tavares defeated Jessica King 6-2, 6-3 at No. 4 singles, her third win in the last four matches.
"Andra has really put it together the last couple of matches," Brown said. "Going forward in our conference schedule, I believe this was a real plus for our women. Jovana (Karac) has picked up her play the last few matches; it's very important to get good production from her."
The Lady Govs hit the road for just the second time in March when they travel to SIU Edwardsville (March 23rd) and Eastern Illinois (March 24th) for a pair of weekend matches.
Box Score
Austin Peay 6, UNI 1
March 19th, 2013 at Clarksville, TN.
Singles competition
1. CARRE, Alison (APSUW) def. Phoebe Walker (UNI) 6-1, 6-0
2. Krissy Lankelma (UNI) def. DI SALVO, Ornella (APSUW) 6-4, 6-3
3. CORNEA, Andra (APSUW) def. Chelsea Moore (UNI) 6-4, 2-6, 10-2
4. TAVARES, Vanessa (APSUW) def. Jessica King (UNI) 6-2, 6-3
5. KARAC, Jovana (APSUW) def. Lindsay Cayton (UNI) 7-5, 6-2
6. KUBEK, Mary Theresa (APSUW) def. No player (UNI), by default
Doubles competition
1. DI SALVO, Ornella/CORNEA, Andra (APSUW) def. Phoebe Walker/Krissy Lankelma (UNI) 8-5
2. CARRE, Alison/TAVARES, Vanessa (APSUW) def. Chelsea Moore/Jessica King (UNI) 8-2
3. KARAC, Jovana/KUBEK, Mary Theresa (APSUW) def. No player/No player (UNI), by default
Match Notes
UNI 5-4
Austin Peay 4-8
Sections
News
Topics
Alison Carre, Andra Cornea, APSU, APSU Athletics, APSU Sports, APSU Tennis, APSU Tennis Courts, APSU Women's Tennis, Austin Peay State University, Chelsea Moore, Clarksville TN, Eastern Illinois, Jessica King, Jovana Karac, Lady Govs, Northern Iowa, Ohio Valley Conference, OVC, Panthers, Phoebe Walker, Ross Brown, SIU Edwardsville, Vanessa Tavares