Special Weather Statement In Effect ... [Click here for more information]

Clarksville, TN – On March 17th, 2013, Michael Ryan Frazier, spent about two hours in jail before he was able to make Bond after being booked into the Montgomery County Jail on Burglary and Forgery charges.  He wasn't out too long before he had another encounter with law enforcement.
On March 19th, 2013, around 5:00pm, Clarksville Police were called to 2220 Madison Street after Frazier was spotted by the business owner stealing an energy drink. The business owner confronted Frazier and a verbal argument ensued.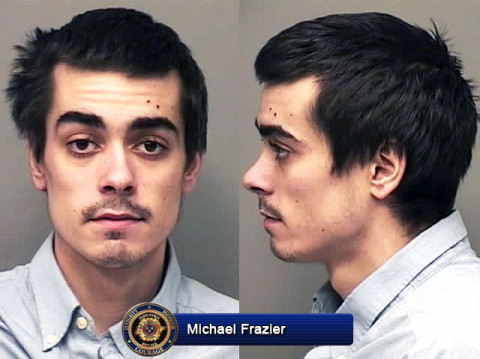 Frazier ran to the outside of the business with the owner in hot foot pursuit. Frazier looped around and went back inside of the business, broke a ceiling tile, and climbed into the ceiling area.

Shortly after that, he came crashing through the ceiling and hit the floor. He got up and entered the ceiling again, through the bathroom area. When Police arrived, Frazier was still in the ceiling trying to get away from the business owner.

Finally, Police were able to coax Frazier down and take him in custody.

He also had warrants which were on file for Forgery, Theft, and Vehicle Burglary.

More more on the story, see: Clarksville Police arrest Man for Vehicle Burglary who was just release on bond March 15th
Michael Frazier
Name: Michael Ryan Frazier
DOB: 3/ 9/ 89
Race:  W
Gender: M
Given Address: 2861 Highway 48, Cunningham, TN
Arresting Officer: Shawn Brown
Charged With: Theft, Evading, Resisting and Felony Vandalism
Booked Into: Montgomery County Jail
Bond: $28,250
Photos
Sections
News
Topics
Bond, burglary, Clarksville Police Department, Clarksville TN, CPD, Energy Drink, Evading, Felony Vandalism, Forgery, Highway 48, Hwy 48, Madison Street, Michael Ryan Frazier, Montgomery County jail, Resisting Arrest, Shawn Brown, Theft, Vehicle Burglary