Clarksville, TN –
The Junior Auxiliary of Clarksville will be hosting their 2nd annual "Cheers for Charity" Event on Saturday, April 13th, 2013 at F&M Bank.
"Cheers for Charity" is a fundraising event held by Junior Auxiliary of Clarksville, an association of women who render charitable services to children of our community.
They accomplish their mission through different projects throughout the year which are focused on helping and providing the basic necessities of life to children in our community who are in need.
Some of the projects the club sponsors include
Healthy Kids Kits which supplement the Project F.U.E.L program by supplying approximately 100 children in our local school system with hygiene items such as shampoo, conditioner, toothpaste, etc.
Gingerbread Christmas Breakfast is an event held every year in December when we send 10 or more families home with baskets for Christmas dinner and gifts for the children to open Christmas morning.
How the event works
For the event you and one additional team member select your favorite wine, and bring along three bottles of your selection to the event. When you arrive you will check in two of the bottles which are then bagged and numbered for tasting. Entrants will taste and score each of the wines and at the end of the evening the remaining bottle from each of the teams will be given as a prize to the teams that brought in the winning wines.
For More information
If you would like to know more about Junior Auxiliary of Clarksville, the Cheers for Charity event,  or how you can help out; contact Sallie Cherry by phone at 931.206.0962, or email the group JAofClarksville@gmail.com.
Poster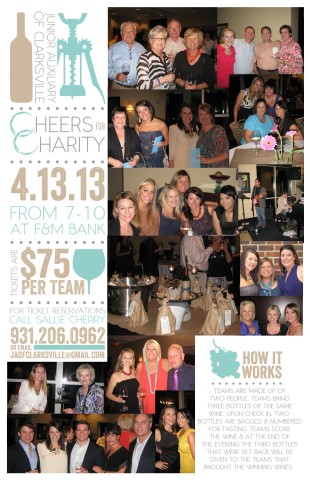 About Bill Larson
Bill Larson is the Creator and Publisher of Clarksville Online, and works as a network administrator for Compu-Net Enterprises. He is politically and socially active in the community. Bill serves on the board of the Clarksville Community Concert Association, and is a member of the Friends of Dunbar Cave.

You can reach him via telephone at 931-249-0043 or via the email address below.
Sections
Events
Topics
Charity, Cheers for Charity, Clarksville TN, F&M Bank, fundraiser, Gingerbread Christmas Breakfast, Junior Auxiliary of Clarksville, Project F.U.E.L., Sallie Cherry