Special Weather Statement In Effect ... [Click here for more information]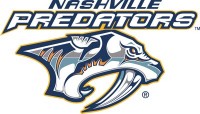 Nashville, TN – The Nashville Predators returned to "Smashville" for a much needed victory tonight as the Predators defeated the Calgary Flames 5-3 at the Bridgestone Arena.

Mike Fisher scored two goals and Martin Erat, Nick Spaling and Brandon Yip had the other goals for the Predators. Pekka Rinne had 19 saves on the night.

Calgary got off to a good start scoring a short handed goal at 5:01 of the first period, as Lee Stempniak forced a turnover by Roman Josi and carried the puck down the left side before finding Giordano above the left circle where he fired a one-timer by Rinne for his third goal of the season.

Martin Erat came back for Nashville with a power-play goal at 11:36 when he redirected Josi's slap shot from the blue line by Kiprusoff, who finished the night with 18 stops.

"I was happy for Marty. He's such a big part of the Predators. This is his home. This is where he's been a big, integral part. He had more joy in his game today. We talked about just going forward and not looking back," stated Nashville Predators coach Barry Trotz. "I thought his line was really good today. His line was the catalyst for us today. They went head-to-head against their big line. Mike Fisher got a couple [goals] and Marty was really instrumental with three points. I was happy to see him break out a little bit and have a smile on his face."

Galgary scored another short handed goal when Giordano made a pass from the left face-off to Comeau who was coming down the right side, and tipped the puck by Rinne for his fourth of the season.

The Predators have allowed three short-handed goals in their last three games and four on the season.

"We'll take any win. The second [short handed goal allowed] was a 40-foot line change that they made. That's how they got that chance," said Trotz. "I was more impressed with the way we didn't go into a shell when we ran into a little bad luck. We had a good, positive spirit."

Nashville returns to the Bridgestone Arena on Saturday night to face the Columbus Blue Jackets. Face-off is at 7:00pm.
Box Score
Flames 3 – 5 Predators
Thursday, March 21st, 2013
| | | | | |
| --- | --- | --- | --- | --- |
| FINAL | 1 | 2 | 3 | T |
| Calgary Flames | 2 | 0 | 1 | 3 |
| Nashville Predators | 2 | 2 | 1 | 5 |
Scoring Summary
1st Period
05:01
CGY
SHG – Mark Giordano (3) Slap Shot – Assists: L. Stempniak (15)
11:36
NSH
PPG – Martin Erat (4) Tip-In – Assists: R. Josi (9) & B. Butler (3)
13:05
CGY
SHG – Blake Comeau (4) Snap Shot – Assists: M. Giordano (5) & J. Bouwmeester (9)
18:09
NSH
Mike Fisher (8) Snap Shot – Assists: M. Erat (11)
2nd Period
13:24
NSH
Mike Fisher (9) Wrist Shot – Assists: R. Josi (10) & M. Erat (12)
14:24
NSH
Nick Spaling (6) Tip-In – Assists: V. Bartley (1) & K. Klein (6)
3rd Period
15:54
NSH
Brandon Yip (3) Wrist Shot – Assists: K. Klein (7) & R. Clune (4)
19:00
CGY
PPG – Jarome Iginla (8) Wrist Shot – Assists: C. Glencross (8) & A. Tanguay (14)
Penalty Summary
1st Period
04:12
CGY
TJ Brodie : Hooking – 2 min
09:16
CGY
Steve Begin : Fighting (maj) – 5 min
09:16
NSH
Rich Clune : Fighting (maj) – 5 min
11:15
CGY
Mikael Backlund : Hi stick – double minor – 4 min
2nd Period
01:59
CGY
Brian McGrattan : Too many men/ice – bench – 2 min
08:15
NSH
Shea Weber : Boarding – 2 min
08:15
CGY
Lee Stempniak : Hi-sticking – 2 min
3rd Period
03:46
NSH
Roman Josi : Interference – 2 min
08:37
NSH
Brandon Yip : Delaying Game-Puck over glass – 2 min
17:08
NSH
Rich Clune : Roughing – 2 min
Shots on Goal
| | | | | |
| --- | --- | --- | --- | --- |
| | 1st | 2nd | 3rd | T |
| Calgary Flames | 7 | 8 | 7 | 22 |
| Nashville Predators | 10 | 10 | 3 | 23 |
Saves
| | | | | | | | |
| --- | --- | --- | --- | --- | --- | --- | --- |
| | Goalies | EV | PP | SH | Total | Sv% | TOI |
| Calgary Flames | 34 M. Kiprusoff (L) | 11 – 15 | 6 – 7 | 1 – 1 | 18 – 23 | 0.783 | 57:18 |
| Nashville Predators | 35 P. Rinne (W) | 18 – 18 | 1 – 2 | 0 – 2 | 19 – 22 | 0.864 | 59:34 |
Sections
Sports
Topics
Barry Trotz, Brandon Yip, Bridgestone Arena, Calgary, Calgary Flames, Columbus Blue Jackets, Flames, Giordano, Kiprusoff, Lee Stempniak, Martin Erat, Mike Fisher, Nashville, Nashville Predators, Nashville TN, National Hockey League, NHL, Nick Spaling, Pekka Rinne, Predators, Roman Josi, Smashville, Tennessee