APSU Sports: Austin Peay Men's Tennis

Terre Haute, IN – With inclement weather threats cutting Sunday's match against Eastern Illinois to a first-team-to-four-wins format, Austin Peay State University men's tennis team wasted no time coming up with the victory at Wabash Tennis Center.

The Govs quickly swept the Panthers, 4-0, to remain atop the Ohio Valley Conference after two weekends of play.

Austin Peay (10-2, 4-0 OVC) made it 10 straight victories overall, and four straight against Eastern Illinois, to continue its torrid hot streak. The Panthers (5-4, 1-1 OVC) lose their first home match in three attempts in 2013.

"Adjusting to the fast court under the bubble was my biggest concern," said head coach Ross Brown. "I knew we needed to get everyone on track early; our guys are mentally tough and did a great job of adjusting. That kind of toughness is one of the reasons we've done so well lately."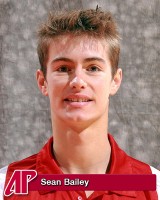 Senior Sean Bailey showed why he is considered one of the best players to come through Austin Peay in a long time. The Manitoba, Canada native easily dispatched Michael Sperry (6-2, 6-2) for the victory at No. 1 singles.
At No. 2 singles, junior Jasmin Ademovic defeated Warren Race (7-6, 6-0), while sophomore Dimitar Ristovski knocked off Robert Skolik (6-3, 6-0) at No. 3 singles, winning his 10th match in a row.
Sophomore Aleksas Tverijonas won his 12th straight match, and remains undefeated during the spring, with a 6-2, 6-0 thumping of Rui Silva at No. 4 singles.
Senior John Storie (6-2, 3-5) and sophomore Iago Seffrin (3-1) had their matches cut short after the Govs got the fourth win to clinch the match victory.
Austin Peay wraps up its three-match road trip Thursday, March 28th with a 2:30pm match at Murray State.
Box Score
Austin Peay 4, Eastern Illinois 0
March 24th, 2013 at Terre Haute, IN (Wabash Valley Tennis Club)
Singles competition
1. BAILEY, Sean (APSU) def. SPERRY, Michael (EIUM) 6-2, 6-2
2. ADEMOVIC, Jasmin (APSU) def. RACE, Warren (EIUM) 7-6, 6-0
3. RISTOVSKI, Dimitar (APSU) def. SKOLIK, Robert (EIUM) 6-3, 6-0
4. TVERIJONAS, Aleksas (APSU) def. SILVA, Rui (EIUM) 6-2, 6-0
5. BAUMAN, Kevin (EIUM) vs. STORIE, John (APSU) 4-6, 5-2, unfinished
6. HENDERSON, Ryan (EIUM) vs. SEFFRIN, Iago (APSU) 1-1, unfinished
Match Notes
Austin Peay 10-2 (4-0 OVC)
Eastern Illinois 5-4 (1-1 OVC)
Ohio Valley Conference contest
… no doubles played due to time/weather issues
Sections
Sports
Topics
Aleksas Tverijonas, APSU, APSU Athletics, APSU Men's Tennis, APSU Sports, APSU Tennis, Austin Peay State University, Dimitar Ristovski, Eastern Illinois, Governors, Govs, Iago Seffrin, Jasmin Ademovic, John Storie, Michael Sperry, Murray State, Ohio Valley Conference, OVC, Panthers, Robert Skolik, Ross Brown, Rui Silva, Sean Bailey, Terre Haute IN, Wabash Tennis Center, Warren Race