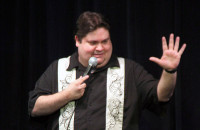 Nashville, TN – Family and friends will gather at Centennial Park Event Shelter in Nashville this Sunday, as some of the funniest comedians in the Music City will gather to remember their friend, Brian E. Kiley, who was killed by a drunk driver while returning home to Nashville from a North Carolina performance.

This comedy show, includes a one mile walk and auction, which will raise money for the Brian E. Kiley Memorial Fund to benefit his wife and step-daughter.

The event begins with a benefit walk around the beautiful Centennial Park near the Parthenon.  Participants can purchase souvenir wrist bands and join the "Army of Ton, " Brian's official fan club.  Donations of any size are accepted.

Following the walk, there will be a stand-up comedy show featuring many of Brian's comic friends.  The show will be family friendly.

After the comedy show, the results of the silent auction will be announced with the highest bidders receiving their items.  Food vendors will be on hand, and face painting for the kids will be available.

Brian was an avid fan of all things "geeky."  His desk at Southeast Financial was adorned with "bobble head" figures of all of his favorite characters from Star Wars to the Avengers, and his ultimate hero, Green Lantern.

This will be a wonderful afternoon to visit Centennial Park and enjoy some of the funniest comedic talent on stage today.

The festivities get under way at 3:00pm and everyone is invited.

If you are unable to attend, donations can be made to:  Brian E. Kiley Memorial Fund, c/0 Southeast Financial Credit Union, 444 James Robertson Parkway, Nashville TN 37219.

Clarksville comedian Hank Bonecutter will be part of the line-up for this show, which will feature several comedians who previously performed at Comedy on the Cumberland in Clarksville.



About Hank Bonecutter
Sections
Events
Topics
Army of Ton, Bobble Head, Brian E. Kiley, Centennial Park, Comedy on the Cumberland, Comedy Show, Drunk Driver, James Robertson Parkway, Music City, Nashville, Nashville TN, Parthenon, Southeast Financial, Tennessee