APSU Sports: Austin Peay Men's Golf

Columbia, MO – It took senior Austin Peay State University golfer Dustin Korte 3 ¾ years to capture his first medalist honor, that coming at Memphis, March 25th-26th. Now Korte has two victories in the last three weeks.

Playing in much-tougher conditions, including pin placements, Korte fired an even-par 72 and held off Missouri's Emilio Cuatero and Hunter Kraus along with Utah Valley's Mason Casper to capture the 2013 Columbia Orthopaedic Group Mizzou Intercollegiate, played on the Club of Old Hawthorne.

Korte's performance helped lead the Governors to a second-place finish behind No. 31 Missouri. Playing on their home course, the Tigers finished with a three-day 852, with the Governors second at 871, one shot ahead of Washington State. Cal Poly was fourth at 875.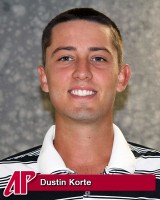 "The course played a lot tougher today," APSU coach Kirk Kayden said. "It was a little cooler and the wind was blowing 15-20 (miles per hour). The pins were placed in difficult positions. There is a lot of shelving on these greens, a lot of mounds and it played much more difficult as evidence in how the scores were quite a bit higher today than on Monday.
"Overall the guys competed hard. The guys have been on the road now for a number (five) of weeks. It has been a physical and mental grind for these guys. They played pretty well even with the schedule we had set up for them–they still had a pretty good week. We were able to beat a Pac-12 team that was ranked right there with us."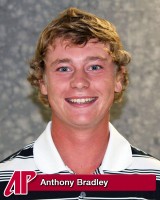 Korte was paired with first day leader, Missouri's Cuatero, who was two shots ahead entering the final day. The duel came down to the par-4 18th hole. Cuatero ended up in a fairway bunker and then airmailed the green with his bunker shot. Meanwhile, Korte's second shot nestled in some 15 feet from the pin.

Cuartero's recovery shot landed less than five feet from the pin while Korte's birdie attempt slid some three feet past the hole. Cuartero, however, was unable to save par with his putt while Korte rolled in his par putt for the individual crown.

"You figure how to win one and they come in bunches," Kayden said. "Dustin and Emilio went back and forth all day long. It was a great win for Dustin. Just two great wins for him—Memphis and Missouri.

"He should have a lot of confidence going to the OVC tournament—this team has a lot of confidence heading to conference."

Marco Iten recorded a final round of 4-over 76 to finish at 217 and a ninth-place tie. It was Iten's fourth Top 10 finish this spring. Fellow junior Anthony Bradley shot a final-round 75 as did freshman Chris Baker. They finished tied for 18th at 222. Baker, in particular, came up strong on the back nine. After playing the first seven holes at 5-over, Baker surged with birdies at Nos. 10, 13 and 17 before a bogey at No. 18 slowed the momentum.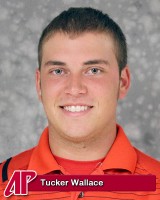 Beginning at No. 4, sophomore Tucker Wallace struggled early on but had three birdies on the backside to finish at 77 for a 226 total. Meanwhile, freshman Austin Kramer was nothing but consistent the entire tournament. Kramer shot 2-over 74 each round to also finish tied for 18th at 222.
"I told our guys when you look the stats from the spring, our two losses (second-place finishes) came to two home teams, one being a Top 30 team on their home course," Kayden said. "That is an amazing stat in itself.
"So now we have a few days to recharge our batteries, work on our games the next couple of weeks and get ready for the next step (Ohio Valley Conference, April 25th-27th, at GreyStone in Dickson, TN)."
Box Score
COG Mizzou Intercollegiate
The Club at Old Hawthorne
Columbia, MO
Championship Tees
Dates: April 8th – April 9th
| | | | | | |
| --- | --- | --- | --- | --- | --- |
| Finish | School – Players | Round 1 | Round 2 | Round 3 | Totals |
| 2 | Austin Peay State University | 288 | 285 | 298 | 871 |
| 1 | Dustin Korte (2) | 71 | 68 | 72 | 211 |
| T 9 | Marco Iten (3) | 70 | 71 | 76 | 217 |
| T 18 | Anthony Bradley (1) | 73 | 74 | 75 | 222 |
| T 18 | Chris Baker (5) | 74 | 73 | 75 | 222 |
| T 36 | Tucker Wallace (4) | 76 | 73 | 77 | 226 |
| | | | | | |
| T 18 | Austin Kramer | 74 | 74 | 74 | 222 |
| | | | | | |
Sections
Sports
Topics
Anthony Bradley, APSU, Austin Kramer, Austin Peay State University, Cal Poly, Chris Baker, Clarksville, Clarksville TN, Club of Old Hawthorne, Columbia, Columbia MO, Columbia Orthopaedic Group Mizzou Intercollegiate, Dickson Tn, Dustin Korte, Emilio Cuatero, Governors, Greystone, Hunter Kraus, Kirk Kayden, Korte, Marco Iten, Mason Casper, memphis tn, Missouri, Ohio Valley Conference, OVC Tournament, Tennessee, Tigers, Tucker Wallace, Utah Valley, Washington State