Blake Davis Goes 3-for-5 With Three RBIs; Three Others Homer
Nashville, TN – The Nashville Sounds avoided going winless on their eight-game road trip Monday at The Dell Diamond, rallying from four runs down to defeat the Round Rock Express, 9-5, in the nine-inning, three-hour, 46-minute series finale.

The team concludes the road trip 1-7, snapping a nine-game losing skid with their first win on the road since April 13th.

Trailing 4-3 heading into the 6th, the Sounds strung together four runs off of Round Rock reliever Lisalverto Bonilla (2-1). The action began with Khris Davis' second hit as a Sound: a home run to left field that tied the game. One batter later, outfielder Sean Halton knocked the Sounds third dinger of the day for the 5-4 advantage.

The Sounds added two more runs in the frame on Blake Davis' double down the left-field line, which scored Hainley Statia and Josh Prince, who both reached base on balls.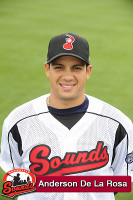 The initial rally took place in the inning prior, putting up three in the fifth, ignited by a home run from catcher Anderson De La Rosa. The shot to left field was De La Rosa's first of the season and first of his Triple-A career. All three homers were solo shots making 17 of Nashville's 20 homers this season solo affairs.
Later in the inning, Statia drew a walk to get on base and stole second before moving to third on Davis' infield single. Outfielder Caleb Gindl followed with a two-out two-run triple to pull the Sounds to within one.
Davis finished 3-for-5 with three RBIs and extended his season-best hit streak to five games. After driving in the Sounds eighth run with a single through the infield in the eighth inning and moving to second on the throw home, the 29-year-old scored the team's final run off the day on Gindl's single to left field. Gindl also finished with three RBIs.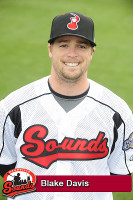 Nashville starting pitcher Tyler Thornburg allowed the Express an early lead with a pair of runs in the first inning. Shortstop Jurickson Profar cracked a double to the wall in centerfield and came around on Chris McGuiness' double into left field. McGuiness crossed home plate via a Yangervis Solarte single.

After Thornburg issued two walks to lead off the fourth, designated hitter Alex Buchholz hit a double that rolled to the left-center field wall. Thornburg left in line for the loss, but benefitted from the Sounds comeback to finish with the no decision, fanning three and walking two over four innings of work in which he allowed four runs to Round Rock on six hits.

Travis Webb took the hill in the fifth inning for the Sounds and loaded the bases. The 28-year-old twirled a bases-loaded strikeout before Michael Olmsted (1-1) entered the game with two outs. Olmsted finished the frame by inducing Buchholz into a groundout. He stayed in to pitch the sixth and received the win for his efforts, giving up one unearned run and walking two.

Donovan Hand and Rob Wooten also got work out of the bullpen, combining for three hitless innings in which they walked three and struck out three.

In the sixth, Sounds Manager Mike Guerrero was ejected from the contest by home plate umpire Blake Davis after Round Rock scored on De La Rosa's throwing error in the sixth inning. The catcher tried to pickoff the runner at first with a snap throw down the line, but the ball got past Halton at first, letting in Round Rock's final run. Guerrero was arguing the call.

The Sounds begin a fresh eight-game homestand on Tuesday, May 7th, as the Sounds host the Fresno Grizzlies (AAA-Giants) for four games before the Sacramento River Cats (AAA-A's) come to town. Prior to Tuesday night's game will be a October Hill concert in the plaza area for Music Industry Night, presented by Women Rock for the Cure.
Box Score
Nashville Sounds (8-21) 9, Round Rock Express (18-13) 5
May 6th, 2013
| Final | 1 | 2 | 3 | 4 | 5 | 6 | 7 | 8 | 9 | | R | H | E |
| --- | --- | --- | --- | --- | --- | --- | --- | --- | --- | --- | --- | --- | --- |
| Nashville Sounds | 0 | 0 | 0 | 0 | 3 | 4 | 0 | 2 | 0 | | 9 | 11 | 2 |
| Round Rock Express | 2 | 0 | 0 | 2 | 0 | 1 | 0 | 0 | 0 | | 5 | 6 | 2 |
BATTING
2B: Davis, B (4, Bonilla), Prince (2, Yan).
3B: Gindl (2, Lindblom).
HR: De La Rosa, A (1, 5th inning off Lindblom, 0 on, 1 out), Davis, K (1, 6th inning off Bonilla, 0 on, 0 out), Halton (3, 6th inning off Bonilla, 0 on, 1 out).
TB: Prince 2; De La Rosa, A 5; Halton 4; Parker, S; Davis, B 4; Davis, K 4; Gindl 4.
RBI: De La Rosa, A (3), Gindl 3 (16), Davis, K (4), Halton (11), Davis, B 3 (7).
2-out RBI: Gindl 3; Davis, B 3.
Runners left in scoring position, 2 out: Gindl 2; Parker, S; Morris, H 2.
GIDP: Halton, Davis, K.
Team RISP: 5-for-11.
Team LOB: 10.BASERUNNING
SB: Statia (1, 2nd base off Lindblom/Whiteside).FIELDING
E: De La Rosa, A (1, pickoff), Davis, B (3, fielding).
Outfield assists: Gindl (Whiteside at 2nd base).
DP: (Davis, B-Statia-Halton).
BATTING
2B: Profar (5, Thornburg), McGuiness (7, Thornburg), Beltre (7, Thornburg), Buchholz (1, Thornburg).
TB: McGuiness 2; Solarte; Miclat; Beltre 2; Buchholz 2; Profar 2.
RBI: McGuiness (18), Solarte (16), Buchholz 2 (2).
Runners left in scoring position, 2 out: Adduci; Profar 2; Buchholz 2; Cunningham, A; Beltre 2.
SAC: Buchholz.
GIDP: Buchholz.
Team RISP: 3-for-15.
Team LOB: 12.BASERUNNING
SB: Miclat (4, 2nd base off Thornburg/De La Rosa, A), Profar (5, 2nd base off Olmsted/De La Rosa, A).FIELDING
E: Miclat (6, throw), Profar (6, throw).
DP: 2 (Miclat-Profar-McGuiness, Profar-McGuiness).
HBP: McGuiness (by Webb), Whiteside (by Olmsted).
Pitches-strikes: Thornburg 78-53, Webb 29-13, Olmsted 30-14, Hand, D 32-18, Wooten 17-9, Lindblom 74-47, Bonilla 27-11, Yan 49-27, Tateyama 15-12.
Groundouts-flyouts: Thornburg 3-2, Webb 0-0, Olmsted 1-1, Hand, D 1-1, Wooten 2-1, Lindblom 4-5, Bonilla 0-2, Yan 4-0, Tateyama 1-1.
Batters faced: Thornburg 20, Webb 5, Olmsted 7, Hand, D 8, Wooten 4, Lindblom 22, Bonilla 8, Yan 12, Tateyama 4.
Inherited runners-scored: Olmsted 3-0.
Ejections: Nashville Sounds Manager Mike Guerrero ejected by HP umpire Blake Davis (6th)
Umpires: HP: Blake Davis. 1B: D.J. Reyburn. 2B: Stephen Barga. 3B: Scott Mahoney.
Weather: 74 degrees, partly cloudy.
Wind: 2 mph, Varies.
T: 3:46.
Att: 8,209.
Sections
Sports
Topics
Alex Buchholz, Anderson De La Rosa, Baseball, Blake Davis, Caleb Gindl, Chris McGuiness, Donovan Hand, ERA, Fresno Grizzlies, Hainley Statia, Josh Prince, Jurickson Profar, Khris Davis, Lisalverto Bonilla, Michael Olmsted, Mike Guerrero, Music Industry Night, Nashville Sounds, Nashville Sounds Baseball, Nashville TN, October Hill, Pacific Coast League, PCL, RBI, Rob Wooten, Round Rock Express, Round Rock Texas, Sacramento River Cats, Sean Halton, Sounds, The Dell Diamond, Travis Webb, Tyler Thornburg, Women Rock For The Cure, Yangervis Solarte