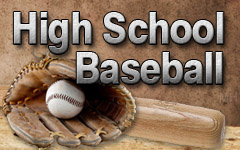 Clarksville, TN — It's hard enough to win one district tournament title, much less three in a row, but that is what Rossview High School's baseball team accomplished on May 8th, as the Hawks rolled past the Clarksville High School Wildcats, 11-1.

With the win, Rossview (25-10) will host an opening-round game of the Region 5-AAA tournament on May 13th – against the runner up of District 9-AAA – while Clarksville High (25-12) will go on the road to the champion of District 9-AAA.

It didn't take long for the Hawks to get to the Wildcats starter Brady Cook, as Rossview put together its largest scoring inning of the night in the first inning.

Cook would open the game by striking out Truman Brown, but followed that up by walking Jeremy Gonzales and hitting Venn Biter.

That brought up Taylor Mahowald, who singled in Gonzales for the first run of the game.

Cook would get the second out of the inning, by striking out Trey Martin, but designated hitter Kyle Anderson blasted a shot into right center field, that hit the top of the fence and bounced over for a three-run home run to make it 4-0 Hawks.

Clarksville High would score its one run of the night in the top of the third inning, to cut the deficit to 4-1, on an infield groundout by Clay Hetland – scoring Clayton Rose, who reached on a fielder's choice.

Rossview would respond in the bottom of the inning, scoring three runs on three hits, to extend its lead out to 7-1.

Gonzales would rip a double down the left field line to start the inning and move to third base on a bunt single by Biter.

Gonzales, along with Biter, Anderson and Lawson Moquin had two hits each for Rossview.

Cook and Austin Brown would have two hits each to lead Clarksville High.

After Biter moved into scoring position, at second base, with a stolen base, Gonzalez would score on an infield out by Mahowald – with Biter taking third.

Martin would then walk, followed by Biter scoring on a sacrifice fly to right field by Anderson.

The final run of the inning would come a batter later, as Kevin Kane singled in Collin Baber.

Rossview would take on a run in the fourth inning, when Moquin – who reached with a single – scored on a throwing error by Rose.

The final three runs scored by the Hawks came in the bottom of the fifth inning, with Anderson scoring the first run on an error by Hetland, with the final two coming in on a single by Gonzales.

Janson Roberson got the complete-game victory for Rossview, giving up one run and five hits, while striking out three and walking none.
Box Score
Rossview 11, Clarksville High 1
| Final | 1 | 2 | 3 | 4 | 5 | 6 | 7 | | R | H | E |
| --- | --- | --- | --- | --- | --- | --- | --- | --- | --- | --- | --- |
| Clarksville High School | 0 | 0 | 1 | 0 | 0 | x | x | | 1 | 5 | 2 |
| Rossview High School | 4 | 0 | 3 | 1 | 3 | x | x | | 11 | 11 | 1 |
Brady Cook, Landon Mosteller (4), Mitch Muhlada (5) and Gunnar Bowling; Janson Roberson and Trey Martin
WP-Roberson; LP-Cook
HR: RHS-Kyle Anderson
Photo Gallery
About Chris Austin
Chris Austin is a graduate of Clarksville High School and Austin Peay State University.

Chris is a former Head Softball Coach for APSU, and assistant basketball coach for CHS.

Chris has worked at the Leaf-Chronicle, and WJZM News/Talk/Sports radio. Has also worked at the Sports Information Department at APSU, and has covered championship events for the Ohio Valley Conference and NCAA.

Chris is an avid sports fan and can be found at most Austin Peay State University sports events.

Web Site: http://www.clarksvillesportsnetwork.com
Email: chris_austin24@yahoo.com
Sections
News
Topics
Austin Brown, Baseball, Brady Cook, CHS, Clarksville High, Clarksville High School, Clarksville TN, Clay Hetland, Clayton Rose, Collin Baber, Distrcit 10-AAA Tournament, District 9-AAA Tournament, Gunnar Bowling, Janson Roberson, Jeremy Gonzales, Kevin Kane, Kyle Anderson, Landon Mosteller, Lawson Moquin, May 13th, May 8th, Mitch Muhlada, Region 5-AAA tournament, RHS, Rossview High School, Rossview Hwaks, Taylor Mahowld, Trey Martin, Truman Brown, Venn Biter, Wildcats