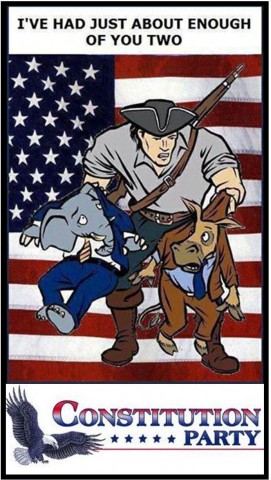 Clarksville, TN – For decades both major political parties have refused to uphold our constitution,  protect our borders,  stop generational theft, or protect the lives of the unborn. Both Major Parties have squandered our heritage, threatened our liberty, and waged unconstitutional wars. Both major parties encroach on our bill of rights that they are sworn to protect, and they reject our founding principles.
It is now clear a third party political is essential for restoring America to constitutionally limited government and our founding principles.  The current "major parties" have no interest in either.  A strong and committed 3rd party is therefore essential despite the propaganda provided the those who want to hold onto power more than represent their constituents.
The Constitution Party is dedicated to life, liberty, and limited government. The Constitution Party is the fastest growing national political party in America and is organizing county by county in Tennessee.
Montgomery County Constitution Party of Tennessee will hold it's second monthly meeting Saturday August 17th, time: 2:00pm.  The location is the Clarksville-Montgomery County Public Library, monthly 2:00pm on the 3rd Saturday.
For more information RSVP on meetup.com.
About Elect Mike Warner On The Ballot 2014
Mike Warner Candidate ON THE BALLOT in NOVEMBER:
Tennessee House District 67
The ONLY:
Conservative; Constitutionist; Pro-Life Activist; Veteran;
NON-ESTABLISHMENT candidate in this race.

No Republicans are in this race!  Like 45 of 116 other Tennessee General Assembly races in 2014 you would have only choice would have been the incumbent.  A Democrat.  I was a Republican for 40 years.  My aunt worked for Ronald Reagan in California.  I ran as a write-in for this office in 2012 because the GOP would not put up a candidate.  This year I am on the ballot as the CONSTITUTION PARTY candidate.  My largest donor to date is the 7th District Tea Party Coalition.

Help support a Vietnam Era / Desert Storm Veteran
to be your TN House Rep.

We meet on the LAST Thursday of each Month at 

6:30PM, Shoney's, 791 N. 2nd Street, Clarksville, TN  (Concealed Carry Welcome!)

Mike is one of a number of  elected GOP leadership in this area to have resigned their position and their Republican Party membership over the progressive direction and continued support of candidates damaging to this republic.

For Additional information and activities for Montgomery County Constitution Party of Tennessee visit these links:
New Constitution Party of Tennessee Website
Montgomery County Constitution Party of Tennessee Activities & Meetups.
Facebook
Tea Party Community

In support "Yes on 1" Tennessee's Amendment allowing Tennessee legislators to write laws regarding Abortion in Tennessee.

Mike Warner served in  the U.S. Coast Guard during the Vietnam Era, and the U.S. Army until after Desert Storm. He ran as a write in candidate in the 2012 Tennessee House of Representatives campaign for District 67.

Currently Mike serves as an active volunteer to several local community organizations.

Editor's Note: Articles by this author contains the view points of Mike Warner and/or the Montgomery County Constitution Party of Tennessee, and may not represent the views of Clarksville Online, our staff, Contributors, or Advertisers.

Web Site: http://ElectMikeWarner.com
Email: mike@mikewarnertn.com
Sections
Politics
Topics
Clarksville TN, Clarksville-Montgomery County Public Library, Constitution Party of Tennessee, Montgomery County Constitution Party of Tennessee, Tennessee