Event to Feature Information and Time of Sharing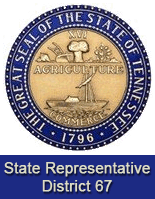 Clarksville, TN – On Tuesday, September 10th, at 5:00pm a reception will be held in the large meeting room of the Clarksville-Montgomery County Public Library for families and patients with Amyotrophic Lateral Sclerosis (ALS).

Tennessee State Representative Joe Pitts and his wife, Cynthia, are hosting the reception to bring into focus the needs of patients, who suffer from this debilitating disease, and their families. ALS is a progressive neurodegenerative disease that affects nerve cells in the brain and the spinal cord.

"Our desire is to bring together families who have loved ones diagnosed with ALS, or Lou Gehrig's Disease, to provide information, resources and a time of sharing," said Rep. Pitts. "The strain on ALS patients and families is great and we want to raise the awareness that help is available."

According to the National ALS Association, approximately 5600 people in the United States are diagnosed with ALS each year. Although the life expectancy of an ALS patient averages about two to five years from the time of diagnosis, this disease is variable and many people live with quality for five years and more.  More than half of all patients live more than three years after diagnosis.

"Awareness of the daily challenges for the families of ALS patients is the most important part of this new effort," Cynthia Pitts said. "Diane Wood Turner, our dear friend, was our inspiration for this idea.  Diane lost her father to this crippling disease and we are pleased to be a small part of helping to honor her father's memory."

The reception will begin at 5:00pm with a brief program starting at 5:30pm. Representatives from the Tennessee Chapter of the ALS Association will be on hand with information about services and to discuss a support group.

For more information about the reception, please contact Rep. Pitts at 615.741.2043 or rep.joe.pitts@capitol.tn.gov.  For more information about the ALS Association, please visit their website at www.alsa.org.



Sections
Events
Topics
ALS, Amyotrophic Lateral Sclerosis, Clarksville Montgomery County Library, Clarksville TN, Cynthia PItts, Diane Wood Turner, Joe Pitts, Lou's Gehrig's Disease, National ALS Association, Tennessee State Representative, United States