Clarksville, TN – There was a little bit of good and a little bit of bad in Austin Peay State University's football team's final preseason scrimmage at Governors Stadium August 23rd, as the defense shined early and the offense coming on late.

The scrimmage was the Governors first-team offense versus the second-team defense on one side and the number two offense versus the number one defense.

"There was some good and bad and you always what that in a scrimmage," Austin Peay first-year head coach Kirby Cannon said. "I thought individually, Corey Teague came out and played like he still had something to prove. He's going to be a good replacement for Ernest Smith.

"Ernest was a very good football player and the defense kind of took a confidence shock when he got hurt in preseason and Corey playing well kind of excites the rest of our guys, because he's an emotional guy and we need some of that over there."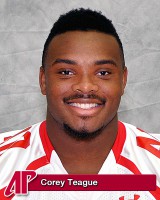 The scrimmage was also a chance for players to solidify their spots on the two-deep depth chart, or a chance to move on the depth chart from third-team.
"There are always two sides to every coin," Cannon said. "If you're a two today and you went against a one and you had production against our one, then maybe you're not a two.
"On the other side of the coin, if you're a one and you went out and struggled against the two group, maybe we need to reevaluate that too."
The scrimmage was limited to 50 plays, due to all the team's freshmen players being absence having to be at mandatory campus orientation activities.
That may have led to the offense being a little out of sorts early on, with dropped passes in drives set up at both the 35 and 10-yard lines.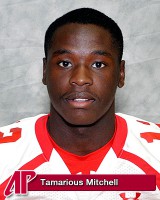 The Govs then went into what they call their "breakout" series of plays, but also struggled there also, with a 13-yard run by Terrence Oliver being the only real breakout play they were looking for.

Defensively, the Govs limited the offense to one field goal overall, while coming up with a pair of interceptions by Isaac Jones and Montez Carlton on two drives run from the 50-yard line.

The offense final showed some life in a drive started from its 40-yard line with quarterback Tamarious Mitchell completing back-to-back passes of 12 and 15 yards to wideouts Jamaar Embry and Mikhail Creech.

"I would like to look at that first part (of the scrimmage) as a defensive coach and say we came out ready to play," Cannon said. "We penetrated the line of scrimmage on a lot of those runs, we put pressure on the quarterbacks and we put pressure on the receivers those catches turned into drops.

"From an offensive standpoint, we had some misfortune early, which you are going to have, but I thought we came back, fixed some things and played much better later in the scrimmage."

The entire scrimmage was played with loud 1970s music blaring from the loudspeakers to try to emulate just a little bit of the noise the Govs will face in their season opener at the University of Tennessee on August 30th.

"It is going to be loud at Neyland (Stadium) next week," Cannon said. "Our guys have to get used to those type of distractions."



About Chris Austin
Chris Austin is a graduate of Clarksville High School and Austin Peay State University.

Chris is a former Head Softball Coach for APSU, and assistant basketball coach for CHS.

Chris has worked at the Leaf-Chronicle, and WJZM News/Talk/Sports radio. Has also worked at the Sports Information Department at APSU, and has covered championship events for the Ohio Valley Conference and NCAA.

Chris is an avid sports fan and can be found at most Austin Peay State University sports events.

Web Site: http://www.clarksvillesportsnetwork.com
Email: chris_austin24@yahoo.com
Sections
Sports
Topics
APSU, APSU Athletics, APSU Sports, Austin Peay, Austin Peay State University, Clarksville TN, Corey Teague, Ernest SMith, Governors, Governors Stadium, Govs, Isaac Jones, Jamaar Embry, Kirby Cannon, Mikhail Creech, Montez Carlton, Neyland Stadium, Scrimmage, Tamarious Mitchell, Tennessee, Terrence Oliver, University of Tennessee, UT Vols