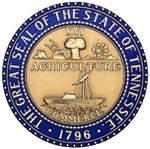 Nashville, TN – A bill sponsored by Tennessee State Representative Curtis Johnson (R–Clarksville) and State Senator Mark Green (R–Clarksville) was officially signed into law this week by Governor Bill Haslam during a ceremony in Nashville's Old Supreme Court Chambers.

As signed, House Bill 25 waives the state's commercial drivers license skills test requirement for honorably discharged service members if they have already passed the test while in service.

Currently, an active duty soldier who drives a commercial weight truck in Tennessee is exempt from any additional license due to their specialized military training.  However, after the soldier leaves the military, they must immediately take the CDL knowledge and skills test in order to continue to drive a commercial vehicle of the same weight on state roads.

With the passage of House Bill 25, discharged service members will now be exempt from this requirement, making it much easier for experienced military truck drivers to receive a commercial driver's license (CDL) in Tennessee.

"We must always be willing to help our Tennessee service members, both past and present," said Representative Curtis Johnson. "I am 110% pro-veteran, and I hope this legislation will help make life just a little easier for those military members we hold in such high esteem."

"Robert Huffman, president of the local chapter of The Association of the U.S. Army, approached us with this issue," continued Senator Mark Green. "Our veterans were electing to leave Tennessee and providing the skills test waiver was a no brainer. With this bill, we fill trucking job vacancies and serve soldiers at the same time. I'm proud to have helped make this happen."

Curtis Johnson serves as Speaker Pro Tempore in the House of Representatives. Mark Green is a member of the Senate Judiciary and Senate Commerce & Labor Committees. Both legislators represent Montgomery County in the Tennessee General Assembly.



Sections
News
Topics
Bill Haslam, Clarksville TN, Commercial Drivers License, Curtis Johnson, House Bill 25, Mark Green, Military, Montgomery County, Nashville TN, Robert Huffman, State Senator, Tennessee, Tennessee General Assembly, Tennessee Governor, Tennessee House of Representatives Speaker Pro Tem, Tennessee State Representative, The Association of the U.S. Army