Winter Weather Advisory In Effect ... [Click here for more information]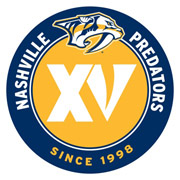 Nashville, TN - I spent over forty years in broadcasting, and I can say, without a doubt, that the most challenging job in radio is doing sports "play-by-play."

The ability to describe what's going on, keeping up with the players, the score, how much time is left, and so on, is a real talent. And since your audience can't see the action, you have to paint that picture for them.

The good ones can really bring the game to life. The good ones don't get in the way of the game. The good ones make you feel like you're there.

Nashville Predators play-by-play man Tom Callahan is one of the best in the business. His knowledge of the game, his excitement and his ability to keep up with the fast paced action of the National Hockey League, is superb.

Now entering his sixth season with the Nashville Predators, Tom Callahan is as excited as ever, and he has to keep reminding himself, "this is not a dream."

Tom and I met for lunch in downtown Nashville recently to talk about his career, and the Nashville Predators.

How did you get interested in hockey?

"When I was a kid, the first two sports I played was bowling and hockey. I was five or six years old and I just loved being out there. My dad never played any organized sports, he was just a casual hockey fan, but I grew up watching the Buffalo Sabres and became a huge fan of the sport. There was something about the sport that "bit" me and it bit me pretty hard. More than football, more than baseball, it was just something I wanted to do all the time."

How did you land the radio gig for the Predators?

"I had stayed in touch with Pete Weber who I had reached out to years ago because of our Buffalo connection. I remember Pete for baseball. He did so many different things, he was all over the place in Buffalo, but when I was in Peoria Illinois, Pete sent me a note saying it was great to see a Buffalo boy doing good. When he landed in Nashville, he was doing both radio and TV for the Preds. When the team decided to split up the two broadcasts, Pete sent me a note informing me that Nashville was looking for a radio play-by-play guy. He asked me if I would be interested and I said, "Of course! Are you kidding?"

So I put my stuff together right away, and sent it to Nashville. Pete was really the connection that helped me land this job. Had it not been for our friendship, I'm not sure I would have even made the first cut."

Were there lots of inquiries for the job, or did they just go with you right out of the gate?

"There was a competition for the job. Hundreds of tapes and resumes flooded the Predators offices, but I knew I was doing pretty good when they flew me to Nashville for an interview."

Coming from Buffalo New York, how do you like being in Nashville?

"I've been in the South for ten years now in some form or fashion, and I really like Nashville. I could see myself being here for a really long time. I love the city, I love the area, I think it has a lot to offer. Like a lot of people, I worry about it getting too big, but I love my job. Calling games on the radio is just the best thing in the world to me. Putting that headset on and going to broadcast is amazing. I mean, there's a lot of other things that go with the job (he's the Predators affiliate relations co-ordinator) and other things I've got to do, but at the end of the day, I get to broadcast the games, and that's it's own reward. I can't imagine what else I would be doing to be honest, so it's a good thing this has worked out."

What's it like working with former NHL player Stu Grimson?

"It's pretty cool actually. When I was a kid, I used to watch him play, and beat the living crap out of people. He's an incredibly nice guy. He's very easy to work with, very smart, and I love having someone who's a former player who's able to give some insight into the game, that I've never experienced. I never played in the NHL and he spent 14 years in the league, so in certain situations that develop during the game, I can turn to him and he knows exactly what's going through the players mind, or what the coach is thinking, and can relay that to the fans. Stu has a rather dry sense of humor and I'm sarcastic, so I think the two of us work well together. He's very smart and he really knows the game."

How did the two of you get paired together?

"Stu retired with the Predators as a player and just loved Nashville. He went to law school in Memphis, commuting back and forth, and to make a long story short, he gets his law degree, moves back to Nashville to practice law. I had been doing the games by myself, just like I had done in the minors, and the Predators wanted to look into getting someone to add "color" to the broadcasts. To be honest, I was excited about that because as you know, it gives you a chance to take a bit of a break and gather your thoughts before you move on, so I was really excited about that.

Stu was approached by the team to join me, and he was limited in how many games he could do because of his law practice. He could only do home games, he couldn't travel, so that's how it started. Finally, a couple of years ago the Predators made him a full-time offer, and he accepted. He now works for the Predators, and we travel with the team and do all the games. He's such a nice guy and a pleasure to work with, I couldn't be more happy about working with him."

What was it like last year, with the NHL strike, the shortened season and all, and what was the mood around the offices during that time?

"It was stressful for sure. The Predators told us that they would not let anybody go during the strike. As it got closer and closer to the possibility that the season would be scratched, there was a lot of anxiety around the front office. Other NHL teams were laying people off, so it wasn't the best of times during the strike. I knew people who had been laid off, so it was scary. But Nashville didn't let anybody go. We were very fortunate. I mean, they could have let me go and then hired me back when the season resumed, but they didn't do that. They kept everybody. There were only two teams that did what Nashville did and that was Dallas and Tampa Bay. They all said no matter what happens with the strike, we're not going to let you go.

Looking back, I didn't realize that during the strike, how down in the mouth everybody gets. Tempers get shorter, patience is running thin, and we all got like that and didn't realize it because we were all that way. But the moment the NHL pulled the season out of the hat, and we were going to play again, the attitudes around the office changed immediately. There was such excitement I can't describe it. We all knew that we were going to keep our jobs and they were going to play hockey again. It was tremendous relief."

What does the team look like for the 2013-2014 season? What are your thoughts?

"We're not going to be a "rebuild" or a "reload" team. We got some great draft picks this year, but it's going to take some time for this team to discover it's identity. We'll probably come out of the gate strong, win a bunch of games, then we'll have a period where we can't buy a win and we'll go downhill for a while, but once that happens, this team will discover itself and start putting it all together. With five forwards, a new back-up goalie, one or two new defensemen, by the time we reach Thanksgiving, this team will be on the rise again.

I expect we'll have a strong February-March and work our way into the play-offs. I think this team will be grittier and more physical so I'm looking forward to that. The veterans will continue to lead this team, Pekka Rinne should be completely healthy, so I think the word is "optimistic" for this year. The fans are certainly going to be looking for improvement after last year, and with the young players we've acquired, they are going to expect a lot out of them, but in reality, these kids are going to have to learn to play in the NHL, and it's not like anywhere else you've ever played. It's going to take them some time to get adjusted. "

The so called "experts" are worried about scoring. Who will score goals for the Predators this year?

"Everybody. Everybody's got to score, that's the way it's got to be for this team this year. We're going to be back to that Predators style of hockey where we're hard to play against, pesky, kind of "in your ear" the whole time. We haven't been that team for a while, and I think we will get back to that brand of hockey. Our work ethic will have to be strong, and we will get back to that, but the results will be directly related to the amount of work this team puts in. I think we have more of that in the room and I think that's why we're going to be successful this year. We have players like Colin Wilson, Craig Smith and Filip Forsberg that are going to be expected to score, and I think they will. I'm excited to see the development of the younger players and how quickly they adapt to the NHL."

What's a typical game day like for you? What's your routine?

"I usually get into the office at about 9am, if it's a home game, and I've already been doing game prep beforehand, watching game tape of the visiting team, taking notes, learning more about our opponent and such. I'll read all the media reports from their media, the Nashville media and so forth, just to get more information about the teams, and the players. At about 10am, I'll go down to the rink where the Predators are having their morning skate, and watch that.

After the skate, then I'll visit with coach Barry Trotz for a "one-on-one" interview. Then the locker room will open, and I'll go in and talk to some of our players for a while. I then like to visit with the other team's media guys, and we'll share notes and things. No matter how much you prepare for a game, you can never have too much information about the teams, so it's good that we get together like that. Then the visiting team will take to their morning skate, and I'll watch that and visit with them afterwards. It's usually about 1:00pm when that's over and I head back to my desk, edit any sound bites I have and get them ready for the game. I then try to go home for a while and either rest up, or go to the gym and work out.

After all that, I then get cleaned up, put on my suit and head back to the arena. I drop my stuff off at the broadcast booth, then head to dinner at about 5:00pm. I then go back to the booth, and make sure everything is set up the way I want, make sure everything works. I'm one of those guys who has to be sure everything is alright before we go on the air. The game takes about three hours, and I do a post game show, record some features for our radio affiliates, then I'm done. I'm usually out of there between 11:00pm and midnight. That's my day."

Do you take the time to realize what a great job you have, and how fortunate you are to have it?

"I still have those moments, even now, those "pinch me" moments where you remember when you were this eight year old kid and you were dreaming about what you wanted to do, and you've made it, and realize how lucky you are. It's the best thing about what I do. I'm very grateful for that."

Describe Predators fans, and the environment we all know as "Smashville."

"Our fans are very dyed in the wool. In a way, because the team has suffered so many "slings and arrows" about not being a traditional hockey market, I think the fans have rallied around that and have formed a little "wolf pack" because of it. Nashville is proud of itself, and they should be. Their loyalty to their sports is very evident. The people I talk to are very knowledgeable about the game and they love it.

When I meet people who tell me they don't know much about the game, I tell them to just listen to me and Stu, we're there for you and we will help you understand the game. This team and this organization appreciates the fans, and we do everything we can to make this game and this team better for them. There's continuity with this organization. David Poile and Barry Trotz have both been here since the beginning. Fans identify and appreciate that. They're very loyal, and it's a top notch organization.

The Bridgestone Arena is a tough place for visiting teams, and we like that. Smashville is definitely a unique place, and one of the best sports experiences you will ever have. There's so much going on during the game, it's so entertaining, you can't help but have a good time. It's intoxicating when you're there. It's a fast paced game, and unless you see it live, you can't appreciate how good these guys are. You miss so much watching it on TV, it just doesn't compare. "

So as football season begins this weekend, hockey fans have their calendar's marked for the start of the NHL, and another season of Nashville Predators hockey, which begins October 3rd at St. Louis.

And nobody is more excited about it than Tom Callahan.



About Hank Bonecutter
Hank Bonecutter is a forty year broadcast veteran and former radio station owner. His career included, talk-show host, journalist, writer, and producer.  He is president of Bonehead Promotions, an advertising consulting and media firm. He is the owner of www.clarksvillesportsnetwork.com and www.nashvillesportsnetwork.com, and is a contributing author/journalist for Clarksville Online.

Hank worked at several Nashville radio stations, including WKDF, WLAC, WKQB and WKDA.

He hosted and produced Clarksville's longest running morning talk-show, "The Bone Show," from 1994-2012.

Hank is also a stand-up comedian, having performed at some of the top comedy clubs in Tennessee, Kentucky and Georgia.

Hank produced a series of stand-up comedy shows, "Comedy on the Cumberland, " in Clarksville to benefit local charities.

You can follow Hank on Facebook and Twitter, @bonecutter01 and @boneheadnews.

Web Site: http://www.clarksvillesportsnetwork.com/
Email: hbonecutter@clarksvilleonline.com
Sections
Sports
Topics
Barry Trotz, Bowlling, Bridgestone Arena, Broadcasting, buffalo new york, Buffalo Sabres, Colin Wilson, Craig Smith, David Poile, Defensemen, Downtown Nashville, February, Filip Forsberg, Goalie, Headset, Hockey Fan, Locker Room, March, Media, Media Relations, Memphis, Nashville, Nashville Predators, Nashville TN, National Hockey League, NHL, Pekka Rinne, Peoria Illinois, Pete Weber, Play by Play, Predators, Preds, Radio, Radio Affiliates, Radio Gig, Rebuild, Rink, skate, Smashville, stu grimson, Tennessee, Thanksgiving, Tom Callahan, TV, Wolfpack