Winter Storm Watch In Effect ... [Click here for more information]

Clarksville, TN – Austin Peay State University's soccer team, playing its first home match of the year August 30th at Morgan Brothers Field, remained unbeaten on the young season with a 3-0 victory over Arkansas-Little Rock.

The shutout was the second of the season for Austin Peay (3-0-0), as they also shutout Chattanooga back on August 23rd to open the season.

"I think defensively we're playing well," Austin Peay coach Kelley Guth said. "Even being a little short on subs tonight, I thought we had several players step up for us, especially Frankie Carbajal – who came in and settled us down."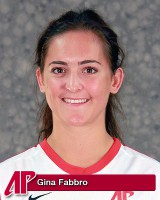 Offensively it wouldn't take long for the Lady Govs to get on the board, as freshman Gina Fabbro found the back of the net just 5:10 in when she got the ball in space — with no Arkansas-Little Rock (2-1-0) defenders in front of her – and leaving her with a one-on-one versus the Trojans keeper Kylie Wilson.
It was the second goal of the season for Fabbro, who also scored versus Chattanooga.
"We were lucky on that and it was good that we could get a goal early," Fabbro said. "Being that open all I was thinking of was 'don't miss' I don't want coach to yell at me, but it was nice to get up on them early."
Fabbro's goal would be the only tally in the first half for either team.
The second half would see the Lady Govs put the match away with two more goals, both by the school's all-time leading scorer senior Tatiana Ariza.
The first would come at the 52:57 mark, when senior Morgan Zigelsky fired a cross to the far left post where Ariza knocked it in past Wilson to make it 2-0.
Ariza's second goal of the night, and fifth of the year, came at 65:29 off a pass from senior Andy Quiceno.
The pass left Ariza with a one-on-one with the Trojans keeper, who bit on a move by the forward and left a wide-open, empty goal that she was able to tap the ball into to put the Lady Govs up 3-0.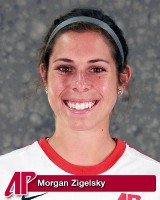 "Those were two beautiful goals,' Guth said. "Morgan and Andy made great passes to Tatiana, who put herself in great position to score."
The match would have to be called with 11:47 left, when three of the six banks of lights at the field went out.
After waiting about 15 to 20 minutes to see if they would come back on, Arkansas-Little Rock coach Adrian Blewitt told officials that he was content with the outcome and would concede the final 11+ minutes for the 3-0 final.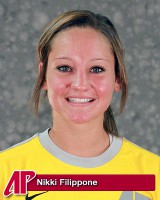 Overall, Austin Peay outshot UALR 12-7 and 5-2 in shots-on-goal. They would also hold a 5-0 advantage in corner kicks.
Nikki Filippone and Katie Emig combined in goal for the shutout, with both recording a save.
The Lady Govs will return to action September 5th, as they start a four-game road swing with a 7:00p.m. match in Bowling Green, KY versus Western Kentucky University.
The next home match for Austin Peay will be on September 27th, as they host defending Ohio Valley Conference champion Tennessee Martin.
Photo Gallery
About Chris Austin
Chris Austin is a graduate of Clarksville High School and Austin Peay State University.

Chris is a former Head Softball Coach for APSU, and assistant basketball coach for CHS.

Chris has worked at the Leaf-Chronicle, and WJZM News/Talk/Sports radio. Has also worked at the Sports Information Department at APSU, and has covered championship events for the Ohio Valley Conference and NCAA.

Chris is an avid sports fan and can be found at most Austin Peay State University sports events.

Web Site: http://www.clarksvillesportsnetwork.com
Email: chris_austin24@yahoo.com
Sections
Sports
Topics
Adrian Blewitt, Andy Quiceno, APSU, APSU Athletics, APSU Soccer, APSU Sports, APSU Women's Soccer, Arkansas-Little Rock, Austin Peay, Austin Peay State University, Bowling Green KY, Chattanooga, Clarksville TN, Frankie Carbajal, Gina Fabbro, Hilltoppers, Katie Emig, Kelley Guth, Kylie Wilson, Lady Govs, Morgan Brothers Field, Morgan Zigelsky, Nikki Filippone, Ohio Valley Conference, OVC, Tatiana Ariza, Tennessee-Martin, Trojans, UALR, UT-Martin, UTM, Western Kentucky, Western Kentucky University, WKU