Special Weather Statement In Effect ... [Click here for more information]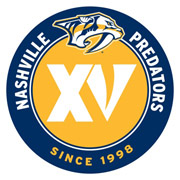 Nashville, TN - Nashville Predators Training Camp will open with physicals, on-ice testing and a team meeting on Wednesday, September 11th at Bridgestone Arena, with the team's first day on the ice coming Thursday, September 12th at 9:30am at Centennial Sportsplex.
A complete training camp roster and schedule is below. Dates, times and roster are subject to change.
For the first time since the 2006-07 season, the Predators will conduct training camp sessions away from the Music City.
The team will conduct two days of camp at Germain Arena in Naples, FL, on September 17th-18th, bookended by preseason contests at Florida (doubleheader on September 16th at 1:30pm and 6:00pm CT) and Tampa Bay (September 19th at 6:30pm CT).
The Predators will also spend two days practicing at the United States Naval Academy on September 26th-27th, with two more preseason games on September 25th at Washington (6:00pm CT) and September 27th at NY Islanders (6:00pm CT).
Sessions in Nashville from September 12th-15th and Sept. 21st will be held at Centennial Sportsplex, with those from September 22nd-25th and September 29th-30th coming at Bridgestone Arena.
All practices at the Sportsplex are free and open to the public.
Sixty players will attend 2013 Training Camp – 44 players under contract with Nashville, eight on American Hockey League contracts with Milwaukee, six on tryout agreements and two unsigned draft picks. Thirty-four are forwards, 19 are defensemen and seven are goaltenders.
Nashville Predators Training Camp
September 11th-30th, 2013
Media available with each group will occur in the 20-30 min. window immediately following their on-ice session.
Wednesday, September 11th
Time
Event
Location
8:00am-1:00pm
Team Meetings and Testing
Bridgestone Arena Event Level
Thursday, September 12th
Time
Event
Location
9:15am-11:00am
On-Ice Sessions (Blue)
Centennial Sportsplex
11:00am-12:30pm
Meetings & Off-Ice Session (Blue)
Centennial Sportsplex
10:45am-12:30pm
On-Ice Sessions (White)
Centennial Sportsplex
12:30pm-2:00pm
Meetings & Off-Ice Session (White)
Centennial Sportsplex
12:15pm-2:00pm
On-Ice Sessions (Silver)
Centennial Sportsplex
2:00pm-3:30pm
Meetings & Off-Ice Session (Silver)
Centennial Sportsplex
Friday, September 13th
Time
Event
Location
9:00am-9:15am
Meetings & Video Session (Blue)
Centennial Sportsplex
9:15am-11:15am
On-Ice Sessions (Blue)
Centennial Sportsplex
11:15am-12:00pm
Off-Ice Session (Blue)
Centennial Sportsplex
12:00pm-2:00pm
On-Ice Sessions (Silver/White)
Centennial Sportsplex
2:00pm-3:00pm
Off-Ice Session (Silver/White)
Centennial Sportsplex
Saturday, September 14th
Time
Event
Location
9:00am-9:15am
Meetings & Video Session (White)
Centennial Sportsplex
9:15am-11:15am
On-Ice Sessions (White)
Centennial Sportsplex
11:15am-12:00pm
Off-Ice Session (White)
Centennial Sportsplex
12:00pm-2:00pm
On-Ice Sessions (Blue/Silver)
Centennial Sportsplex
2:00pm-3:00pm
On-Ice Sessions (Blue/Silver)
Centennial Sportsplex
Sunday, September 15th
Time
Event
Location
9:00am-9:15am
Meetings & Video Session (Silver)
Centennial Sportsplex
9:15am-11:15am
On-Ice Sessions (Silver)
Centennial Sportsplex
11:15am-12:00pm
Off-Ice Session (Silver)
Centennial Sportsplex
12:00pm-2:00pm
On-Ice Sessions (White/Blue)
Centennial Sportsplex
2:00pm-3:00pm
On-Ice Sessions (White/Blue)
Centennial Sportsplex
Monday, September 16th
Time
Event
Location
1:30pm
Team 1 at Florida Panthers
BB&T Center
6:00pm
Team 2 at Florida Panthers
BB&T Center
Tuesday, September 17th
Time
Event
Location
11:00am-12:45pm
On-Ice Sessions
Germain Arena
12:45pm-1:45pm
Off-Ice Session
Germain Arena
3:00pm-4:00pm
Team Building
Naples, Florida
Wednesday, September 18th
Time
Event
Location
9:00am-10:30am
On-Ice Sessions
Germain Arena
10:45am-11:45am
Off-Ice Session
Germain Arena
12:30pm-4:00pm
Team Building
Naples, Florida
Thursday, September 19th
Time
Event
Location
9:00am-9:45am
Off-Ice Session (Playing Team)
Germain Arena
9:10am-11:00am
On-Ice Sessions (Non-playing Team)
Germain Arena
11:00am-11:45am
Off-Ice Session (Non-playing Team)
Germain Arena
6:30pm
Team at Tampa Bay Lightning
Tampa Bay Times Forum
Friday, September 20th
Time
Event
Location
Day Off
Saturday, September 21st
Time
Event
Location
9:00am-10:45am
On-Ice Sessions (Silver)
Centennial Sportsplex
9:45am-10:30am
Off-Ice Session (Blue)
Centennial Sportsplex
11:10am-12:00pm
Scrimmage (Silver/Blue)
Centennial Sportsplex
12:00pm-1:00pm
On-Ice Sessions (Blue)
Centennial Sportsplex
12:00pm-1:00pm
Off-Ice Session (Silver)
Centennial Sportsplex
Sunday, September 22nd
Time
Event
Location
9:00am-9:45am
On-Ice Sessions (Team)
Bridgestone Arena
10:00am-10:30am
On-Ice Sessions (Goaltenders)
Bridgestone Arena
10:30am-11:30am
On-Ice Sessions (Others)
Bridgestone Arena
11:10am-12:00pm
Off-Ice Session (Others)
Bridgestone Arena
5:00pm
Team vs. New York Islanders
Bridgestone Arena
Monday, September 23rd
Time
Event
Location
9:00am-9:30am
Meetings & Video Sessions
Bridgestone Arena
10:00am-12:15pm
On-Ice Sessions
Bridgestone Arena
12:15pm-1:00pm
Off-Ice Sessions
Bridgestone Arena
Tuesday, September 24th
Time
Event
Location
10:00am-11:00am
On-Ice Sessions (Team)
Bridgestone Arena
11:30am-12:30pm
On-Ice Sessions (Others)
Bridgestone Arena
1:00pm-1:45pm
Off-Ice Session (Others)
Bridgestone Arena
7:00pm
Team vs. Tampa Bay Lightning
Bridgestone Arena
Wednesday, September 25th
Time
Event
Location
10:00am-11:00am
Morning Skate
Bridgestone Arena
6:00pm
Team at Washington Capitals
Bridgestone Arena
Thursday, September 26th
Time
Event
Location
11:00am-12:30pm
On-Ice Sessions
McMullen Hockey Arena
1:00pm-1:45pm
Off-Ice Session
McMullen Hockey Arena
2:30pm-3:30pm
Team Building
U.S. Naval Academy
Friday, September 27th
Time
Event
Location
10:00am-11:00am
On-Ice Sessions
McMullen Hockey Arena
6:00pm
Team at New York Islanders
Nassau Memorial Coliseum
Saturday, September 28th
Time
Event
Location
Day Off
Sunday, September 29th
Time
Event
Location
9:00am-9:15am
Off-Ice Session
Bridgestone Arena
9:15am-11:15am
Meetings & Video Session
Bridgestone Arena
11:15am-12:00pm
On-Ice Sessions
Bridgestone Arena
Monday, September 30th
Time
Event
Location
9:30am-9:15am
Off-Ice Session
Bridgestone Arena
9:15am-9:30am
Meetings & Video Session
Bridgestone Arena
9:40am-11:00am
On-Ice Sessions
Bridgestone Arena
Sections
News
Topics
AHL, American Hockey League, Bridgestone Arena, Centennial Sportsplex, Florida, Germain Arena, Hockey, McMullen Hockey Arena, Media, Milwaukee, Music City, Naples Florida, Nashville, Nashville Predators, Nashville Predators Training Camp, Nashville TN, Nassau Memorial Coliseum, National Hockey League, NHL, NY Islanders, Predators, Predators Hockey, Sportsplex, Tampa Bay, Tennessee, United State Naval Academy, Verizon Center, Washington