Clarksville, TN – Although there are teams and scores kept, Cross Country is by nature an individual sport where the runners race not only other runners, but the course conditions, weather and most importantly time.

For Austin Peay State University's women's cross country team no one has done that better over the past two-plus years than senior Xiamar Richards, who has been the top finisher for the Lady Govs in 17 straight meets – dating back to November 13th, 2010 of her freshman year at the NCAA South Regional in Hoover, AL.

"It feels good (the streak), especially when you don't realize it," Richards said. "But I really don't keep track of that kind of stuff. If anything I keep track of my time for personal reference."

And it's that runner's mindset that has made her one of the steadiest competitors in Austin Peay Cross Country history. The winning is nice, but it's all about beating your personal best time — that is where a runner's satisfaction lies.

"I'm really tough on myself, so it really doesn't depend on if I win a race or not, it really depends on my time," Richards said. "I'm very time specific. I could get first (place) and run a slower time and it's not as exciting. But if I PR (run a personal record), then it's like just the greatest feeling.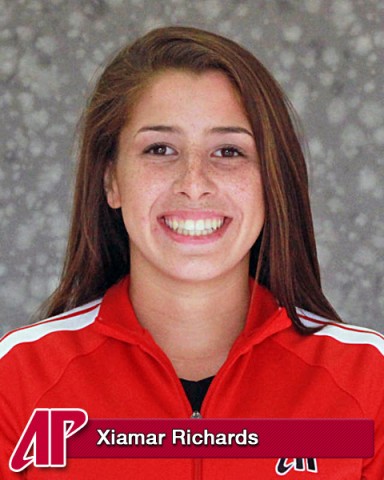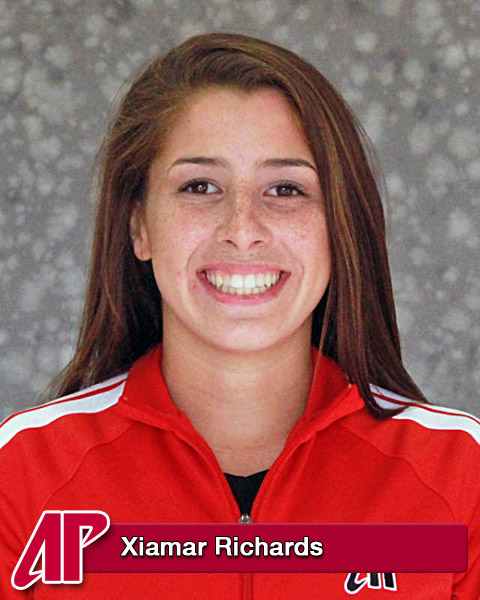 "In racing it's all about time, because each time you run it's against someone different. You're really racing against yourself. When you PR that's the victory. For me it's not first place it's just my PR. If I PR and not finish in the top 20 it is just as great for me."

But there haven't been many meets where she's not been in the top 20 overall, because during her streak of leading the Lady Govs in 17 straight races she has finished 10th overall or better 10 times — including first-place finishes at the Fleet Feet Sports/Earl Jacoby Memorial and Kentucky State Thorobreds Stampede in 2011 and the Jacksonville State University Foothills Invitational in 2012.

"She is just a very determined runner," Austin Peay coach Doug Molnar said. "She doesn't have the prettiest form and doesn't have the most speed, but she has guts.

"If it come down to guts in a race I'll take her every time over just about anybody."

Molnar also added that her consistency in a tough sport for such a long period time is really amazing, considering the studies that say it's really tough to do that in long-distance racing.

"The NCAA did a study and the most injured athletes in the most events are long-distance runners, cross country runners," he said. "So for her to show that kind of consistency, she's like the Lou Gehrig of Austin Peay cross country."

But with all that she's accomplished, Richards still has several goals left as she goes through her senior season – one of which she knocked off Sept. 6th at the Powerade Invitational in Chattanooga, TN – where she broke the school's 11-year old record in the two-mile, set by former All-American Sheena Gooding, by over 13 seconds with a mark of 11:23.78.

The last big goal will hopefully come on November 2nd at the Ohio Valley Conference championships, where she wants to be one of the top finishers, while also helping the team to finish in the top five overall.

"We've talked about her wanting to be a top finisher in the conference and to qualify for the NCAA meet," Molnar said. "She worked hard this summer and I think she has a shot at it."



About Chris Austin
Chris Austin is a graduate of Clarksville High School and Austin Peay State University.

Chris is a former Head Softball Coach for APSU, and assistant basketball coach for CHS.

Chris has worked at the Leaf-Chronicle, and WJZM News/Talk/Sports radio. Has also worked at the Sports Information Department at APSU, and has covered championship events for the Ohio Valley Conference and NCAA.

Chris is an avid sports fan and can be found at most Austin Peay State University sports events.

Web Site: http://www.clarksvillesportsnetwork.com
Email: chris_austin24@yahoo.com
Sections
Sports
Topics
All-American, APSU, APSU Athletics, APSU Cross Country, APSU Sports, APSU Women's Cross Country, Austin Peay, Austin Peay State University, Chattanooga TN, Clarksville TN, Cross Country, Doug Molnar, Fleet Feet Sports/Earl Jacoby Memorial, Hoover AL, Jacksonville State University Foothills Invitational, Kentucky State Thorobreds Stampede, Lady Govs, NCAA, NCAA South Regional, Ohio Valley Conference, Ohio Valley Conference Championships, OVC, PowerAde Invitational, Sept. 6th, Sheena Gooding, Xiamar Richards