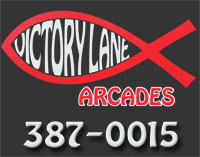 Cunningham, TN – Located on Highway 13, just a couple of miles from Montgomery Central High School, Victory Lane Arcades provides a place in southern Montgomery County for people to come eat and have family fun. From pizza to subs, there is something on the menu for everyone.

Victory Lane Arcades is a family oriented establishment with a variety of video and arcade games for children to play. "We wanted to make a place where kids could come eat and have fun," stated Nora Ashby. "The younger kids get  really excited about the games."

The menu items are freshly made to order. You can get a 12″ pizza, with original or thin crust with your choice of toppings. They also offer 7″ individual pizzas. Victory pockets are like a calzone and come with up to three toppings.

For subs, they have an Italian sub, ham & cheese, turkey ham & cheese, and a veggie sub. All subs are 9″ can come with mayo, mustard, Italian dressing and lettuce. There is also a pizza sub and a Hawaiian sub that comes with ham, pineapple and cheese.

They also have chicken wings (BBQ or hot and spicy), cheesy bread sticks and cinnamon pizza for dessert.

Since first visiting Victory Lane Arcades, I have been back several times. I have tried the pizza, subs, wings victory pockets and cinnamon pizza and it's all great. I have to say my favorite is the Italian sub.

"Ive always been a people person. I like working here, meeting the people and talking to the people that come in," said Nora.

In the back room, there is an area setup for birthday parties, team parties, etc. The is no charge for parties held during business hours as long as you buy the food there and play the games. The building can be rented for private parties and special occasions as well. There are TVs with DVD players so you can watch your own movies.

"I wanted to make a place that the local community could come to with their family and friends and have a good time," said Tim Ashby.

The business is locally owned and operated by the Tim Ashby Family. Tim and Nora Ashby opened Victory Lane Arcades on May 28th, 2013. They are open Monday and Tuesday, 4:00pm-9:00pm, Wednesday 4:00pm-7:00pm, and Thursday through Saturday 4:00pm-9:00pm.

Victory Lane Arcades is located at 948 Highway 13 in Cunningham Tennessee. Their phone number is 931.387.0015. You can also visit their facebook page.
Photo Gallery
Map to Victory Lane Arcades
Sections
Business
Topics
Arcade Games, Birthday Party, calzones, Cunningham TN, Hot Wings, Montgomery Central High School, Montgomery County, Nora Ashby, Pizza, Subs, Tim Ashby, Victory Lane Arcades