Special Weather Statement In Effect ... [Click here for more information]

Huntsville, AL – Buoyed by senior Xiamar Richards second consecutive runner-up finish and three other top-10 finishes, Austin Peay State University women's cross-country team took a big step forward at the Fleet Feet Sports/Earl Jacoby Memorial at Sharon Johnston Park, hosted by Alabama-Huntsville.

Richards' 18:02.9 mark placed her behind only Evansville's Kelby Jenkins, a 2012 NCAA Cross Country Championship participant. She lead the Lady Govs to victory over the Purple Aces in the Division I portion of the standings in the event.

"We sent CiCi out with a different plan today," said head coach Doug Molnar. "We were looking for an even pace and I think she was pretty good with that plan. She let the girl from Evansville get out early and made good moves through the field; she just ran out of real estate."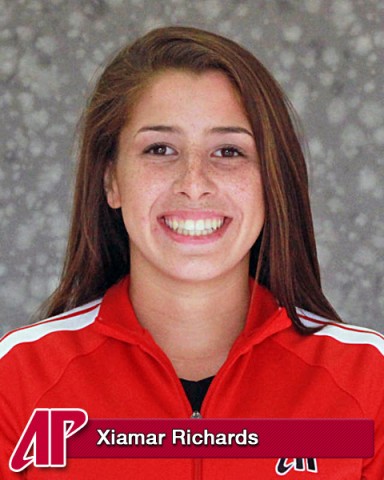 A trio of seniors – Chantelle Grey (18:55.5, fourth), Kim Dominguez (18:58.0, fifth) and Kendra Kirksey (19:00.7, sixth) – also found homes in the top-10 overall; they were the third, fourth and fifth finishers, respectively, on the Division I lists.
Freshman Molly Jordan continued to solidify the No. 5 spot on the Lady Govs order. She finished 14th with a 19:28.7 mark, good for ninth among the D1 one runners.
Freshman Jessica Gray pushed Jordan for the fifth spot, finishing 17th overall with a personal-best 19:51.6 mark. Sophomore Alexis Eldridge (20:16.1, 25th) and freshman Unjala Lester (22:02.7, 54th) also saw action for the Lady Govs.
"Time-wise, this is one of the best races we've ever run," Molnar said. "We've gotten better each week, which is what you should do when you're a senior-laden team. It was a very good day overall."
Austin Peay will take two weeks away from competition, focusing on training and fitness, before returning to the course Saturday, October 5, at the Greater Louisville Classic, hosted by Louisville at Tom Sawyer State Park.
Sections
Sports
Topics
Alabama, Alabama-Huntsville, Alexis Eldridge, APSU, APSU Athletics, APSU Cross Country, APSU Sports, APSU Women's Cross Country, Austin Peay, Austin Peay State University, Chantelle Grey, Division I, Doug Molnar, Evansville, Fleet Feet Sports Earl Jacoby Memorial, Greater Louisville Classic, Huntsville, Huntsville Alabama, Jessica Gray, Kelby Jenkins, Kendra Kirksey, Kim dominguez, Lady Govs, Louisville, Molly Jordan, NCAA Cross Country Championship, Ohio Valley Conference, OVC, Purple Aces, Sharon Johnston Park, Tom Sawyer State Park, Uniala Lester, Xiamar Richards