Flood Warning In Effect ... [Click here for more information]

Clarksville, TN – Austin Peay State University's softball team pounded out 11 hits and got five innings of shutout relief pitching, Friday afternoon at Cheryl Holt Field, as the Lady Govs defeated Rend Lake Community College, 7-4.

The second game of the scheduled doubleheader with the Warriors was call off in the second inning, with Austin Peay leading 2-0, when the forecasted rain finally reached the Clarksville area around 5:00pm.

"We really needed to play today, that's for sure," Lady Govs coach Stephanie Paris said. "We needed to see live pitching, we needed to have our defense get balls hit at them, and we just needed to play some competition really."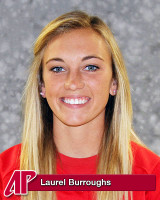 In the completed game, the Lady Govs got off to a quick start with freshman Christina Bean opening the bottom of the first inning with a single, followed by a triple off the top of the fence in right-center field by junior Laurel Burroughs for a 1-0 lead.
Burroughs would score and out later when Rend Lake shortstop Fallon Clayton committed an error on a ground ball by red-shirt senior Kristin Whitmire, to make it 2-0.
Rend Lake would rally to take the lead in the top of the second inning, scoring three times, highlighted by a two-run single by Clayton and a RBI single by Emma Bachman.
But the Lady Govs rallied back with three runs of their own – on two outs — in the bottom of the inning to take the lead for good, 5-3.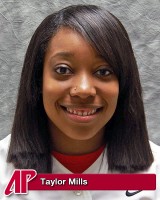 Burroughs would get the rally started with a solo home run to left center field, followed by back-to-back doubles by freshman Christiana Gable and Whitmire.
Whitmire would score the final run of the inning on a Rend Lake error.
Freshman Sidney Hooper would come in to pitch in relief of Lady Govs starter senior Taylor Mills, one batter into the inning, and proceeded to shut the Warriors out over the final five innings of play – limiting Rend Lake to three hits over that span.
Austin Peay would add on two insurance runs in the bottom of the fifth inning, aided by two Warrior errors.
"We still have to improve a lot in several different areas," Paris said. "We made a few mistakes today and let them hang around that we shouldn't have done.
"It's our first game of the fall and we have a lot of freshmen that are still trying to learn our system, but we're definitely in a better position right now than we were last year."
The Lady Govs return to action Sunday, as they host Dyersburg State Community College for a doubleheader, starting at 2:00pm.
Sections
Sports
Topics
APSU, APSU Athletics, APSU Softball, APSU Sports, APSU Women's Softball, Austin Peay State University, Cheryl Holt Field, Christiana Gable, Christina Bean, Clarksville TN, Dyersburg State Community College, Emma Bachman, Fallon Clyton, Kristin Whitmire, Lady Govs, Laurel Burroughs, Ohio Valley Conference, OVC, Rend Lake Community College, Sidney Hooper, Stephanie Paris, Taylor Mills, Warriors