Special Weather Statement In Effect ... [Click here for more information]

Clarksville, TN – If you've followed the Austin Peay State University soccer team the past three or four years you know the names Ariza, Quiceno and Zigelsky among others, but this year two new names have found their way into key roles on a team that is out to its best start in school history … Gina Fabbro and Shelby Olszewski.

A junior, Olszewski joined the soccer team in the spring after playing the past two years as a guard on the Lady Govs basketball team has helped solidify a defense that has only given up six goals in seven matches so far this season, while Fabbro, who is a freshman from British Columbia, is second on the team in scoring with five goals – including three coming as game winners.

"They've both come in and made significant impacts this season and the year is still young," Austin Peay coach Kelley Guth said. "Gina has found a niche the last couple of games here and put away some crucial goals to put us into position to win some pretty tough games.

"Shelby has been outstanding in the back and she's getting better every game and has become a force to be reckoned with going forward, and being a help as well offensively."

Coaches around the Ohio Valley Conference are also taking notice of the pair, as Fabbro was named the OVC's Offensive Player of the Week, while Olszewski was tapped as Defensive Player of the Week for the second time this season.

The accolades come as no real surprise to Guth.
"Gina is a little bit different from Shelby in that we recruited her and she's international," she said. "I knew she was a good player and was going to help our program. So my expectations were very high for her from the get go and she's definitely coming into her own as the season goes on and contributing to our success.

"For Shelby the expectation wasn't really high because we weren't really sure how she would adjust with the transfer from basketball to soccer. I knew she was athletic, physical, hard-working and definitely a tough player and I thought she would bring an element to the game that would help us defensively."

But both players aren't sitting around on their laurels, with both knowing there is a long season yet to go and a lot of hard work in front of them if they want the team to make its third trip to the OVC finals in the past four years.

"I think every week you can learn something from what you've done and from the team and what they're doing," Fabbro said. "I always try to improve each week and do my best.

"I've been a little bit surprised with how things have gone so far, because you never know how players are going to mesh together, but the way they play is so similar to how I played back at home that really helped in that aspect."

Fabbro also added that coming to school early and going through spring workouts have also helped to go a long way in her early success.

"It helped coming in early for spring ball, so I kind of have gotten adjusted to everyone and how they played," she said. "At first it was a lot different from what I was used too, so I was able to get up to speed with playing with everybody and knew what I was heading into."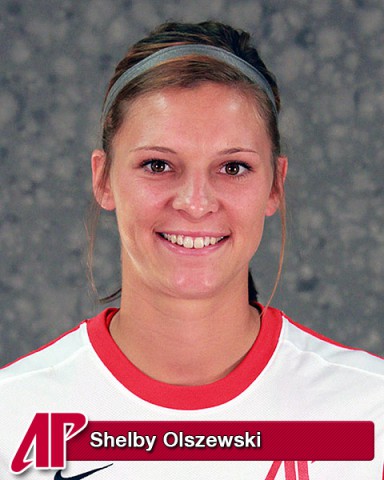 For Olszewski, spring workouts and a lot of hard work at home over the summer with family has made the defender look like she's never missed a beat.

"At first I was kind of worried if I was going to get my touch back right away," she said. "But it was good that I was able to play in the spring and be with the team.

"Once I knew that I was going to play soccer again I got a lot of touches this summer and did a lot of working out with my sister and my mom coming into the season, because I knew if I was going to get a chance to get out there and play and produce I had to work a lot."

What's even more impressive about Olszewski's return to soccer, and her success, is that she's playing a position that she's never player before.

"I never really played defense until this year," she said. "But I picked it up pretty easily.

"I also have to give a lot of credit to our two center defenders, especially Corey (Osborn), who talks to me all the time and is making sure I'm where I'm supposed to be."

With the outstanding play so far this season from Fabbro and Olszewski, to go with the other outstanding returners, the Lady Govs just may pick up its first OVC title after coming up short in two OVC championship games.

"I think we're a most well rounded team than we've ever been before and we have more depth than we're ever had," Guth said. "Everyone know coming in that they have to pay attention to Tatiana (Ariza), but it's nice to have some other players that are threats and can ease the burden, you might say, on her that she isn't the only player that can finish the ball and put into the back of the net and win games for us."



About Chris Austin
Chris Austin is a graduate of Clarksville High School and Austin Peay State University.

Chris is a former Head Softball Coach for APSU, and assistant basketball coach for CHS.

Chris has worked at the Leaf-Chronicle, and WJZM News/Talk/Sports radio. Has also worked at the Sports Information Department at APSU, and has covered championship events for the Ohio Valley Conference and NCAA.

Chris is an avid sports fan and can be found at most Austin Peay State University sports events.

Web Site: http://www.clarksvillesportsnetwork.com
Email: chris_austin24@yahoo.com
Sections
Sports
Topics
APSU, APSU Athletics, APSU Soccer, APSU Sports, APSU Women's Soccer, Ariza, Austin Peay, Austin Peay State University, British Columbia, Clarksville TN, Gina Fabbro, Kelley Guth, Lady Govs, Lady Govs Basketball, Ohio Valley Conference, OVC, OVC Defensive Player of the Week, OVC's Offensive Player of the Week, Quiceno, Shelby Olszewski, Tatiana Ariza, Zigelsky