Clarksville, TN – With Ohio Valley Conference play just beginning for the Austin Peay State University volleyball team, red-shirt freshman Sammie Ebright is starting to be a force for the Lady Govs after watching from the sidelines last year.

Ebright, a 6-foot outside hitter from Sunbury, OH, is currently second on the team in total kills with 113 and leads the team in attack percentage at .188 for players with at least 300 attack attempts.

She was also named to the all-tournament team in the Memphis Tiger Invitational, the last in-season tournament for the Lady Govs this season prior to OVC play.

"I think she's doing well," Austin Peay coach Taylor Mott said. "The (Memphis) weekend Sammie had a great weekend where she was aggressive and was our leading hitter. She's still got a lot to learn, but we're pleased on where she is right now. We still think she has such a big ceiling to improve."

For Ebright, finally getting a chance to get out on the court for real matches, after only being able to practice and watch from the bench or scorer's table last year, has been worth the wait.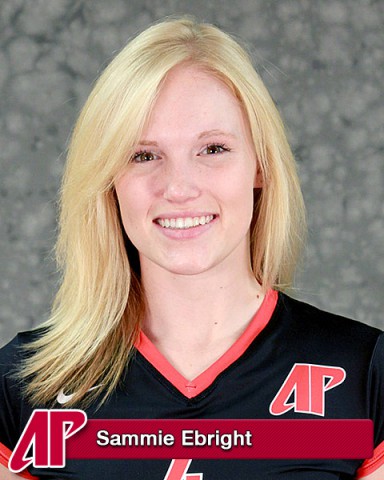 "Last year just being able to watch and see how everyone reacts to everything — both teams — and learning about everything and everyone individually on our side was really good for me," Ebright said. "Because now when we play together we know exactly what our strengths are and what we have to do to come together to improve and make it better.

"I always have a high level set for myself to always reach and obtain and I think I'm starting to get the hang of it since last year. I'm getting so much more comfortable with everybody and the play on the court with them; it's really exciting when their game improves mine does too."

It's that improvement that Mott hopes starts to come together for Ebright and all of the other Lady Govs, as they enter conference play with a 3-12 overall record, which has come against one of the toughest preconference schedules in the OVC.

"I think with Sammie, it was good that she had that last year just to practice and get some experience under her belt," Mott said. "Now she needs game experience, which is much different than practice. She needs to continue working on being a better blocker and see wants going on and make good decisions.

But as they enter OVC play, Ebright thinks she and the rest of the Lady Govs are primed for a solid run after growing and learning through a tough early schedule.

"Going into conference we've played some big teams like Wichita State, who was a fantastic team," Ebright said. "We learned what we need to do to get better as players and as a team.

"Now we're going into OVC play with confidence in ourselves and ready to get back out there back on the court again."



About Chris Austin
Chris Austin is a graduate of Clarksville High School and Austin Peay State University.

Chris is a former Head Softball Coach for APSU, and assistant basketball coach for CHS.

Chris has worked at the Leaf-Chronicle, and WJZM News/Talk/Sports radio. Has also worked at the Sports Information Department at APSU, and has covered championship events for the Ohio Valley Conference and NCAA.

Chris is an avid sports fan and can be found at most Austin Peay State University sports events.

Web Site: http://www.clarksvillesportsnetwork.com
Email: chris_austin24@yahoo.com
Sections
Sports
Topics
All-Tournament Team, APSU, APSU Athletics, APSU Sports, Austin Peay, Austin Peay State University, Clarksville TN, Lady Govs, Memhis Tiger Invitational, Ohio Valley Conference, Outside Hitter, OVC, Sammie Ebright, Sunbury OH, Taylor Mott, Wichita State University