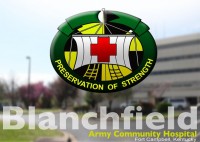 Fort Campbell, KY – Blanchfield Army Community Hospital will continue to offer all inpatient, acute care and emergency services including honoring previously scheduled medical appointments during the emergency government shutdown that at midnight, Monday.

"We hope that Congress will work with the administration to complete a continuing resolution or full fiscal year 2014 appropriations prior to October 1st," said Blanchfield Army Community Hospital commander Col. George N. Appenzeller. "If not, we continue to plan for contingencies given our fluid situation."

During the government shutdown, BACH's patient care teams will keep all previously scheduled appointments in all medical services. Integrated Disabilities Evaluation System appointments and some elective surgeries and procedures will be curtailed.

BACH's leadership is following both Department of Defense and Army Medical Command guidance to maintain safe and effective operations. Patient services, including Patient and Soldier-Centered Medical Homes; inpatient care; Warrior Care; pharmacies; obstetrics; laboratories; emergency care; behavioral health; and radiology, will continue as normal.

Many medical personnel will be exempt from the furlough if it goes into effect. However civilian staff who do not provide direct patient care would be affected. Although BACH's leadership plans to keep the same medical service and operational hours available; patients may see an increase in wait times and a reduction in administrative services.

"We have some of the finest civilian personnel in the Army and everyone is a valuable part of our mission. Without the entire team, we cannot function as smoothly and effectively as our patients deserve. Although the quantity of care we provide may be reduced during a government shutdown, we will not sacrifice patient safety or quality of care. Our patients and staff are resilient and continue to support our mission regardless of these uncertain times," Appenzeller said. "We are grateful to their dedication to Fort Campbell, BACH and the Soldiers and Families that they serve."

If the emergency government furlough occurs, patients should expect longer wait times for some appointments and services. Patients may call the appointment line at 270.798.4677 or 931.431.4677 to determine if the service they need is affected.

Beneficiaries may contact a Patient Advocate at 270.798.8091 or 270.798.8718 for issues or concerns related to quality or access to care. Wounded, injured or ill Soldiers and their Families may contact the 24/7 Wounded Soldier and Family Hotline at 1.800.984.8523.



Sections
News
Topics
Army Medical Command, Bach, Blanchfield Army Community Hospital, Emergency Services, Fort Campbell, Fort Campbell KY, George N. Appenzeller, Government Shutdown, U.S. Department of Defense