Special Weather Statement In Effect ... [Click here for more information]
By the 160th Special Operations Aviation Regiment Public Affairs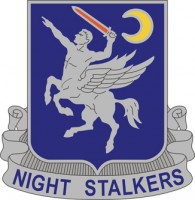 Fort Campbell, KY – Soldiers, Families and friends of the 160th Special Operations Aviation Regiment (Airborne) marked a new chapter for the unit with a patch change-over ceremony Oct. 1, at Fort Campbell, Ky.
"For the first time, we have a patch that reflects our own identity as an aviation special operations force," said Col. John R. Evans, regiment commander, 160th SOAR (A). "This new patch, is uniquely ours and its history and lineage moving forward will be built by the deeds of our Soldiers."
The ceremony begins a new lineage for the 160th SOAR "Night Stalkers," which will move forward wearing the U.S. Army Special Operations Aviation Command shoulder sleeve insignia.
"It's something that's been long and coming," said Spc. Arturo Dimas, Company D, 2nd Battalion, 160th SOAR (A). "With a separate patch, it distinguishes the unit as an organization under U.S. Army Special Operations Aviation Command."
The Army Special Operations Aviation Command (ARSOAC) patch with Fairbairn-Sykes and upswept red wings form a spearhead reminiscent of the 1st Special Service Force and symbolizes the unit's role as the aviation element of the U.S. Army Special Operations Command.
"A lot of thought went into the design of this patch and it reflects our history and lineage," Evans said. "It links us to SOF's earliest heritage in World War II, but also recognizes the speed adaptability and versatility that special operations aviation brings to the modern and future fight."
He added, "I am certain the deeds of the men and women who wear it will soon make it recognized and respected across our Army and our joint force."
With the changing of the patch, the 160th SOAR officially joins the USASOAC team. The Soldiers will continue to wear their regiment crest, all others assigned to USASOAC will don the new distinctive unit insignia.
Sections
News
Topics
160th Special Operations Aviation Regiment, Army Special Operations Aviation Command, ARSOAC, Arturo Dimas, Fairbairn-Sykes, Fort Campbell, John R. Evans