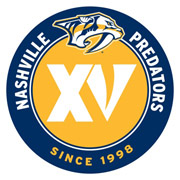 Denver, CO - The Nashville Predators lost to the Colorado Avalanche 3-1 at the Pepsi Center tonight, but may have also lost a key player on the team.

Roman Josi was injured in a collision with Steve Downie in the second period and did not return to the ice. Predators officials indicated that he had suffered an upper body injury. He's expected to be evaluated upon his return to Nashville, and his status for the next game is uncertain.

Nashville came into Colorado needing to improve on it's offense, having only scored 2 goals in their first game against St. Louis. Tonight was not going to be the night, as the Predators could only manage one goal. Nashville was outshot by Colorado 36-27.

Colorado made it two in a row to start the season, as P.A. Parenteau scored two goals for the Avs, while Patrick Bordeleau scored and Nathan MacKinnon had an assist on the night.

Nashville managed to cut the Colorado lead in half, scoring at the end of a power play to make it 2-1. Paul Gaustad used a screen by defenseman Jan Hejda and beat Semyon Varlamov for the score.

The game wasn't without controversy, as forward Steve Downie left his feet to make contact with Roman Josi, knocking the defenseman out of the game. Predators Shea Weber and Gabriel Bourque went after Downie before officials intervened.

Coach Barry Trotz said in his post game press conference that he expects the league to handle Downie's hit correctly.

"We're trying to get all of that out of the game, launching yourself, especially any head shots" said Trotz. "If you watch the film, I think it's pretty clear that something will come out of it."

Pekka Rinne stopped 33 of 35 shots on the night, with the Colorado third goal an empty-netter.

The Predators will evaluate Josi over the weekend to determine his status before they return to home ice on Tuesday night.
Box Score
Nashville Predators 1- 3 Colorado Avalanche
Friday, October 4, 2013
| | | | | |
| --- | --- | --- | --- | --- |
| FINAL | 1 | 2 | 3 | T |
| Nashsville Predators | 0 | 1 | 0 | 1 |
| Colorado Avalanche | 1 | 1 | 1 | 3 |
Scoring Summary
1st Period
18:50
COL
P. Parenteau (1) Wrist shot – ASST: J. McGinn (1), N. MacKinnon (3)
1 – 0 COL
2nd Period
07:54
COL
P. Bordeleau (1) Tip-in – ASST: N. Guenin (1), M. Cliche (1)
2 – 0 COL
14:10
NSH
P. Gaustad (1) Wrist shot – ASST: M. Fisher (1), C. Smith (1)
2 – 1 COL
3rd Period
18:48
COL
EN – P. Parenteau (2) Wrist shot – ASST: P. Stastny (1), J. Mitchell (1)
3 – 1 COL
Penalty Summary
1st Period
NONE
2nd Period
00:20
COL
S. Downie Tripping against G. Bourque
09:21
NSH
S. Weber Roughing against S. Downie
09:21
NSH
S. Weber Roughing against S. Downie
09:21
COL
S. Downie Charging against G. Bourque
12:10
COL
S. Downie Slashing against R. Clune
16:05
NSH
K. Klein Slashing against A. Tanguay
19:19
NSH
M. Fisher Interference on goalkeeper against C. Sarich
3rd Period
03:04
COL
P. Parenteau Too many men/ice – bench
08:18
NSH
C. Smith Hi-sticking against S. Downie
09:28
COL
S. Downie Roughing against E. Nystrom
09:28
COL
S. Downie Roughing against E. Nystrom
09:28
NSH
E. Nystrom Roughing against S. Downie
09:28
NSH
E. Nystrom Roughing against S. Downie
11:53
NSH
S. Weber Hooking against M. Duchene
Stats
Nashville Predators Skaters
| No. | Player | Pos | G | A | P | +/- | PIM | S | Hits | BkS | GvA | TkA | FO% | PP TOI | TOI |
| --- | --- | --- | --- | --- | --- | --- | --- | --- | --- | --- | --- | --- | --- | --- | --- |
| 3 | S. Jones | D | 0 | 0 | 0 | -1 | 0 | 1 | 0 | 0 | 1 | 1 | - | 2:38 | 25:46 |
| 6 | S. Weber | D | 0 | 0 | 0 | -1 | 6 | 2 | 4 | 1 | 0 | 0 | - | 2:57 | 23:22 |
| 7 | M. Cullen | C | 0 | 0 | 0 | 0 | 0 | 0 | 0 | 1 | 0 | 1 | 33% | 2:34 | 18:44 |
| 8 | K. Klein | D | 0 | 0 | 0 | 1 | 2 | 0 | 1 | 3 | 0 | 0 | - | 0:28 | 19:37 |
| 11 | D. Legwand | C | 0 | 0 | 0 | 0 | 0 | 2 | 1 | 0 | 0 | 0 | 55% | 3:18 | 13:17 |
| 12 | M. Fisher | C | 0 | 1 | 1 | -1 | 2 | 2 | 0 | 3 | 0 | 1 | 45% | 2:05 | 17:13 |
| 13 | N. Spaling | C | 0 | 0 | 0 | -1 | 0 | 0 | 0 | 0 | 0 | 0 | 0% | 0:03 | 15:24 |
| 15 | C. Smith | C | 0 | 1 | 1 | 1 | 2 | 6 | 0 | 1 | 0 | 1 | - | 2:49 | 16:19 |
| 16 | R. Clune | L | 0 | 0 | 0 | -2 | 0 | 0 | 1 | 0 | 0 | 0 | - | 0:00 | 7:53 |
| 24 | E. Nystrom | L | 0 | 0 | 0 | -1 | 4 | 1 | 1 | 0 | 0 | 1 | - | 0:03 | 16:19 |
| 26 | M. Hendricks | C | 0 | 0 | 0 | -2 | 0 | 1 | 1 | 2 | 0 | 0 | - | 0:00 | 12:05 |
| 27 | P. Hornqvist | R | 0 | 0 | 0 | -1 | 0 | 5 | 0 | 0 | 0 | 0 | - | 3:52 | 12:23 |
| 28 | P. Gaustad | C | 1 | 0 | 1 | 0 | 0 | 2 | 1 | 1 | 0 | 0 | 89% | 0:08 | 14:41 |
| 33 | C. Wilson | C | 0 | 0 | 0 | 0 | 0 | 3 | 0 | 1 | 1 | 2 | - | 1:54 | 12:01 |
| 42 | M. Ekholm | D | 0 | 0 | 0 | -2 | 0 | 1 | 1 | 1 | 0 | 1 | - | 2:35 | 20:09 |
| 57 | G. Bourque | L | 0 | 0 | 0 | 0 | 0 | 0 | 1 | 0 | 0 | 0 | - | 1:14 | 13:34 |
| 59 | R. Josi | D | 0 | 0 | 0 | -1 | 0 | 1 | 0 | 0 | 0 | 0 | - | 1:42 | 10:26 |
| 64 | V. Bartley | D | 0 | 0 | 0 | 0 | 0 | 0 | 2 | 0 | 0 | 2 | - | 1:40 | 21:41 |
Nashville Predators Goaltenders
| No. | Player | EV | PP | SH | Saves – Shots | Sv% | PIM | TOI |
| --- | --- | --- | --- | --- | --- | --- | --- | --- |
| 30 | C. Hutton | 0 – 0 | 0 – 0 | 0 – 0 | 0 – 0 | - | 0 | 0:00 |
| 35 | P. Rinne (L) 0-2-0 | 29 – 31 | 3 – 3 | 1 – 1 | 33 – 35 | .943 | 0 | 59:06 |
Colorado Avalanche Skaters
| No. | Player | Pos | G | A | P | +/- | PIM | S | Hits | BkS | GvA | TkA | FO% | PP TOI | TOI |
| --- | --- | --- | --- | --- | --- | --- | --- | --- | --- | --- | --- | --- | --- | --- | --- |
| 4 | T. Barrie | D | 0 | 0 | 0 | 1 | 0 | 2 | 2 | 0 | 1 | 0 | - | 2:45 | 15:16 |
| 5 | N. Guenin | D | 0 | 1 | 1 | 1 | 0 | 2 | 2 | 1 | 0 | 0 | - | 0:00 | 15:24 |
| 6 | E. Johnson | D | 0 | 0 | 0 | 1 | 0 | 1 | 2 | 2 | 0 | 0 | - | 5:35 | 22:08 |
| 7 | J. Mitchell | C | 0 | 1 | 1 | 1 | 0 | 2 | 1 | 0 | 0 | 0 | 50% | 0:00 | 16:43 |
| 8 | J. Hejda | D | 0 | 0 | 0 | 1 | 0 | 3 | 2 | 1 | 0 | 0 | - | 0:20 | 19:06 |
| 9 | M. Duchene | C | 0 | 0 | 0 | -1 | 0 | 3 | 1 | 0 | 1 | 2 | 57% | 4:40 | 18:12 |
| 11 | J. McGinn | L | 0 | 1 | 1 | 1 | 0 | 3 | 2 | 0 | 1 | 0 | 0% | 5:20 | 16:56 |
| 15 | P. Parenteau | R | 2 | 0 | 2 | 2 | 0 | 4 | 0 | 0 | 0 | 0 | - | 5:00 | 16:14 |
| 16 | C. Sarich | D | 0 | 0 | 0 | 1 | 0 | 0 | 3 | 2 | 1 | 0 | - | 0:00 | 18:39 |
| 17 | S. Downie | R | 0 | 0 | 0 | -1 | 10 | 0 | 1 | 0 | 3 | 0 | - | 2:34 | 14:52 |
| 24 | M. Cliche | C | 0 | 1 | 1 | 1 | 0 | 1 | 1 | 0 | 0 | 0 | 0% | 0:00 | 7:00 |
| 26 | P. Stastny | C | 0 | 1 | 1 | 1 | 0 | 3 | 1 | 1 | 0 | 0 | 59% | 5:20 | 21:08 |
| 29 | N. MacKinnon | C | 0 | 1 | 1 | 0 | 0 | 2 | 0 | 0 | 1 | 1 | 25% | 4:42 | 17:14 |
| 40 | A. Tanguay | L | 0 | 0 | 0 | 0 | 0 | 1 | 0 | 0 | 1 | 1 | - | 4:19 | 18:33 |
| 55 | C. McLeod | L | 0 | 0 | 0 | 1 | 0 | 3 | 0 | 1 | 0 | 0 | - | 0:00 | 9:10 |
| 58 | P. Bordeleau | L | 1 | 0 | 1 | 1 | 0 | 1 | 1 | 0 | 0 | 0 | - | 0:00 | 5:05 |
| 61 | A. Benoit | D | 0 | 0 | 0 | -1 | 0 | 3 | 0 | 3 | 0 | 1 | - | 4:45 | 22:51 |
| 90 | R. O'Reilly | C | 0 | 0 | 0 | 0 | 0 | 2 | 0 | 0 | 0 | 0 | 0% | 4:40 | 19:41 |
Colorado Avalanche Goaltenders
| No. | Player | EV | PP | SH | Saves – Shots | Sv% | PIM | TOI |
| --- | --- | --- | --- | --- | --- | --- | --- | --- |
| 1 | S. Varlamov (W) 2-0-0 | 19 – 20 | 6 – 6 | 1 – 1 | 26 – 27 | .963 | 0 | 59:48 |
| 35 | J. Giguere | 0 – 0 | 0 – 0 | 0 – 0 | 0 – 0 | - | 0 | 0:00 |
Sections
Sports
Topics
Barry Trotz, Colorado Avalanche, Denver Colorado, Gafriel Bourque, Hockey, Jan Hejda, Nashville, Nashville Predators, Nashville TN, Nathan MacKinnon, National Hockey League, NHL, P.A. Parenteau, Patrick Bordeleau, Paul Gaustad, Pepsi Center, Predators, Roman Josi, Semyon Varlamov, Shea Weber, St. Louis, Steve Downie, Tennessee