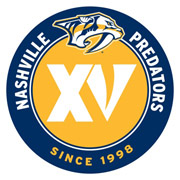 Nashville, TN - The 0-2 Nashville Predators returned to the friendly confines of Bridgestone Arena, in front of a sold-out crowd, and picked up their first win of the season against the Minnesota Wild, 3-2.

Former Predator Ryan Suter was greeted with an arena full of "boo" birds the entire night, a reminder of how he left a bad taste in the mouths of the Nashville faithful when he signed with the Wild.

Both teams entered the match 0-2 in desperate need of a win, and Minnesota struck first.

Zach Parise scored the first goal of the night on a tip-in off a shot by Mikko Koivu, after a cross ice pass from Ryan Suter. The Wild were on a power play due to a high sticking penalty on Predators rookie Seth Jones.

A penalty on Minnesota's Kyle Brodziak for interference, and Koivu for tripping Jones, and suddenly the Predators had a 5 on 3 advantage.

It would pay off.

Filip Forsberg scored his first NHL goal of his career at 5:07 from the left circle on an assist from Patric Hornqvist and Seth Jones. Then Colin Wilson slapped a hard high one over the stick of Niklas Backstrom and the Preds took a 2-1 lead.

Then Minnesota defenseman Keith Ballard tripped Eric Nystrom who was streaking to the net on a breakaway, and the Predators forward crashed into Backstrom slamming him into the goal.

Nystrom was given a penalty shot, but Backstrom left the game, leaving a back up goalie, Josh Harding, to face the penalty shot as his first action of the night.

It didn't go well for Harding, as Nystrom went top shelf for the score, and Nashville now led 3-1.

Minnesota would pull within a goal to make it 3-2 when Jared Spurgeon would score on a power play on a wrist shot past Pekka Rinne at 7:26 .

The rest of the night belonged to the Nashville goalie, as Rinne was stellar to the end.

Nashville is back home on Thursday night as the Toronto Maple Leafs visit Smashville.

Backstrom would leave the game due to a lower body injury and will be evaluated on Wednesday.
Box Score
Minnesota Wild 2 – 3 Nashville Predators
Tuesday, October 8, 2013
| | | | | |
| --- | --- | --- | --- | --- |
| FINAL | 1 | 2 | 3 | T |
| Minnesota Wild | 1 | 1 | 0 | 2 |
| Nashville Predators | 3 | 0 | 0 | 3 |
Scoring Summary
1st Period
04:05
MIN
PPG – Z. Parise (3) Tip-in – ASST: M. Koivu (2), R. Suter (2)
1 – 0 MIN
05:07
NSH
PPG – F. Forsberg (1) Snap shot – ASST: P. Hornqvist (2), S. Jones (1)
1 – 1 Tie
05:46
NSH
PPG – C. Wilson (1) Wrist shot – ASST: M. Cullen (1), M. Fisher (2)
2 – 1 NSH
11:14
NSH
PS – E. Nystrom (1) Wrist shot – ASST: NONE
3 – 1 NSH
2nd Period
07:26
MIN
PPG – J. Spurgeon (1) Wrist shot – ASST: N. Niederreiter (2), M. Granlund (3)
3 – 2 NSH
3rd Period
NONE
Penalty Summary
1st Period
02:59
NSH
R. Clune Fighting (maj) against Z. Konopka
02:59
MIN
Z. Konopka Fighting (maj) against R. Clune
03:13
NSH
S. Jones Hi-sticking against M. Koivu
04:15
MIN
K. Brodziak Interference against D. Legwand
04:36
MIN
M. Koivu Tripping against S. Jones
2nd Period
05:27
NSH
F. Forsberg Hooking against M. Granlund
09:16
NSH
S. Weber Roughing against J. Pominville
14:45
NSH
R. Clune Interference on goalkeeper against J. Harding
14:45
NSH
R. Clune Roughing against C. Stoner
14:45
MIN
C. Stoner Roughing against R. Clune
19:59
MIN
Z. Parise Slashing against P. Hornqvist
3rd Period
06:07
MIN
Z. Parise Holding against P. Hornqvist
06:07
NSH
P. Hornqvist Diving against Z. Parise
15:07
MIN
M. Koivu Hooking against F. Forsberg
Minnesota Wild skaters
| No. | Player | Pos | G | A | P | +/- | PIM | S | Hits | BkS | GvA | TkA | FO% | PP TOI | TOI |
| --- | --- | --- | --- | --- | --- | --- | --- | --- | --- | --- | --- | --- | --- | --- | --- |
| 2 | K. Ballard | D | 0 | 0 | 0 | 0 | 0 | 1 | 0 | 1 | 1 | 0 | - | 0:00 | 17:00 |
| 4 | C. Stoner | D | 0 | 0 | 0 | 0 | 2 | 2 | 2 | 1 | 0 | 1 | - | 0:00 | 18:49 |
| 6 | M. Scandella | D | 0 | 0 | 0 | 0 | 0 | 2 | 1 | 1 | 0 | 0 | - | 0:00 | 12:47 |
| 9 | M. Koivu | C | 0 | 1 | 1 | 0 | 4 | 1 | 0 | 1 | 0 | 2 | 46% | 4:23 | 20:52 |
| 11 | Z. Parise | L | 1 | 0 | 1 | 0 | 4 | 4 | 2 | 0 | 1 | 0 | - | 4:06 | 20:42 |
| 14 | J. Fontaine | R | 0 | 0 | 0 | 0 | 0 | 1 | 0 | 0 | 0 | 0 | - | 0:38 | 6:23 |
| 15 | D. Heatley | L | 0 | 0 | 0 | 0 | 0 | 4 | 0 | 0 | 0 | 0 | - | 4:38 | 17:42 |
| 16 | J. Zucker | L | 0 | 0 | 0 | 0 | 0 | 1 | 1 | 0 | 0 | 0 | - | 2:07 | 13:13 |
| 17 | T. Mitchell | C | 0 | 0 | 0 | 0 | 0 | 2 | 1 | 0 | 0 | 1 | 0% | 0:00 | 9:18 |
| 20 | R. Suter | D | 0 | 1 | 1 | 0 | 0 | 3 | 0 | 0 | 0 | 0 | - | 4:18 | 25:57 |
| 21 | K. Brodziak | C | 0 | 0 | 0 | 0 | 2 | 2 | 0 | 0 | 0 | 0 | 42% | 0:00 | 17:04 |
| 22 | N. Niederreiter | R | 0 | 1 | 1 | 0 | 0 | 4 | 2 | 0 | 1 | 2 | - | 2:13 | 14:24 |
| 24 | M. Cooke | L | 0 | 0 | 0 | 0 | 0 | 1 | 4 | 0 | 1 | 0 | 100% | 0:00 | 14:29 |
| 25 | J. Brodin | D | 0 | 0 | 0 | 0 | 0 | 0 | 0 | 0 | 0 | 0 | - | 2:45 | 23:22 |
| 28 | Z. Konopka | C | 0 | 0 | 0 | 0 | 5 | 0 | 0 | 0 | 0 | 0 | 60% | 0:00 | 7:58 |
| 29 | J. Pominville | R | 0 | 0 | 0 | 0 | 0 | 3 | 0 | 0 | 0 | 0 | 50% | 4:06 | 20:04 |
| 46 | J. Spurgeon | D | 1 | 0 | 1 | 0 | 0 | 3 | 0 | 1 | 1 | 0 | - | 2:33 | 17:28 |
| 64 | M. Granlund | C | 0 | 1 | 1 | 0 | 0 | 0 | 1 | 1 | 0 | 0 | 31% | 2:28 | 15:44 |
Minnesota Wild goaltenders
| No. | Player | EV | PP | SH | Saves – Shots | Sv% | PIM | TOI |
| --- | --- | --- | --- | --- | --- | --- | --- | --- |
| 32 | N. Backstrom | 2 – 2 | 1 – 3 | 0 – 0 | 3 – 5 | .600 | 0 | 11:14 |
| 37 | J. Harding (L) | 16 – 17 | 3 – 3 | 0 – 0 | 19 – 20 | .950 | 0 | 47:32 |
Nashville Predators skaters
| No. | Player | Pos | G | A | P | +/- | PIM | S | Hits | BkS | GvA | TkA | FO% | PP TOI | TOI |
| --- | --- | --- | --- | --- | --- | --- | --- | --- | --- | --- | --- | --- | --- | --- | --- |
| 3 | S. Jones | D | 0 | 1 | 1 | 0 | 2 | 2 | 0 | 2 | 2 | 0 | - | 2:29 | 25:02 |
| 4 | R. Ellis | D | 0 | 0 | 0 | 0 | 0 | 0 | 0 | 1 | 0 | 0 | - | 2:45 | 14:36 |
| 6 | S. Weber | D | 0 | 0 | 0 | 0 | 2 | 1 | 4 | 2 | 1 | 1 | - | 2:42 | 23:26 |
| 7 | M. Cullen | C | 0 | 1 | 1 | 0 | 0 | 3 | 0 | 0 | 1 | 1 | 30% | 2:58 | 15:42 |
| 8 | K. Klein | D | 0 | 0 | 0 | 0 | 0 | 1 | 3 | 0 | 0 | 1 | - | 0:00 | 21:52 |
| 9 | F. Forsberg | C | 1 | 0 | 1 | 0 | 2 | 1 | 2 | 0 | 1 | 1 | - | 2:03 | 15:38 |
| 11 | D. Legwand | C | 0 | 0 | 0 | 0 | 0 | 1 | 0 | 1 | 1 | 1 | 67% | 2:25 | 15:00 |
| 12 | M. Fisher | C | 0 | 1 | 1 | 0 | 0 | 1 | 5 | 0 | 0 | 0 | 59% | 2:59 | 19:40 |
| 15 | C. Smith | C | 0 | 0 | 0 | 0 | 0 | 2 | 0 | 0 | 0 | 2 | 0% | 1:54 | 12:32 |
| 16 | R. Clune | L | 0 | 0 | 0 | 0 | 9 | 0 | 1 | 0 | 0 | 0 | - | 0:00 | 4:52 |
| 24 | E. Nystrom | L | 1 | 0 | 1 | 1 | 0 | 3 | 3 | 1 | 0 | 1 | - | 0:00 | 17:41 |
| 26 | M. Hendricks | C | 0 | 0 | 0 | 0 | 0 | 0 | 1 | 2 | 0 | 0 | 0% | 0:03 | 12:59 |
| 27 | P. Hornqvist | R | 0 | 1 | 1 | 0 | 2 | 3 | 2 | 0 | 0 | 1 | 0% | 2:26 | 15:14 |
| 28 | P. Gaustad | C | 0 | 0 | 0 | 0 | 0 | 2 | 1 | 2 | 0 | 0 | 65% | 0:03 | 17:09 |
| 33 | C. Wilson | C | 1 | 0 | 1 | 0 | 0 | 2 | 1 | 0 | 0 | 0 | 0% | 3:24 | 16:26 |
| 42 | M. Ekholm | D | 0 | 0 | 0 | 0 | 0 | 1 | 0 | 1 | 0 | 0 | - | 1:04 | 21:44 |
| 57 | G. Bourque | L | 0 | 0 | 0 | 0 | 0 | 1 | 2 | 0 | 0 | 0 | - | 0:01 | 9:51 |
| 64 | V. Bartley | D | 0 | 0 | 0 | 0 | 0 | 1 | 0 | 0 | 0 | 0 | - | 0:00 | 11:46 |
Nashville Predators goaltenders
| No. | Player | EV | PP | SH | Saves – Shots | Sv% | PIM | TOI |
| --- | --- | --- | --- | --- | --- | --- | --- | --- |
| 30 | C. Hutton | 0 – 0 | 0 – 0 | 0 – 0 | 0 – 0 | - | 0 | 0:00 |
| 35 | P. Rinne (W) 1-2-0 | 27 – 27 | 5 – 7 | 0 – 0 | 32 – 34 | .941 | 0 | 59:59 |
About Hank Bonecutter
Hank Bonecutter is a forty year broadcast veteran and former radio station owner. His career included, talk-show host, journalist, writer, and producer.  He is president of Bonehead Promotions, an advertising consulting and media firm. He is the owner of www.clarksvillesportsnetwork.com and www.nashvillesportsnetwork.com, and is a contributing author/journalist for Clarksville Online.

Hank worked at several Nashville radio stations, including WKDF, WLAC, WKQB and WKDA.

He hosted and produced Clarksville's longest running morning talk-show, "The Bone Show," from 1994-2012.

Hank is also a stand-up comedian, having performed at some of the top comedy clubs in Tennessee, Kentucky and Georgia.

Hank produced a series of stand-up comedy shows, "Comedy on the Cumberland, " in Clarksville to benefit local charities.

You can follow Hank on Facebook and Twitter, @bonecutter01 and @boneheadnews.

Web Site: http://www.clarksvillesportsnetwork.com/
Email: hbonecutter@clarksvilleonline.com
Sections
Sports
Topics
Boo Birds, Bridgestone Arena, Colin Wilson, Eric Nystrom, Filip Forsberg, Goal, Jared Spurgeon, Josh Harding, Keith Ballard, Kyle Brodziak, Mikko Koivu, Minnesota Wild, Nashville, Nashville Faithful, Nashville Predators, Nashville TN, National Hockey League, NHL, Niklas Backstrom, Patric Hornqvist, Pekka Rinne, Penalty Shot, Predators, Preds, Ryan Suter, Seth Jones, Smashville, Tennessee, Toronto Maple Leafs, Wild, Zach Parise