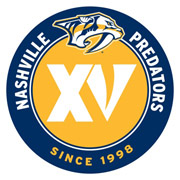 Nashville, TN - The Nashville Predators just couldn't get anything past Toronto goaltender Jonathan Bernier tonight, as the Maple Leafs dominated the Predators in a 4-0 shut-out.

The Toronto netminder stopped all 36 shots on net at Bridgestone Arena, and secured his seventh career shutout.

Toronto took the lead at 6:19 in the second period when James Van Riemsdyk was able to beat Predators rookie Seth Jones to a puck in the corner in the Nashville zone, and Phil Kessel spanked a one-timer past Predators goalie Pekka Rinne.

Toronto made it 2-0 with just nine seconds left in the second period as Kessel ripped a shot from the near post. As Nashville goalie Rinne tried to freeze the puck, Van Riemsdyk poked it away, carrying it around the net and backhanded it into an empty net.

A scary moment in the contest came with 6:42 left in regulation, when Nashville's Mike Fisher received a major penalty and game misconduct for boarding, after he sent Cody Franson face first into the glass. Franson left a large puddle of blood on the ice as he left the arena.

That put Toronto on the power play for most of the remainder of the game, and the Maple Leafs converted twice to reach the final score of 4-0.

The real story of the night was the work in goal by Toronto goalie Jonathan Bernier. He was a brick wall all night taking Nashville's best shots, including the trademark "bullet" fired from the stick of Shea Weber.

On more than one power play for Nashville, Weber teed up his slap shot, one of the toughest in the NHL, but Bernier stood his ground, thus keeping the Predators off the board.

Nashville is home on Saturday night to host the New York Islanders at Bridgestone Arena. Tickets are still available by calling the Predators box office.
Box Score
Toronto Maple Leafs 4 – 0 Nashville Predators
Thursday, October 10th, 2013
| | | | | |
| --- | --- | --- | --- | --- |
| FINAL | 1 | 2 | 3 | T |
| Toronto Maple Leafs | 0 | 2 | 2 | 4 |
| Nashville Predators | 0 | 0 | 0 | 0 |
Scoring Summary
1st Period
NONE
2nd Period
13:41
TOR
P. Kessel (2) Snap shot – ASST: J. van Riemsdyk (1)
1 – 0 TOR
19:51
TOR
J. van Riemsdyk (3) Wrap-around – ASST: P. Kessel (3), C. Gunnarsson (1)
2 – 0 TOR
3rd Period
16:18
TOR
PPG – T. Bozak (2) Wrist shot – ASST: P. Kessel (4), M. Rielly (1)
3 – 0 TOR
16:59
TOR
PPG – J. Lupul (3) Tip-in – ASST: J. Gardiner (1), N. Kadri (3)
4 – 0 TOR
1st Period
08:17
TOR
J. van Riemsdyk Tripping against S. Jones
11:18
NSH
M. Hendricks Cross checking against J. Gardiner
2nd Period
01:32
TOR
D. Phaneuf Hooking against P. Hornqvist
09:38
TOR
D. Bolland Cross checking against E. Nystrom
19:54
NSH
M. Hendricks Fighting (maj) against D. Broll
19:54
TOR
D. Broll Fighting (maj) against M. Hendricks
3rd Period
13:18
NSH
M. Fisher Boarding (maj) against C. Franson
13:18
NSH
M. Fisher Game Misconduct
Stats
Toronto Maple Leafs skaters
| No. | Player | Pos | G | A | P | +/- | PIM | S | Hits | BkS | GvA | TkA | FO% | PP TOI | SH TOI | TOI |
| --- | --- | --- | --- | --- | --- | --- | --- | --- | --- | --- | --- | --- | --- | --- | --- | --- |
| 3 | D. Phaneuf | D | 0 | 0 | 0 | 0 | 2 | 1 | 1 | 1 | 1 | 2 | - | 2:56 | 2:07 | 23:36 |
| 4 | C. Franson | D | 0 | 0 | 0 | 2 | 0 | 0 | 4 | 2 | 0 | 0 | - | 1:15 | 3:07 | 18:46 |
| 11 | J. McClement | C | 0 | 0 | 0 | 0 | 0 | 0 | 3 | 1 | 0 | 0 | 43% | 0:50 | 3:54 | 15:04 |
| 12 | M. Raymond | L | 0 | 0 | 0 | 0 | 0 | 2 | 0 | 0 | 0 | 1 | - | 3:07 | 2:09 | 16:16 |
| 15 | P. Ranger | D | 0 | 0 | 0 | 0 | 0 | 1 | 1 | 0 | 1 | 1 | - | 3:46 | 2:18 | 19:10 |
| 19 | J. Lupul | R | 1 | 0 | 1 | 0 | 0 | 3 | 2 | 0 | 0 | 0 | - | 2:18 | 0:14 | 16:19 |
| 21 | J. van Riemsdyk | L | 1 | 1 | 2 | 2 | 2 | 5 | 1 | 1 | 0 | 0 | - | 3:03 | 2:04 | 21:36 |
| 28 | C. Orr | R | 0 | 0 | 0 | 0 | 0 | 0 | 2 | 0 | 0 | 0 | - | 1:01 | 0:00 | 8:19 |
| 32 | J. Leivo | L | 0 | 0 | 0 | 0 | 0 | 1 | 0 | 0 | 0 | 0 | - | 0:18 | 0:00 | 9:02 |
| 36 | C. Gunnarsson | D | 0 | 1 | 1 | 0 | 0 | 0 | 2 | 2 | 2 | 0 | - | 0:18 | 3:17 | 21:23 |
| 37 | C. Ashton | R | 0 | 0 | 0 | 0 | 0 | 0 | 2 | 0 | 1 | 0 | - | 0:50 | 0:00 | 7:06 |
| 42 | T. Bozak | C | 1 | 0 | 1 | 2 | 0 | 1 | 0 | 0 | 1 | 1 | 43% | 3:03 | 2:48 | 22:05 |
| 43 | N. Kadri | C | 0 | 1 | 1 | 0 | 0 | 1 | 2 | 1 | 1 | 2 | 36% | 2:38 | 0:14 | 16:25 |
| 44 | M. Rielly | D | 0 | 1 | 1 | 2 | 0 | 2 | 2 | 1 | 1 | 1 | - | 2:26 | 0:23 | 19:23 |
| 46 | D. Broll | L | 0 | 0 | 0 | 0 | 5 | 2 | 1 | 1 | 0 | 1 | - | 0:00 | 0:00 | 9:19 |
| 51 | J. Gardiner | D | 0 | 1 | 1 | 0 | 0 | 1 | 0 | 1 | 0 | 1 | - | 3:19 | 0:48 | 17:46 |
| 63 | D. Bolland | C | 0 | 0 | 0 | 0 | 2 | 2 | 0 | 1 | 1 | 1 | 38% | 0:29 | 0:37 | 12:20 |
| 81 | P. Kessel | C | 1 | 2 | 3 | 2 | 0 | 4 | 0 | 0 | 1 | 0 | 0% | 3:23 | 0:00 | 20:05 |
Toronto Maple Leafs goaltenders
| No. | Player | EV | PP | SH | Saves – Shots | Sv% | PIM | TOI |
| --- | --- | --- | --- | --- | --- | --- | --- | --- |
| 34 | J. Reimer | 0 – 0 | 0 – 0 | 0 – 0 | 0 – 0 | - | 0 | 0:00 |
| 45 | J. Bernier (W) 3-1-0 | 27 – 27 | 9 – 9 | 0 – 0 | 36 – 36 | 1.000 | 0 | 60:00 |
Nashville Predators skaters
| No. | Player | Pos | G | A | P | +/- | PIM | S | Hits | BkS | GvA | TkA | FO% | PP TOI | SH TOI | TOI |
| --- | --- | --- | --- | --- | --- | --- | --- | --- | --- | --- | --- | --- | --- | --- | --- | --- |
| 3 | S. Jones | D | 0 | 0 | 0 | -2 | 0 | 5 | 0 | 4 | 0 | 0 | - | 2:44 | 3:35 | 26:29 |
| 4 | R. Ellis | D | 0 | 0 | 0 | 0 | 0 | 2 | 0 | 3 | 0 | 0 | - | 3:16 | 0:58 | 15:20 |
| 6 | S. Weber | D | 0 | 0 | 0 | -2 | 0 | 3 | 1 | 1 | 0 | 0 | - | 2:44 | 4:12 | 25:56 |
| 7 | M. Cullen | C | 0 | 0 | 0 | 0 | 0 | 1 | 0 | 0 | 1 | 1 | 67% | 3:16 | 2:36 | 17:40 |
| 8 | K. Klein | D | 0 | 0 | 0 | 0 | 0 | 3 | 1 | 1 | 0 | 1 | - | 0:00 | 2:27 | 18:06 |
| 9 | F. Forsberg | C | 0 | 0 | 0 | -2 | 0 | 2 | 0 | 0 | 1 | 0 | - | 2:57 | 0:00 | 13:51 |
| 11 | D. Legwand | C | 0 | 0 | 0 | -1 | 0 | 2 | 0 | 0 | 2 | 0 | 68% | 2:57 | 1:24 | 16:23 |
| 12 | M. Fisher | C | 0 | 0 | 0 | 0 | 15 | 4 | 1 | 0 | 1 | 0 | 67% | 2:49 | 0:33 | 18:39 |
| 13 | N. Spaling | C | 0 | 0 | 0 | 0 | 0 | 2 | 0 | 1 | 0 | 0 | 50% | 0:00 | 1:41 | 13:03 |
| 15 | C. Smith | C | 0 | 0 | 0 | 0 | 0 | 2 | 0 | 0 | 1 | 0 | - | 2:48 | 0:00 | 13:15 |
| 16 | R. Clune | L | 0 | 0 | 0 | 0 | 0 | 0 | 8 | 0 | 0 | 0 | - | 0:00 | 1:13 | 9:11 |
| 24 | E. Nystrom | L | 0 | 0 | 0 | -2 | 0 | 1 | 1 | 0 | 0 | 0 | - | 0:00 | 2:25 | 15:29 |
| 26 | M. Hendricks | C | 0 | 0 | 0 | 0 | 7 | 1 | 1 | 0 | 1 | 1 | 0% | 0:00 | 1:43 | 11:11 |
| 27 | P. Hornqvist | R | 0 | 0 | 0 | 0 | 0 | 2 | 0 | 1 | 0 | 2 | - | 2:57 | 0:00 | 17:31 |
| 28 | P. Gaustad | C | 0 | 0 | 0 | -1 | 0 | 0 | 1 | 1 | 0 | 0 | 50% | 0:14 | 2:19 | 12:07 |
| 33 | C. Wilson | C | 0 | 0 | 0 | 0 | 0 | 2 | 0 | 0 | 0 | 1 | 0% | 3:03 | 0:06 | 17:43 |
| 42 | M. Ekholm | D | 0 | 0 | 0 | 0 | 0 | 3 | 0 | 1 | 0 | 0 | - | 0:15 | 2:27 | 19:47 |
| 64 | V. Bartley | D | 0 | 0 | 0 | 0 | 0 | 1 | 1 | 0 | 1 | 0 | - | 0:00 | 0:21 | 11:19 |
Nashville Predators goaltenders
| No. | Player | EV | PP | SH | Saves – Shots | Sv% | PIM | TOI |
| --- | --- | --- | --- | --- | --- | --- | --- | --- |
| 30 | C. Hutton | 0 – 0 | 0 – 0 | 0 – 0 | 0 – 0 | - | 0 | 0:00 |
| 35 | P. Rinne (L) 1-3-0 | 19 – 21 | 3 – 5 | 0 – 0 | 22 – 26 | .846 | 0 | 60:00 |
About Hank Bonecutter
Hank Bonecutter is a forty year broadcast veteran and former radio station owner. His career included, talk-show host, journalist, writer, and producer.  He is president of Bonehead Promotions, an advertising consulting and media firm. He is the owner of www.clarksvillesportsnetwork.com and www.nashvillesportsnetwork.com, and is a contributing author/journalist for Clarksville Online.

Hank worked at several Nashville radio stations, including WKDF, WLAC, WKQB and WKDA.

He hosted and produced Clarksville's longest running morning talk-show, "The Bone Show," from 1994-2012.

Hank is also a stand-up comedian, having performed at some of the top comedy clubs in Tennessee, Kentucky and Georgia.

Hank produced a series of stand-up comedy shows, "Comedy on the Cumberland, " in Clarksville to benefit local charities.

You can follow Hank on Facebook and Twitter, @bonecutter01 and @boneheadnews.

Web Site: http://www.clarksvillesportsnetwork.com/
Email: hbonecutter@clarksvilleonline.com
Sections
Sports
Topics
Bridgestone Arena, Cody Franson, Goalie, Hockey, James van Riemsdyk, Jonathan Bernier, Mike Fisher, Nashville, Nashville Predators, Nashville TN, National Hockey League, Netminder, New York Islanders, NHL, Pekka Rinne, Phil Kessel, Predators, Seth Jones, Shea Weber, Tennessee, Toronto, Toronto Maple Leafs