Ice Storm Warning In Effect ... [Click here for more information]
Written by Sgt. Sinthia Rosario
101st Sustainment Brigade, 101st Airborne Division (AA) Public Affairs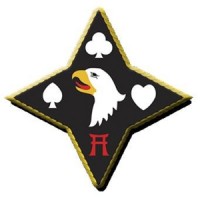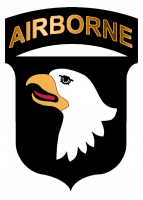 Forward Operating Base Wright, Afghanistan – Promoting your sibling in a country far from home in support of your country, away from your family and friends is something of a special occasion.

This is something, two small town All-American brothers from Winder, GA, had the chance to experience with a coincidental crossing of paths during their deployment to Afghanistan.

An air mobility deputy with Task Force Lifeliner, 2nd Lt. Karl F. Knowlton, elatedly described, "This morning I had the honor and the privilege of promoting my brother to sergeant, it was pretty awesome! Being able to come out here and put those stripes on my older brother's chest…it's one of those once in a lifetime chances you're never going to have the opportunity to do."

This moment shared by the brothers will forever be etched in their families most memorable moments.

As Sgt. George C. Knowlton joins the noncommissioned officer corps, he proudly describes his new responsibilities and obligations with now being a member of the time honored corps of the noncommissioned officers.

"Now that I'm an NCO with these stripes comes a lot of responsibilities, but it's also the power to affect positive change, especially on the junior lower enlisted, new guys in the Army that really need guidance and help," explained George, a team leader with 3rd Squadron, 89th Cavalry, 4th Infantry Brigade Combat Team, 10th Mountain Division.

Throughout generations of mankind the younger brother has looked up to an older brother for leadership and direction, but for the Knowlton brothers the younger of the two brothers has filled those boots.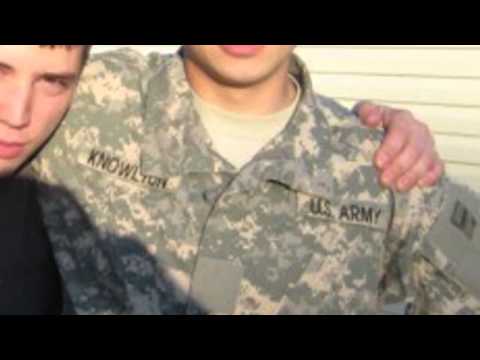 George expressed a desire to follow the leadership example set by his younger brother Karl.

George said, "Some of the qualities of my brother I would like to emulate are taking care of my troops as well as he does, being hard working and doing the right thing. You know he always does the right thing, so I'd really like to be like him."

Both brothers grew up in Georgia in a hardworking, traditional American household. Although, their parents were hard on them, they both agree that they were always fair. They learned from an early age about the importance of hard work and most importantly good ethics were instilled in everything they did.

These southern boys grew without some of those toys many children have come accustomed to, so they found themselves coming up with ways to have fun. During their childhood the gapped-tooth brothers found themselves wearing the uniform long before they had joined the ranks of the U.S. Army.

"When we were little all we did was play Army – pretty much day-in and day-out that's what we did," Karl expressed. "Didn't have a Nintendo so, got to make your own fun."

Like any other competitive young set of siblings, who now mirror each other in resemblance, these boys fought over every little thing. They matured and so did their relationship. Once they hit their high school years the Knowltons became almost connected at the hip and took care of each other on a daily basis.

With a smile on his face Karl explained that both he and his brother were very competitive.

"He [George] started running cross country; I started running cross-country," said Karl as he laughed over the memories. "He [George] started messing around doing jeep stuff, my competitive nature took over and I had to do it."

Karl added that although he was not as good of a runner as his brother, he made sure that he would build better jeeps.

The brothers continued to develop similar interests crossing paths in nearly everything they did bringing forth their friendly, brotherly competitive side.

Karl does desert racing in jeeps while George does road racing on motorcycles.

George boasted, "He's [Karl] about to get a motorcycle and I just got a new one, so hopefully when we get back stateside we'll be able to go ride together."

Racing different things and having similar interests plays an important role in their relationship as brothers and where they are today as professionals.

"Just being able to get out there with him supporting me and me supporting him, that's what families are all about, supporting each other," emphasized Karl.

Their family has constantly been a contributing factor in supporting the brothers to this day as they find themselves together once again in Afghanistan.

"I could not ask for a more supportive family from my mom to most of my extended family they all take the time to send us emails, packages, and letters," expressed Karl. He added that his extended family all chipped in to buy them nice slings for their rifles and other cool guy gear.
Although the Knowltons have chosen different career paths they know their counterpart will always be there – if needed.

"He's [George] out here pounding sand and I'm a loggy [logistician], but I still get to push out supplies making sure these guys [George's unit] have what they need," said Karl in a straightforward tone.

The older brother George continued to compare their professions, "My brother and I were both really competitive when we were younger and although we've ended up in different areas of the Army, it's not really a surprise that we're both ended up in the Army."

Their parents were not surprised with the decision of Karl to join the Army but on the other hand George was a different story.

"We were surprised when my brother joined the year after me. As he had been opposed to me joining," exclaimed Karl.

Although the first couple of years in the military were kind of rough on the brothers, they found a way to connect through the distance. Now both brothers again find themselves crossing paths, but this time it's in a far off land for Uncle Sam.

"So having this opportunity to be this close and actually be able to talk to each other is nice because even though we're not seeing each other every day, we do get to communicate," said Karl.

George said with a twinkle in his eye about his brother promoting him, "It'll be my Christmas of the deployment. That's what Christmas, Thanksgiving is all about being with your families. So we'll both be working for the holidays, but it's as close as we're going to get. So I'm gonna really enjoy it… take it to heart."



Sections
News
Topics
101st Airborne Division, 101st Sustainment Brigade, 10th Mountain Division, Afghanistan, Fort Campbell, Fort Campbell KY, Forward Operating Base Wright, George C. Knowlton, Karl F. Knowlton, Lifeliners, NCO, Sinthia Rosario, Task Force Lifeliner, U.S. Army, Winder GA