Ice Storm Warning In Effect ... [Click here for more information]
Strong first half sees Bridgestone Arena post second consecutive Top 10 ranking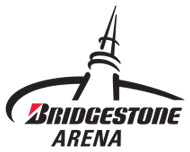 Nashville, TN – Bridgestone Arena ranks fifth in the United States and 17th in the world for concert ticket sales, according to international trade publication Pollstar's Third-Quarter Ticket Sales report. This is Bridgestone Arena's third consecutive U.S. Top 10 ranking, up two spots from Pollstar's Mid-year rankings.

Buildings in the U.S. Top 10 include: 1) Barclays Center 2) Staples Center 3) Wells Fargo Center 4) American Airlines Center 5) Bridgestone Arena 6) Philips Arena 7) Sprint Center 8) SAP Center at San Jose 9) Prudential Center 10) Toyota Center.

"Bridgestone Arena continues to rise up the ranks and has become a regular tour stop for the nation's top shows thanks to the outstanding support from the fans, building staff, great performers and promoters and the city of Nashville," Bridgestone Arena Vice President of Booking David Kells said. "Fans fill the seats at Bridgestone Arena night after night because of the full-spectrum of high-quality entertainment that continues to seek out Bridgestone Arena as a go-to destination in North America.  We are incredibly appreciative of the unwavering support from the city, the entire entertainment community and anyone who has taken in a show at Bridgestone Arena."
2013  Bridgestone Arena Highlights
Host to the 2013 CMT Music Awards and 47th Annual CMA Awards
Record-setting March 2013 for Bridgestone Arena, with 329,002 guests walking through the doors.
Six sold out Nashville Predators home games, five consecutive days of SEC Men's Basketball (13 total games) and four sold out concerts created the most attended March in the history of Bridgestone Arena, and the second most attended month in building history.
Bridgestone Arena is currently in the midst of a streak of 14 events – seven hockey and seven shows – in 20 nights from October 8th-26th.
Outside of hockey, 41 events have been schedule at Bridgestone Arena in 2013 with top performers such as:
Oct. 16th             The Eagles
Oct. 18th-19th     Luke Bryan (two shows)
Oct. 22nd             Nine Inch Nails
Oct. 23rd             Michael Bublé
Oct. 25th             Selena Gomez
Nov. 15th             Justin Timberlake
Nov. 22nd            Tribute to George Jones
Nov. 24th             Rob Zombie and Korn
Upcoming in 2014: NCAA Women's Final Four
To receive regular updates on upcoming events at Bridgestone Arena, visit www.bridgestonearena.com.  Visit www.nashvillepredators.com for the complete Predators game schedule.
About Bridgestone Arena
Serving as the home for numerous national and international events, Bridgestone Arena has the distinction of being one of the busiest venues in the Unites States since the doors first opened in 1996, hosting more than 19 million guests during that time and being nominated as Pollstar's Venue of the Year for the sixth consecutive year in 2012. The NHL's Nashville Predators have been the primary tenants of Bridgestone Arena since 1998 and boast one of the most unique game atmospheres in the NHL. The list of acts and events that have called Bridgestone Arena home is lengthy and includes the CMA Awards; the CMT Awards; Keith Urban's "We're All For the Hall" benefit concerts; NCAA, SEC and OVC Men's and Women's Basketball Tournaments; and entertainers such as Garth Brooks, Paul McCartney, Elton John, Billy Joel and the Rolling Stones.
Over the past several years, Bridgestone Arena has gone through several upgrades to improve experiences for fans, guests, performers and athletes. Recent updates include a new HVAC system, which improves ice-quality for players and creates a comfortable environment for fans. Approximately $20 million in upcoming enhancements to Bridgestone Arena this year include new carpeting, upgraded suites and an update to the building's south entrance, which will bring retail and restaurant space to the south side of the building, creating a brand-new entertainment campus for Nashville locals and visitors. It has been recently indicated that Bridgestone Arena generates an annual economic impact of approximately $410 million for the city of Nashville.
Sections
News
Topics
American Airlines Center, Barclays Center, Billy Joel, Bridgestone Arena, CMA Awards, CMT Music Awards, David Kells, Elton John, Garth Brooks, George Jones, Justin Timberlake, Keith Urban, Korn, Luke Bryan, Men's Basketball, Michael Bublé, Nashville, Nashville Predators, Nashville TN, National Hockey League, NCAA, NHL, Nine Inch Nails, North America, Paul McCartney, Philips Arena, Pollstar, Predators, Prudential Center, Rob Zombie, Rolling Stones, SAP Center at San Jose, SEC, Selena Gomez, Southeastern Conference, Sprint Center, Staples Center, The Eagles, Toyota Center, United States, Wells Fargo Center