Ice Storm Warning In Effect ... [Click here for more information]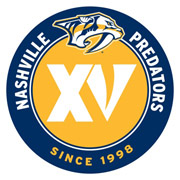 Nashville, TN – With a slapshot at 3:23 in the 3rd period, Ryan Ellis put the Nashville Predators up 3-2 over the New York Islanders at Bridgestone Arena Saturday night. The Predators defense held the Islander at bay for the rest of the period to seal the win.

"Ryan Ellis' third goal was a rocket", stated Nashville Predators coach Barry Trotz. "That's the way you shoot the puck when you're between the dots."

Seth Jones got things started for Nashville with a slapshot goal at 1:03 in the second period. It was his firt NHL goal. Jones also made a key defensive play late in the third to keep New York from tying the game.

On getting his first goal, Jones stated, "It was really nice to help the team, and then we won the game which was most important. It felt great."

The Islanders fought back later in the period getting a goal from Frans Nielson at 12:39 and one from John Tavares at 15:28 to go up 1-2.

With 52.8 seconds remaining in the second, Nashville's Colin Wilson hits Patric Hornqvist down the right wing with a pass. Hornqvist quickly fired a shot past goaltender Evgeni Nabokov before he was set to defend the play tying the game at 2.

"We did a really good job in the second with the goal late in the period. We came out flying in the third and played the way we needed to in order to win and get the points," said Hornqvist.

Predators goaltender Pekka Rinne saw only 16 shots on goal while Islander's Nabokov faced 31 shots.

"I liked our game tonight. We were able to hang on late, which is a 'typical Preds victory,' if you will. We came from behind tonight. We were down two-to-one," stated Trotz. "We've been chasing all four games. We scored first tonight and got a victory."

The Nashville Predators are back on the ice Tuesday, October 15th against the Florida Panthers at Bridgestone Arena. The puck drops at 7:00pm CT.
Box Score
New York Islanders 2 – 3 Nashville Predators
Saturday, October 12th, 2013
| | | | | |
| --- | --- | --- | --- | --- |
| | 1 | 2 | 3 | T |
| New York Islanders | 0 | 2 | 0 | 2 |
| Nashville Predators | 0 | 2 | 1 | 3 |
Scoring Summary
1st Period
NONE
2nd Period
01:03
NSH
PPG – S. Jones (1) Slapshot – ASST: D. Legwand (1), S. Weber (1)
1 – 0 NSH
12:39
NYI
F. Nielsen (2) Snap shot – ASST: K. Okposo (2), T. Hamonic (2)
1 – 1 Tie
15:28
NYI
J. Tavares (3) Wrist shot – ASST: K. Okposo (3), B. Strait (1)
2 – 1 NYI
19:07
NSH
P. Hornqvist (1) Wrist shot – ASST: C. Wilson (1), R. Ellis (1)
2 – 2 Tie
3rd Period
03:23
NSH
R. Ellis (1) Slapshot – ASST: M. Cullen (2), C. Smith (2)
3 – 2 NSH
1st Period
NONE
2nd Period
00:15
NYI
C. Cizikas Boarding against E. Nystrom
04:21
NSH
M. Fisher Elbowing against T. Hamonic
3rd Period
03:50
NSH
M. Hendricks Hi stick – double minor against T. Hickey
08:20
NYI
A. MacDonald Hooking against G. Bourque
Stats
New York Islanders Skaters
| No. | Player | Pos | G | A | P | +/- | PIM | S | Hits | BkS | GvA | TkA | PP TOI | SH TOI | TOI |
| --- | --- | --- | --- | --- | --- | --- | --- | --- | --- | --- | --- | --- | --- | --- | --- |
| 3 | T. Hamonic | D | 0 | 1 | 1 | 0 | 0 | 2 | 0 | 4 | 1 | 2 | 0:56 | 2:39 | 25:06 |
| 7 | M. Carkner | D | 0 | 0 | 0 | 1 | 0 | 1 | 1 | 2 | 1 | 1 | 0:00 | 0:09 | 11:42 |
| 11 | L. Visnovsky | D | 0 | 0 | 0 | -1 | 0 | 1 | 1 | 1 | 2 | 0 | 4:30 | 0:00 | 21:27 |
| 12 | J. Bailey | L | 0 | 0 | 0 | 0 | 0 | 1 | 0 | 0 | 0 | 1 | 2:17 | 0:00 | 16:33 |
| 13 | C. McDonald | R | 0 | 0 | 0 | 0 | 0 | 0 | 2 | 0 | 0 | 0 | 0:34 | 0:00 | 12:04 |
| 14 | T. Hickey | D | 0 | 0 | 0 | -1 | 0 | 0 | 0 | 2 | 0 | 1 | 0:00 | 0:38 | 18:49 |
| 15 | C. Clutterbuck | R | 0 | 0 | 0 | -1 | 0 | 0 | 1 | 0 | 0 | 0 | 0:00 | 0:00 | 9:27 |
| 16 | P. Regin | C | 0 | 0 | 0 | -1 | 0 | 0 | 1 | 0 | 1 | 0 | 2:00 | 0:34 | 12:41 |
| 17 | M. Martin | L | 0 | 0 | 0 | 0 | 0 | 1 | 4 | 0 | 0 | 1 | 0:00 | 1:51 | 12:36 |
| 21 | K. Okposo | R | 0 | 2 | 2 | 1 | 0 | 0 | 1 | 0 | 0 | 1 | 4:14 | 0:00 | 21:02 |
| 26 | M. Moulson | L | 0 | 0 | 0 | 0 | 0 | 0 | 0 | 1 | 0 | 1 | 4:18 | 0:00 | 20:29 |
| 29 | B. Nelson | C | 0 | 0 | 0 | -1 | 0 | 0 | 0 | 0 | 0 | 0 | 1:42 | 0:00 | 11:07 |
| 37 | B. Strait | D | 0 | 1 | 1 | 2 | 0 | 1 | 1 | 2 | 1 | 0 | 0:00 | 1:22 | 13:41 |
| 40 | M. Grabner | R | 0 | 0 | 0 | 1 | 0 | 3 | 1 | 0 | 0 | 1 | 0:00 | 0:57 | 15:32 |
| 47 | A. MacDonald | D | 0 | 0 | 0 | -1 | 2 | 2 | 0 | 5 | 2 | 1 | 1:42 | 0:48 | 24:37 |
| 51 | F. Nielsen | C | 1 | 0 | 1 | 0 | 0 | 2 | 0 | 0 | 0 | 1 | 4:06 | 0:43 | 17:35 |
| 53 | C. Cizikas | C | 0 | 0 | 0 | 0 | 2 | 1 | 3 | 0 | 1 | 0 | 0:00 | 1:17 | 13:13 |
| 91 | J. Tavares | C | 1 | 0 | 1 | 1 | 0 | 1 | 0 | 0 | 0 | 0 | 3:41 | 0:14 | 20:35 |
New York Islanders Goaltenders
| No. | Player | EV | PP | SH | Saves – Shots | Sv% | PIM | TOI |
| --- | --- | --- | --- | --- | --- | --- | --- | --- |
| 20 | E. Nabokov (L) 2-1-1 | 24 – 26 | 2 – 3 | 2 – 2 | 28 – 31 | .903 | 0 | 58:56 |
| 60 | K. Poulin | 0 – 0 | 0 – 0 | 0 – 0 | 0 – 0 | - | 0 | 0:00 |
Nashville Predators Skaters
| No. | Player | Pos | G | A | P | +/- | PIM | S | Hits | BkS | GvA | TkA | PP TOI | SH TOI | TOI |
| --- | --- | --- | --- | --- | --- | --- | --- | --- | --- | --- | --- | --- | --- | --- | --- |
| 3 | S. Jones | D | 1 | 0 | 1 | -1 | 0 | 3 | 0 | 3 | 2 | 0 | 2:43 | 1:52 | 21:40 |
| 4 | R. Ellis | D | 1 | 1 | 2 | 2 | 0 | 1 | 1 | 1 | 1 | 0 | 0:05 | 0:00 | 14:48 |
| 6 | S. Weber | D | 0 | 1 | 1 | -1 | 0 | 1 | 2 | 4 | 0 | 0 | 2:38 | 3:59 | 23:11 |
| 7 | M. Cullen | C | 0 | 1 | 1 | 1 | 0 | 6 | 0 | 0 | 1 | 1 | 0:37 | 1:22 | 14:28 |
| 8 | K. Klein | D | 0 | 0 | 0 | -1 | 0 | 3 | 1 | 1 | 0 | 1 | 0:05 | 2:56 | 22:33 |
| 9 | F. Forsberg | C | 0 | 0 | 0 | -1 | 0 | 1 | 2 | 0 | 0 | 1 | 2:06 | 0:00 | 12:15 |
| 11 | D. Legwand | C | 0 | 1 | 1 | -1 | 0 | 0 | 0 | 0 | 0 | 1 | 2:00 | 0:14 | 16:07 |
| 12 | M. Fisher | C | 0 | 0 | 0 | -1 | 2 | 2 | 1 | 1 | 0 | 2 | 0:48 | 0:58 | 17:05 |
| 15 | C. Smith | C | 0 | 1 | 1 | 1 | 0 | 3 | 0 | 1 | 2 | 2 | 0:00 | 0:00 | 12:21 |
| 24 | E. Nystrom | L | 0 | 0 | 0 | 0 | 0 | 1 | 0 | 0 | 0 | 0 | 0:00 | 3:00 | 15:09 |
| 25 | V. Stalberg | L | 0 | 0 | 0 | -1 | 0 | 1 | 0 | 0 | 1 | 1 | 0:00 | 0:45 | 12:20 |
| 26 | M. Hendricks | C | 0 | 0 | 0 | 0 | 4 | 2 | 2 | 1 | 0 | 1 | 0:00 | 0:55 | 13:50 |
| 27 | P. Hornqvist | R | 1 | 0 | 1 | 0 | 0 | 4 | 2 | 1 | 0 | 1 | 2:11 | 0:00 | 15:18 |
| 28 | P. Gaustad | C | 0 | 0 | 0 | 1 | 0 | 2 | 0 | 1 | 0 | 2 | 0:00 | 3:23 | 15:34 |
| 33 | C. Wilson | C | 0 | 1 | 1 | 0 | 0 | 0 | 0 | 1 | 0 | 0 | 0:42 | 0:00 | 15:44 |
| 42 | M. Ekholm | D | 0 | 0 | 0 | -1 | 0 | 0 | 0 | 1 | 0 | 0 | 0:05 | 2:27 | 21:18 |
| 57 | G. Bourque | L | 0 | 0 | 0 | 1 | 0 | 0 | 0 | 0 | 0 | 0 | 0:00 | 1:23 | 13:49 |
| 64 | V. Bartley | D | 0 | 0 | 0 | 2 | 0 | 1 | 3 | 1 | 0 | 0 | 0:00 | 0:46 | 16:30 |
Nashville Predators Goaltenders
| No. | Player | EV | PP | SH | Saves – Shots | Sv% | PIM | TOI |
| --- | --- | --- | --- | --- | --- | --- | --- | --- |
| 30 | C. Hutton | 0 – 0 | 0 – 0 | 0 – 0 | 0 – 0 | - | 0 | 0:00 |
| 35 | P. Rinne (W) 2-3-0 | 11 – 13 | 3 – 3 | 0 – 0 | 14 – 16 | .875 | 0 | 60:00 |
Sections
Sports
Topics
Barry Trotz, Bridgestone Arena, Colin Wilson, Evgeni Nabokov, Florida Panthers, Frans Nielson, John Tavares, Nashville Predators, Nashville TN, National Hockey League, New York Islanders, NFL, Patric Hornqvist, Pekka Rinne, Predators, Ryan Ellis, Seth Jones